June 18, 2018
Rachel Makoski, Director of Foodservice E&S and Food Processing recently had the opportunity to connect with Evan Priesel, Marketing Manager at Univex for a series of Thought Leader Interview questions. Mr. Priesel shared insights on the Foodservice industry, interesting initiatives Univex is taking, and his personal career in the industry.
Please tell us about yourself.
First off, thank you for this opportunity! I went to school at Southern New Hampshire University for my B.S in Business Management with a concentration in marketing. I love being able to influence why people purchase a certain product and study all new ways to promote and advertise a brand. I am currently enrolled in an MBA program from SNHU in Digital Advertising and have obtained many marketing/digital marketing certifications. I grew up a two-sport athlete in baseball and basketball, and since my baseball days are over, have grown a love for golf! It is a great place to network, discuss business and compete all at the same time. Univex is my 2nd position out of college and I couldn't be happier!
Fairly new to the Foodservice Equipment world, what led you to pursue this industry?
I never would have thought that I would be in the Foodservice Equipment world to be honest. I knew I wanted to be in a managerial role, overseeing a team and growing a company. I believe marketing is a very relatable skill no matter the industry if you do the research and study the target market. After a few interviews with management at Univex, we hit it off and was extremely excited to join this great team! This is now my 2nd year here!
What interesting new technologies is Univex currently using?
Univex is always finding ways to use technology and innovation. We have some specialty equipment specifically in the bakery and pizza industry that are the only ones on the market right now. Our goal is to save companies time, and labor cost, all while producing consistent and great results! We continuously do R&D and test new ways to help our customers succeed! We just released our "rotante" oven, which is a Stone Hearth Rotating Dome Pizza Oven. We also have multipurpose and bakery ovens with touch screens that are based on modern phones! These are all ways to stay up to date and make our products user friendly.
Univex prides itself on innovation. How is innovation encouraged on your team?
Innovation is highly encouraged at Univex. Whether that's in the marketing department with digital ads, social media, target marketing, or new creative graphic designs, we always try to stay ahead of the competition and find where the most engaging audience is. From a factory stand point, we are always testing and doing research in finding ways to help customers succeed. It is important for us to stay ahead of the game and I believe we are doing a great job of it.
To that point, there seems to be an increased focus on critical safety features – how does Univex meet those expectations on their new products?
When we design a product or do testing, we always keep customer safety as a top priority. We go through numerous certifications for sanitation and safety purposes as well. Another task we make sure we have for our customers are clear operation manuals for user knowledge. Something we have incorporated this year is turning the operation manuals into videos and demonstrations and putting them on YouTube for everyone to be able to see. We also have a great Quality Control department which inspects every piece of equipment that leaves the factory.
What trends do you expect to see in Food Equipment in the next 5 years?
Specific trends that I think are coming to the industry is complete innovation. This may mean finding the best way to cut down labor cost, or ways to speed up production while producing a consistent product. Univex is already leading the way in this category and we do not see it slowing down any time soon. Another change that I can see maybe in the next 8-10 years is virtual reality test kitchens. This would give customers the ability to visualize equipment in their own kitchen using dimensions and parameters of the equipment they are looking at just by wearing a pair of goggles or glasses. I believe this is a little further away than 5 years, however if it makes the customer eager to purchase, and it is an easy, user friendly way for them to purchase, I do not see why this won't happen in the future.
What Foodservice segments do you see having the most growth for the remainder of 2018 and into 2019; grocers and deli's, convenience stores, restaurants, healthcare, education, or hospitality, and why?
I believe the entire industry is growing. I believe innovation in equipment specifically in the pizza and bakery industries. Univex does a lot with all the industries stated above, and we let our customers and dealers know we are here to support them with whatever that may be. Everything from delis to healthcare and hospitality, we support our customers and want to lead them to success.
Univex seems very focused on reliability and your equipment clearly stands the test of time. What do you think is the differentiator that enables you to do so?
First off, thank you! Univex has been in business for over 70 years! We take pride in the quality of our equipment and always want to make sure we supply the right piece of equipment for our customers depending on their needs or wants. We are also a one stop shop for everything dough related in the pizza and bakery industry. A customer can mix, divide/round, form, sheet and bake with all Univex equipment!  Our factory knowledge in house is also a big factor. We have years of knowledge in house and work with customers all the time making sure they are getting what they need to succeed. We still manufacture in Salem NH so I believe that is one of the biggest differentiators. Also, we have an outstanding Quality Control team. We make sure that everything is perfect before being sent out to customers. We have machines that are over 50 years old still out in the field working perfectly! It is something that we take pride in and something that the company is very proud of.
With kitchen connectivity being a hot topic in the industry right now, what are your thoughts on the topic and how do you see Univex getting involved in that space?
We understand that kitchen connectivity is the way of the future and a big topic in the industry currently. I believe this is great and was bound to happen sooner or later with technology and the way the world is evolving. Our multi-purpose and bakery ovens are highly kitchen connective. You can sync recipes from your phone or USB drive into the oven, save your recipe for the future and program specific recipes tailored to what you need. This makes it easier the next time you need to use the oven, all you would have to do is hit the icon of the product you want to cook, and our ovens remember the recipe and program. This feature allows you to save time and prepare other items in your kitchen while your food is cooking or baking.
Describe the approach you take to attracting and retaining high impact talent at Univex.
Univex is such a great company. We have employees that have been here for over 40 years! You do not see that often in most companies now however, we have many. Being a team player is extremely important to our success, every department helps each other and is always there for support. Multi-tasking is another key feature we look for in our employees as our day to day tasks may change due to projects, etc. Once a new employee sees and feels the family atmosphere that is at Univex, they feel welcomed and at home. It is truly a great company to work for!
What or who has motivated and influenced you to be successful in your career? Have you had mentors?
I always continue to learn new skills and research new ways to improve. I have had many mentors in my life, the biggest being my father who has taught me so much growing up. He is the biggest influence in my life and career and he still teaches me new skills and life lessons every day! I have had many teachers and professors in college who have mentored me and continue to work with me to ensure I am on the right path. Executive management here at Univex has also been a huge help and has mentored me greatly. They gave me this amazing opportunity and when I go to them with questions, they are always there to teach me new skills and gain valuable information and we work as a team to complete goals. The biggest thing I learned from all my mentors, is do not be afraid of failure. Go for something you want, and if you fail (which everyone does from time to time) make sure you learn from it and grow.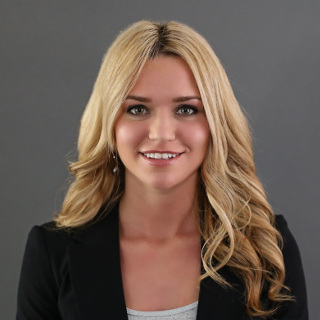 Rachel Makoski
Director of Foodservice E&S and Food Processing
rmakoski@directrecruiters.com
440-996-0871
May 29, 2018
By Rachel Makoski, Director of Foodservice Equipment and Supplies
With it being the largest event in foodservice each year, it's no surprise that last week's National Restaurant Association Restaurant, Hotel-Motel Show broke its record for a fourth year in row with more than 715,000 square feet of space at McCormick Place from May 19-22. If you missed it, the show had more than 65,000 attendees from around the world bringing innovations in foodservice products, equipment, supplies and software to one place.
As it has been in recent years, the focus was on innovation, this year with food safety and sanitation standing out. I talked with start-ups just recently breaking into the space with new concepts, to the most recognizable brands in the industry, all with the same basic idea – innovating to become more user friendly, easy to clean and efficient, and aiming to bring product ideas that disrupt the market.
Below are just a few of the companies that I chatted with at the show.
Ice-O-Matic
With their new line called the Elevation Series, Ice-O-Matic has created a more modular unit with the environment and sanitation in mind. The Elevation Series cube ice machines are now easier than ever to clean with snap-in parts that are dishwasher safe. The equipment also offers groundbreaking technology that gives the unit a dual exhaust so that it can adapt to airflow requirements you need without an extra kit.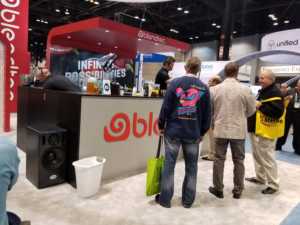 Blendtec
Mixing delicious samples for attendees, Blentec's booth was booming with attendees. Last year Blentec took a 2017 Kitchen Innovation award for their Nitro Blending System, improving on sanitation and efficiency and saving on labor.
Vulcan
Always at the forefront of foodservice innovation, Vulcan took a 2018 Kitchen Innovation award for their SonicSafe Ultrasonic Scale Prevention for Steamers which eliminates limescale to prolong the life of steamers. And still gaining attention at the show was their 2017 Kitchen Innovation award-winning Gas Convection Oven, which offers easily removeable, dishwasher-safe doors.
Broaster
In business for more than 60 years and known for its signature fried chicken programs, Broaster aims to offer an experience, not just products – and that it did at this year's National Restaurant Association Show. Right at the front of the North Hall, you would've thought Broaster was throwing its own party with an extensive and energetic display of their lineups.
Alive & Kickin' Pizza Crust
The Alive & Kickin' Pizza Crust booth was hosting lines of attendees waiting for their turn to get a slice of pizza on their variety of crusts. One of their sales reps said they were seeing great responses this year. With a variety of delicious recipes, from Focaccia to Quinoa, Crushed Flax & Honey, Alive & Kickin' sells into retail, foodservice and deli settings.
What were your thoughts on this year's NRA show? What innovations did I miss? Reach out to me if you'd like to discuss!
*For more information on our Foodservice practice area, see https://www.directrecruiters.com/food-service-equipment/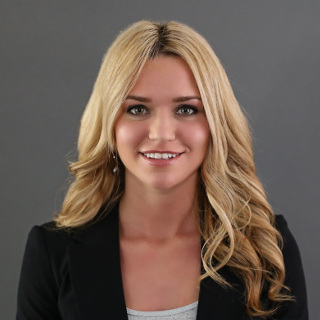 Rachel Makoski
Director of Foodservice Equipment & Supplies
440-996-0871
rmakoski@directrecruiters.com
January 30, 2018
By Rachel Makoski, Director of Food Service Equipment and Supplies
You've landed your ideal candidate. The offer letter is back, notice has been given and you'll see them on their start date, right? Wrong. Nabbing a key player is only part of the battle. The real challenge to any organization is keeping him or her engaged until the start date and ensuring a robust onboarding process to mitigate the chance of anyone else swooping in with a more enticing opportunity or their current company dangling a counter offer in front of them.
You've just spent a considerable amount of time interviewing and negotiating to get this person on your team, and with the average cost of hiring a new employee in the tens of thousands, it's worth ensuring that they aren't going to jump ship before they even come aboard.
The time between the offer being signed and the end of the candidate's first six months is crucial to employee engagement, retention and overall job satisfaction and productivity. So, what can you do to ensure that your new hire not only shows up day one, but is excited to be there and doesn't pick up the phone when recruiters are calling?
Once the offer is signed, the next step is for HR to reach out to get all of the necessary paperwork filled out. This should not be as simple as just mailing them a packet of information. Set up a skype call with the new hire, and learn about them. Rather than laying out what your company offers, find out what's important to the new hire and focus the conversation around how the organization excels in those specific areas, then of course bring out the basics if they aren't covered by that point. Immediately create open lines of communication, understand how they are best managed and how they've handled conflict or issues in the past so that in the future, HR is prepared to facilitate an atmosphere where they feel comfortable and confident bringing concerns to your attention. There are many situations where an employee is unhappy in their current role and the employer has no idea until they put in their notice. You want to preempt the situation by ensuring that you're working with all of the information from the get-go.
The next step should be a welcome package. Maybe it's as simple as a t-shirt or a mug with the company logo. Or, perhaps they're working remote and it's heartier to enable their home office. Just something to let them know they're now part of a team that is happy to have them is a great onboarding practice. To that point, there should also be one or two reach outs from the person's manager in the time between the signed offer and day one. Keep them close and let them know you're excited to have them joining your team.
When possible, send out instructions on basic things that a new hire will need a few days prior to the start date. This should include basic procedures, email login info, company intranet info, standard day-to-day scheduling if there are weekly team meetings or skypes, etc. When this is out of the way prior to day one, it's much easier for the new hire to come in feeling prepared.
When they log into their email and calendar, it should already have invites to respond to – onboarding should never only include  their direct manager, but should be diversified with lunches with peers, cross functional team meetings, mentoring opportunities outside of their department and other interactions that expose them immediately to the company culture and give them a better understanding of how each department interacts with their own while also organically creating opportunities for them to begin cultivating relationships with their new colleagues.
Be prepared, as first impressions last and it's tough to overcome a poor one. With that in mind, day one should include exposure to your company's values and long-term goals and showing how they're actively present in the culture of the organization. Expose the new hire to as many team members as possible. With that in mind, keeping new employees engaged is crucial. Welcoming them to a culture that not only focuses on day-to-day work environment but also the outside interests of employees will ease their minds as they may have just walked away from stability for the unknown. Team outings, one on ones, and so many other activities happen in non-working hours, so this is an important aspect of the onboarding process.
Set expectations. Go over the metrics that their performance will be evaluated based on so that there is no confusion as to what they need to achieve and the roadmap that will take them there. Be clear and have everything in writing. It is important to be on the same page. Go over the training process, the first week, the first month, 90 days, etc. Set up monthly or bi-weekly check-ins during the first six months so that you're both staying on track without micromanaging.
Ultimately people work for people they like. I can't tell you how often a personality clash with a higher up is the reason a candidate is primed for a move. Get to know your new employee as much as you can while maintaining your position as their leader. Earning their respect and trust is vital to long-term job satisfaction.
As a recruiter, I have seen great onboarding processes as well as poor processes. Making sure all the boxes are checked will ensure a satisfied employee and increase your chance of retaining him or her for the long run. What types of onboarding methods do you use at your company?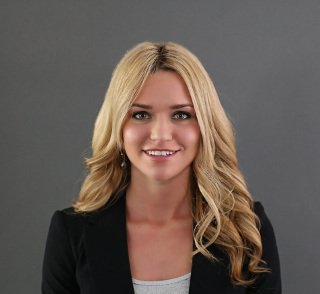 Rachel Makoski
Director of Food Service Equipment and Supplies
440-996-0871
rmakoski@directrecruiters.com
May 31, 2017
By Rachel Makoski, Director of Food Service Equipment & Supplies
Walking into McCormick Place in Chicago last week was a food-lover's dream. Attending the 2017 National Restaurant Association (NRA) show, I was immediately hit with so many delicious smells. After a 5-hour flight delay on Monday, you can imagine how agonizing it was to not have time to stop and taste some of the incredible food that was served at each booth! Even still, in the face of it being a quick visit, I was able to squeeze in some insightful conversations with folks in the Food Service Equipment industry and was captivated by some of the exciting innovation in the market and what that innovation necessitates for 2017 hiring within the industry.
For those that aren't aware, the annual NRA show offers a chance for professionals in the Food Service market to attend educational sessions, view the latest innovations and technologies from over 2,200 exhibitors, and network with other professionals in the industry. As my first time attending the show, I was impressed by the show's traffic, especially after being warned by other industry professionals that it may not be as crowded with it being a NAFEM year. Below are just a few of the interesting companies I saw at the NRA show that stood out among the rest.
RATIONAL
With one of larger displays at the show, RATIONAL certainly stood out, showcasing their NRA Kitchen Innovation Award Winning Self Cooking Center XS Model with celebrity chefs using the equipment to cook on-site in their RATIONAL restaurant space that they set up for the show. This combi boasts a 60% smaller unit than the full size with all of the full size functionality. With more than 40 years in business, and over 750,000 appliances produced, RATIONAL has been a pioneer in hot food preparation for professional kitchens. Another big hit at the show was their Connected Cooking, featuring cloud-based networking solutions for kitchens.
Micro Matic
With quite the growth trajectory over the last 5 years, Micro Matic is a global supplier of dispensing systems and solutions for draft beer, cocktail, water, and wine in over 120 countries. Founded in 1953, Micro Matic provides not only technology and solutions, but what stands out is their on-site dispense training programs and education to ensure customers deliver the highest draft quality. In addition to on-site training, they also offer online training and advanced training at their regional facilities in FL, IL, PA and CA.
Marra Forni
If you popped by Marra Forni's booth, you were sure to be greeted by a slice of creatively conceived pizza made in their brick ovens– the Nutella-topped slice was incredible! In addition to delicious food produced by their make-to-order ovens, Marra Forni's booth was exceptional in that their team's energy was hard to match. It's no wonder they've grown so quickly since they started manufacturing less than 10 years ago. While they're known for hand-made Neapolitan ovens for commercial kitchens, they also have their own line of prep tables and dough mixers.
After seeing what these companies are offering, my takeaways are that the Food Service Equipment industry continues to become more innovative each year, creating growth in their engineering departments that trickles down to every other division. This increased need for talent, especially in the engineering field, was echoed by many of the companies I spoke with at NRA this year.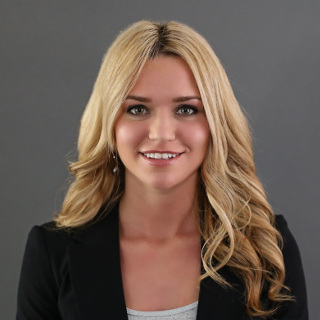 What were your thoughts on this year's NRA show? Please reach out to me if you'd like to discuss!
*For more information on our Food Service Equipment practice area, see https://www.directrecruiters.com/food-service-equipment/