In the current market, the labor dynamic is ever-changing, and organizations with the best talent strategies win. The Healthcare Technology team at Direct Recruiters, Inc. had the opportunity to interview several leaders within the Private Equity Healthcare investment space to discuss their perspectives. Industry leaders shared knowledge and helpful insight on acquisition, retention and building culture for today's hiring landscape.
Jump to Interviews:
DRI's Healthcare Technology team recently had the opportunity to interview Virgil Bretz, CEO of MacroHealth. Offering helpful insight, Virgil shared thoughts on company culture, leadership, hiring, and the overall outlook of the healthcare IT landscape.
Founded in 2017, MacroHealth is on a mission to modernize healthcare, making purchasing and selling healthcare services simple and powerful for the healthcare finance professionals who are dedicated to guiding members and patients to the best care, at the best price, for the best outcomes. Through their innovative MacroHealth Intelligent ExchangeTM (MiX) platform, they enable health plans, self-insured employers, network organizations and providers to transparently collaborate on a single platform.
A first-of-its-kind SaaS platform, MiX leverages data science and industry standard interoperability to create an Intelligent Health Market™- a transparent digital healthcare ecosystem where all players able to easily leverage key data to make informed business decisions and collaborate with best-in-class partners, enabling them to win.
Talk about your company culture and what makes MacroHealth unique.
MacroHealth is a healthcare IT company creating an intelligent, SaaS solution to bring desperately needed optimization and connectivity in the U.S. healthcare industry. What's unique about MacroHealth is that our team is located across the United States and Canada, and is a mash-up of people with deep healthcare and deep technology experience. We have had to work hard to bring all of these people together and align our mindsets to create one of our core values, which is "One Team:"
We act as one team with our fellow MacroMates, customers and partners

We value humility, low ego, and collaboration

We are All for One, and One for All
We are proud that earlier this year, we were recognized as a 'Best Employer' for both the Province of BC, where most of our product engineering team resides, and nationally in Canada. MacroHealth tends to attract people for a couple of reasons: In MacroHealth's stage of development, we are not an early start-up, as we have blue chip clients and GTM fit, but we are still in the start-up stage, and it is a very exciting time for our team. Professionals who don't want to work in a huge company get the best of a start-up and a stable employer. In addition, MacroHealth attracts those who want to make a difference in healthcare. Our team's work measurably improves healthcare access, reduces costs, and in the future will improve healthcare quality.
What are the main traits/experience you look for in leaders?
MacroHealth looks for people who can demonstrate the ability to be confident, strong-willed collaborators. These individuals have strong opinions but work well with a team for the benefit of the team first, always. In addition, we look for leaders with a track record of delivering on promises, with a sense of urgency. We have a term called 'Macro Thinking,' within our team which is keeping a growth mindset, and connecting the dots between their work, the work of our organization, working with our clients, and ultimately our responsibility to make healthcare better for everyone.
What is the biggest issue on your plate in regard to hiring?
Finding and earning great talent is a huge challenge! The broad acceptance of remote work has expanded the geographical market for where we can hire most of our roles. This increases the chances of fantastic two-way fits, where we can find the best possible person for MacroHealth while being the best possible job and team for our ideal candidates. On the other hand, with increased remote work, the team needs to work hard to understand who the new hire is, their style, and how effective they will be without working together in person. On another front, hiring was extremely competitive over the past two years, but this competitive pressure is easing slightly as we continue to hire while many organizations are holding or shrinking their teams.
What are the biggest trends you're seeing in healthcare technology?
Healthcare is driven by exploding costs, an aging population, incredible advances in medical science, and of course, a global pandemic. This is a time of incredible change in our industry. Focusing on healthcare information technology in particular, there are a few current trends to highlight.
Consumer Experience: The recent announcement of Amazon buying One Medical is one more headline illustrating what most of us think: the healthcare consumer experience has a lot of room for improvement. Challenges to finding providers, scheduling, long wait times before, during, and after treatment, and unpredictable pricing are just some of the factors. It can often feel like consumers are working for the current healthcare system and not the other way around. Over the past year I have heard most of our clients and partners talking about IT solutions to improve customer experience and the member journey.

Interoperability: Our industry still works on a pre-internet, pre-API, non-real time architecture. EDI and X.12 are decades old, and this is inhibiting real-time customer experiences. For example, imagine if you called an Uber, and its data updated once a day! That second-by-second, real-time experience would be impossible in most of the healthcare industry today, so a huge trend is transitioning to modern interoperability standards.

Transparency: There is a bi-partisan, government-driven push to increase the transparency of contractual pricing between Payers and Providers. Consumers, but also even employers and other health plan sponsors, have far too little information about how much healthcare will cost before, during, or even shortly after a medical event.
Healthcare IT can make an incredible, positive difference on all of these issues.
What do you look for in a partnership with an executive search firm?
MacroHealth looks for an executive search firm to invest time to understand us and our team. We look for a high EQ on understanding cultural fit. In addition, our partners need to have a proven ability to find and earn trust with passive candidates, which is hard. We look for them to focus on timely delivery and completion.
Christian Kurth, Vice President
JMI Equity
What are the main traits/experience you look for in leaders?
We look for leaders with a strong track record of success in their prior work experience. That is goal #1. An added benefit is if that individual has domain expertise – we love finding leaders that have grown up in an industry or have "lived experience" in a particular space or sector. This allows them to clearly articulate and anticipate the trends, dynamics, challenges, and opportunities of that particular industry better than we as outside investors could. Executives need to do many things, including setting strong goals and a vision for their company and effectively leading people, but to me, the most important trait is self-awareness. No one is a superstar in every aspect of their job – leaders that identify where they excel and where they need to lean on the strengths of their team are the most effective in my experience.
What is the biggest issue on your plate in regard to hiring?
Speed. We are coming out of the most competitive labor market in recent history (maybe ever) where demand for talent has outweighed supply and employee fluidity has been at an all-time high. It is increasingly difficult to, 1.) hire well, and 2.) do so quickly. We work with our portfolio companies on building efficient and repeatable recruiting and interviewing processes so they can extend offers to candidates swiftly and with conviction. This is a critical component of scaling growth stage companies, as organizations with best-in-class talent lifecycles outgrow their competition.
How are you helping employees avoid burnout?
Unfortunately, there is no silver bullet answer to this question. That said, I've been incredibly impressed with the creativity exhibited by our portfolio companies around this topic. Some unique ideas include, picking a day for no internal meetings (i.e., no Zoom meetings on Fridays) or shortening internal meetings all together (i.e., doing 45-minutes vs. an hour to give people time to recharge in between meetings). It's also critically important to have a robust benefits program available to employees, including a defined employee mental health strategy and resources that are actively promoted and easily accessible. Finally, it's essential that leaders, and especially front-line managers, exhibit empathy and ensure flexibility for their teams. The traditional 9 to 5 is becoming a somewhat antiquated practice, so exhibiting flexibility and empowering employees to take control of their daily work schedule can go a long way in reducing burnout.
What do you think is going to be the next big innovation in healthcare technology?
I'm not sure if this is as much an innovation vs. a trend, but I believe there will be a renewed focus on clinical efficacy and quality as the digital health market matures. The pandemic spurred a tidal wave of innovation as virtual-first care took off to meet the needs of patients and members who were isolated or unable to access traditional care modalities – mental / behavioral health being probably the best example. While the growth in virtual care has greatly expanded access to care, I believe the conversation will shift from focusing on access to focusing on clinical efficacy and outcomes. The digital health vendors that can consistently deliver superior care quality and outcomes will rise to the top and achieve lasting market leadership.
What are the main traits/experience you look for in leaders?
As a baseline, we look for leaders with a track record of success in their prior work experience. A history of promotions and extended periods of time within the same organization are key. We orient ourselves to references more than anything, both from managers as well as the individuals that a leader managed. We like both top-down references as well as bottom-up references. Ultimately, we look for executives as leaders of people, so experience and track record of how a leader manages people and how he or she manages up is extremely important.
What are your onboarding best practices to ease the transition between companies?
We hope the new leaders of our companies get inundated with as much information as early and often as possible, participating in meetings on day 1 and integrating them into the workflow of a business. With that being said, we want that period of time to be reserved for listening and learning; a little bit of walk before you run. It is difficult not to fall into the trap with a new leader of sprinting towards some company objective or goal, but if you are hiring talented leaders, you want them to be able to weigh in on if we are even running in the right direction in the first place.
What do you think is the greatest cause for turnover?
We think the greatest causes of turnover, especially in new hires, are not some of the most obvious, like compensation or culture clashes. What we see as the greatest cause is not being crystal clear on expectations of the job requirement. It's critical that the preparation for a new hire includes spending a significant amount of time on the job req, roles and responsibilities, as well as making sure the board and leadership team are rowing in the same direction in terms of what will be asked of a new leader or employee. We find that it is this misalignment of what a candidate believes the job is versus what it actually is that is the biggest cause of turnover.
What do you look for when partnering with an executive search firm?
The key word in the question is 'partner.' You have to take the viewpoint that your executive search firm is not just a service provider but someone that will work collaboratively with you to build the best organization possible from a talent perspective. At the stage we invest in (early stage, growth stage businesses), many of our leadership teams don't have significant experience working with an executive search firm, so it is a learning process. We don't just want our executive search firm to identify great candidates and get to an offer as quickly as possible. We want help with that initial leg work of designing and implementing an effective process. The key for us is a partnership mentality with a great executive search firm.
What is the biggest issue on your plate in regard to hiring?
Given the incredibly tight labor market we've been in for the past several years, access to great candidates has been a challenge, but it always will be. We live in a competitive world. For our early-stage businesses, speed is the most challenging aspect of the hiring process. Given the way we like our companies to hire, the importance of culture, the importance of clearly defining expectations of the job, and making sure we don't miss on a new hire, it has been difficult to keep up with the pace with which people will meet a candidate and lob in an offer. Ultimately, we're in the people business, and you win or lose based on talent. So, for us right now, speed is the most challenging aspect of the hiring market.
April 28, 2022
By Christy Pashkovskiy, Director of Marketing
Returning to work after an extended leave can be a tough process. Those with the luxury of family leave time after the birth or adoption of a child may be out of the office and out of their work routine for months, so the transition back can be intimidating. With preparation and managing expectations with yourself, your supervisor and your team, returning to work can be a manageable and even rewarding experience.  
Below we have outlined helpful tips for employees to make a happy, productive, and successful return to work after leave, as well as best practices for companies to assist employees in the transition back. 
Employee Return to Work Basics 
Start planning for your return to work at the end of your leave. While it may seem daunting, preparation is key to a smooth transition back to work. Below are six things to do before your first day back. 
Reach out to your HR department.

In some situations, there may be paperwork to fill out, the need for a healthcare provider sign-off, and confirmation of the date you are starting back. Discuss any questions and/or concerns you have with your HR manager.

 

Call your immediate supervisor.

Instead of waiting until your first day back, give your boss a quick call to communicate when you will be returning, and share any changes to your schedule that may need addressed. 

 

Get in touch with members of your team.

To ease yourself back into the work culture, have a few conversations with co-workers to catch up on current projects and any major changes that may have happened since you have been gone.

 

Lock in your childcare plans.

An obvious, but sometimes difficult task, deciding on the right care for your child may be one of the most important things to figure out before your return to work. Be sure to test out your options and line up back up plans. You also may need to write out important contact info for the childcare provider, and details about your child that are necessary to know (such as sleep and eating routines, allergies, etc.).

 

Develop a plan for pumping if needed.

Those who breastfeed may need to put together a plan and schedule to do so. Important points to cover with your employer are scheduled pump breaks and a private space to pump. If this applies to you, organize your intended process and make sure that you have a bag for your pump, storage for milk, water and brainstorm snacks to take into work. 

 
Go through a practice run.

Maintaining a routine will help both you and your child to adjust to your return to work. Going through your new process as a trial run will give you the time to work out anything unexpected and help you develop the right routine for your family. Think about things like dinner prep and your personal work wardrobe. Anything that can be simplified will help you in the long run. 

 
Employee Mental Health 
Anyone who has gone on parental leave and returned to work will tell you that it has its challenges. Some adapt easier than others but being in a good mental state and getting the help you need to accomplish that is important for you to put your best foot forward.  
Manage expectations with your employer.

Have a discussion with your boss and ask for flexibility if needed whether you need to work different hours, consider part-time or a different flexible arrangement. 

 

Reach out to others who are going or have gone through the same situation.

Friends or co-workers who have also gone on leave and returned to work can be a great support system and offer helpful advice in successfully returning. 

 
Make time for yourself.

If you are emotionally drained, returning to work will be even more challenging. Try to get rest when you can and take time to do something fun for yourself periodically, even if it is something small. 

 

Expect change.

You may feel a range of emotions as you transition back to work. Give yourself grace and know that it may not feel the same as it did before. You will create new routines and habits that work best for you and your family. 

 
Employer Best Practices 
As outlined above, returning employees have likely been out of work long enough to have significant obstacles and challenges to overcome in their return. To ease the stress and have a better chance of retaining these employees, there are various steps employers can take to make their return to work a better process. 
Offer substantial leave.

While there are numerous caveats surrounding parental leave, companies who offer an attractive leave policy have a better chance of retaining high-performing employees. A

paid

leave policy with plenty of time off is a great way to stand out among your competition as an employer. 

 
Communicate.

Although people who are on leave may be busy with a new child, it is important for employers to check in periodically throughout leave to understand how the employee is feeling and where they are mentally. This communication should continue and increase as the return-to-work date gets closer. Even a running document of updates, new projects, team wins, and more is helpful to put together for a returning employee. 

 

Offer flexibility for those returning to work.

As mentioned above, employees may be more comfortable with a flexible schedule, remote work or other work arrangements upon going back to work. Some companies even build in a transition period with returning employees working part-time for a number of weeks before going back to full-time. Employers who are understanding of new circumstances for their employees and build in flexibility will reap the benefits when it comes to retention and employee engagement.

 

Encourage support and community.

Many employees will go through a leave time period and return to work at some point in their careers. Employers can help to set up sharing groups between these employees to help them overcome challenges, exchange advice and have discussions. 

 
Parental leave is an important topic to consider for employees at their current organization, those searching for new roles, and the employers themselves. With time and thought, the return-to-work process can be successful for both the employee and employer. 
September 30, 2021
By Celeste Gable, Marketing Coordinator
The class of 2020 graduates entered a very different economic future than their predecessors the year before. The recession caused by a pandemic has been especially hard on young workers. Well over a year past their graduation and 45% of the class of 2020 are still looking for work, according to a survey conducted by Monster. The challenges of a pandemic economy are evident in the labor market outcomes for these 2020 college graduates.
What's the best way for grads to get back in the game?
Keep resume fresh and fine-tuned. Make sure you are presenting the latest and most compelling information to employers. Ask friends and mentors to critique your resume and cover letter and provide feedback. Use the gap between graduation and full-time employment to learn a new skill or volunteer your time.
Contact your college career office. Set up a meeting to explore options and make sure that you have tapped into all the resources available. Most offices have a roster of available jobs and internships. Online job posting sites like Handshake, LinkedIn, and Indeed are good resources too.
Ask employed friends to help you. Perhaps you have a friend or two in your field that would be willing to speak with their own company hiring officials about any upcoming hiring needs. Turnover is at an all-time high, so companies are hiring at increased rates. It doesn't hurt to ask!
Network, network, network. It is absolutely true that most graduates who find work after they have left campus do so through some form of networking. Ask your career office and/or alumni office for a list of contacts in geographic and industry sectors of interest. Follow and connect with relevant experts on LinkedIn. In addition, contact relatives. Everyone knows someone.
Have a strong online presence.  Make sure you're LinkedIn profile is complete and up to date. Use your online presence to attract hiring managers and recruiters. Join groups for your college and career fields of interest. Reach out to fellow group members for informational interviews. Nowadays, most companies advertise their open jobs on their social platforms. Make sure you are following them for all their updates.
Consider temporary employment jobs, entry level positions and internships. Once your foot is in the door of a company, meet as many of the staff as you can and try to make a favorable impression. You never know where this could lead.
If you're about to graduate or a recent grad, share your story on social media. Tag us! @Directrecruiters on LinkedIn, Facebook, and Instagram and @dri_inc on Twitter!
April 8, 2020
By Shawna Rosner, Director Legal Solutions Group
While we navigate a crisis and pandemic to the likes of which we have not encountered before, some work must go on. Firms and companies across the country are moving forward with hiring and starting new hires remotely. Last week, I had two attorneys begin their jobs remotely which required virtual onboarding. I thought it might be helpful to give some tips and insight into this new but real phenomenon. How can your company start strong with a new hire during this time or at any time when working with a remote candidate?
For many new hires, the first day is the first time they get to meet their full team and other colleagues. Let's face it, the first day of a new job is the start of a new relationship, with your firm or company but also the start of many new relationships, with colleagues. It is essential to make a great first impression regardless if it's in person or virtual.
To start, there are a few key factors to consider when onboarding someone virtually. Take some time to plan and create an agenda for the new hire. Try to do your research and think about what the candidate will need to know about joining your company. Having the manager involved as much as possible is likely to lead to more success.  Being overly communicative to the candidate before the start date and throughout the process is a good practice to keep him or her engaged. Additionally, ensure that all material, onboarding documents and forms that need to be signed are all digital and the new hire can view and/or sign things virtually. The hiring team should also prepare any company-issued technology needed and set up a plan for the new hire to pick this up safely. I have also heard of needed technology and paperwork being personally delivered by IT or other administrative staff to the new hire's home to avoid having to come into the office at all.
The first week is a crucial point in virtual onboarding. Where normally a simple email to a team telling everyone to stop by and meet the new hire, now is the time to circulate more personal questions during a virtual email introduction to the team. A client of ours began the onboarding process before the actual start date by sharing emails within the team introducing the new hire and sharing a couple of things about themselves. The candidate shared the email thread with me. I was happy to see the humor displayed. It made me, an outsider, feel like the team was a real family just through this short series of emails and I know the new hire was more than excited and relieved by this virtual introduction to his new work family. Another welcoming idea during the candidate's first week is, if available, coordinate a way to send the new hire your company 'swag' to his or her home as a welcome gift.
In addition, integration calls (conversations with the supervisor or manager) are key to making the new hire transition at a time when popping in the office to ask questions can't be done. Get creative with you integrate your new hire.  Zoom can be used for coffee dates with individual team members and happy hours with the whole team. Meeting with departments like Human Resources and IT should be set up through video calls with the ability to screen-share and go over any operational systems, platforms and tools the company uses.
For some companies, virtual onboarding isn't a whole lot different as they may already have new hires watch video trainings or utilize Skype or the like for orientation. For others, this is completely novel and a bit daunting to tackle but it is successfully being done.
One factor in virtual onboarding is company security. In this time of stay at home and shelter in place orders around the country, only essential businesses are operating. For those businesses that remain essential in their state, new hires may still be required to come into the office for a brief amount of time to pick up a laptop, connect their phones to company email and complete employment verification. They are then free to work remotely and do the remainder of their onboarding online. Some companies do not allow employees to use their own laptops or desktops because of security risk. As I previously mentioned, this can also be done via personal delivery.
As virtual onboarding is new for so many, it makes sense to adjust the process based on feedback.  At this time of crisis all of us are challenged to be more flexible and roll with the punches, the same will hold true with hiring.  The pandemic at hand is going to require new hires to fill current and projected needs. Virtual onboarding may be a new process to many but measures can be taken to make sure an employee's first days with a new company are inclusive, positive and successful!
Success doesn't rely on luck. Success begins when developing a successful mindset. This mindset, in turn, builds character and ultimately creates success.
There are 7 things that successful people have in common.  Not to worry if you don't have all seven. They can be learned from mentors or positive role models who can share tips on their habits and behaviors that brought them success.
They are dreamers. Successful people dream big and don't put boundaries on how far they can reach. They will do one thing each day that puts them closer to reaching their goals. However, they dream with a plan because without a plan, a dream is just a wish.
They are willing to fail. Success doesn't come easy and professionals are bound to fail along the way. Rather than staying down, Successful people pick themselves back up and learn from their failures and use them as stepping stones to success.
They invest in themselves. Successful people invest their time and money towards bettering themselves. They strive to learn a new skill or improve their current ones. They realize that without knowledge, they don't have power and without power, they cannot reach the next level.
They network and connect with others. Successful people network with like-minded individuals. They seek out people with similar goals and who bring out the very best in them. They will join associations and attend events to stay connected.
They take action. Successful people take immediate action and have excellent decision-making skills. They don't wait for things to happen but make things happen and do it without looking back or having regrets.
They embrace change. Successful people don't fear or resist change, they embrace it. With the world moving at warp speed and technology rapidly changing, they adapt and realize that change is inevitable.
They see the bigger picture. Successful people never stop moving forward. They knock down any brick walls in their way. They also know that the problems they are facing today probably won't matter next week or in the long run. They are unstoppable.
#GivingTuesday is known globally as the day of giving fueled by the power of social media and collaboration. It is celebrated each Tuesday after Thanksgiving in the US, and focuses on kicking off the charitable season. As companies are looking to wrap up their end of year and get a jump on their first quarter of hiring, they are also looking for ways to differentiate themselves from their competition. And with today being #GivingTuesday, now is a great time for organizations to take a look at their social responsibility and the ways in which they are giving back to the community.
There are countless ways to give back, build social responsibility, and in turn, boost your company culture in your organization. Whether it is monetary donations, volunteering, or participating in charitable events, companies can make a huge impact in their communities. Here at Direct Recruiters, we do our best to give back in the community and believe it positively impacts our company culture. For example, each year we participate in Race for the Place, a benefit held by the Gathering Place, a Northeast Ohio organization that provides programs and services free of charge for individuals touched by cancer. In addition, we work to fill boxes full of toys to donate to the Leprechaun Foundation, a charity that gives toys to children in Cleveland area hospitals.
When job candidates are looking for a new job, they take into consideration numerous factors. They want to make sure that they are making a move to a reputable company that is respected in the community. Organizations that are socially responsible are more attractive to potential future employees. If a company is building good relationships in the community, that jobseeker is going to hear good things about the company. If employees feel good about their company and enjoy working for a good organization, those feelings are going to show to others in the industry as well.
Another benefit of doing charitable events is bringing your organization together. What makes a company great to work for is employee morale. As a company, you want your employees to feel great about where they work. You build strong connections with your employees when you go beyond your normal work day. Increasing morale increases overall productivity. You want to differentiate yourself in the market and this is one way to achieve that. Being unique keeps employees and customers loyal to your company.
Social responsible companies have a competitive edge over those that are not.
Getting out in the community also helps for networking. You might be standing next to someone at a soup kitchen that could add value to your organization and vice versa. Meeting people in your local area will help get the name of your company known and you can help others that you meet along the way.
So, on #GivingTuesday, take a second to think about what your company can do to get out and lend an extra hand. There is always something to be done and people are always looking for help.
Last year several new recruiting tactics were introduced. This year, we've seen them adopted and implemented. And many of these modern methods will shape the hiring process in 2019.
We've analyzed many of these new tactics and technologies. Some are fleeting trends soon to be forgotten. But some of these new methods would be worth implementing. The following 7 recruiting trends are the methods we believe will continue into 2019.
Go mobile
Earlier this year, Google announced they were moving to mobile-first indexing. Search engine optimization may not have been a top priority of recruiters in the past, but this update is worth acknowledging.
Google makes changes for two reasons:
To benefit the searcher's experience.

To adjust to searcher's habits
Today more candidates are conducting their job search on a mobile device. But that doesn't mean the industry is following suit. Although mobile platforms have been around for quite awhile, many recruiters haven't adopted this change.
In a recent study, 45% of job seekers said they use mobile to hunt for jobs at least once a day. And 89% of job seekers use mobile platforms for job search. Today, 16% of applications are submitted via mobile. To be effective, your recruiting strategy should allow candidates to easily interact on a mobile device.
Say goodbye to paper resumes
Speaking of applications, the future is signaling the end of the paper resume. Organizations are beginning to place more importance on soft skills. Beyond a paper document, social media profiles and video submissions can more accurately demonstrate a first impression.
For the company hiring this means keeping up with trends and being able to accommodate these technologies.
For job seekers, this means this means developing an integrated personal brand through social media profiles, digital portfolios, and even a personal website (if appropriate for the position).
Develop an attractive online profile
If companies want to attract top talent they need to portray an appealing environment. Social media is used to demonstrate corporate culture. Research shows that 79% of candidates review social profiles during their job search.
The reality of working for your company should be accurately portrayed across your social media. Strengthening employer brand was listed as a priority by 60% of organizations. Your website, social media, and online reviews should provide an accurate depiction of the company culture.
Realize the impact of artificial intelligence
It sounds like something out of a sci-fi movie, but artificial Intelligence is impacting the job market. The UK has already experienced the impact. In 2017, 66% of UK office employees requested the assistance of AI to accomplish their daily work.
This technology will impact the roles HR departments need to fill. Working with the assistance of AI will change the skills required of employees. Within the next fifteen years predictions indicate that 50% of employees will rely on the assistance of AI.
Consider flexible working conditions
The Gig Economy has impacted the job market in multiple ways. Not only are more workers moving to freelance positions, this trend is changing their expectations.
Research found that 65% of employees would pursue contract work if given the opportunity. This can be attributed to the many perceived benefits of such roles such as working from home. A 2016 survey reported that the ability to work remotely impacted 68% of candidates decision.
We don't anticipate the entire workforce to quit their traditional jobs for contract work. But the popularization of these non-traditional roles has changed employee expectations.
Take note of virtual reality
There's no shortage of video interview software. As we previously mentioned, video is able to demonstrate a more accurate first impression.
Video interview doesn't seem like it will be going away. Additionally, virtual reality and augmented reality platforms are being used for interactive hiring needs. Rather than answering the usual questions, virtual reality shows how candidates respond in practical settings.
Develop Talent Relationship Management
With an already competitive job market, Talent Relationship Management (TRM) has become an increasingly important recruiting tool. Unfortunately, many HR departments have overlooked the importance of cultivating the existing relationships within the organization in order to attract new talent.
History has shown that 40% of companies' best hires come from within. One study showed that utilizing TRM resulted in a 4% higher offer acceptance rate. Candidate Relationship Management (CRM) shouldn't be overlooked. Rather, it should be implemented alongside TRM in order to recruit the best candidate.
Summary
In order to recruit the right candidate, you have to employ modern hiring methods. Simply posting a job and waiting for the resumes to pour in may not work anymore. Today's job market requires a more proactive approach from both the recruiter and the candidate.
Finding top talent requires staying up-to-date on these trends. Depending upon the size and capabilities of your organization, you may not be able to adopt all these trends. But you should be aware of the expectations. As an organization, identify the weaknesses within your current recruiting methods and be willing to implement needed changes.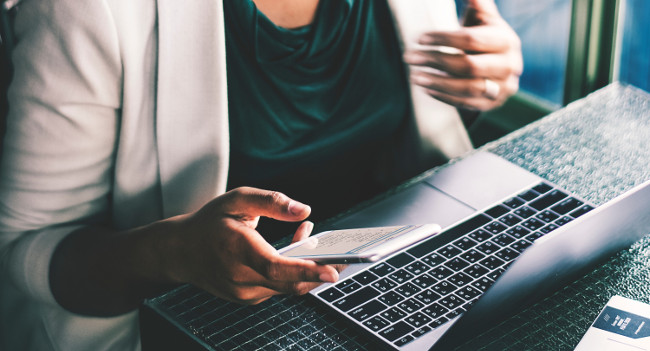 Managing your LinkedIn profile like a digital Rolodex could lead to countless missed professional opportunities.
 In spite of the many social platforms, LinkedIn remains the ideal social network for business professionals. According to the Society of Human Resource Management, more than 90% of recruiters rely on the platform to find candidates. And today, it's used in nearly every industry.
 Each year the platform continues to improve its interface to remain an invaluable networking resource for professionals. However, there are a few things you should keep in mind to ensure you're marketing yourself effectively on LinkedIn. Here are 7 ways to have an effective LinkedIn profile.
 Be active
LinkedIn is a powerful resource. But, to make the most of the social platform, you'll need to be socially active. Being an active user means engaging with your contacts by liking, sharing, and commenting on their activity.
 However, it can be difficult to interact with your contacts throughout the day. One of the simplest ways to be active is to download the mobile app. The LinkedIn app provides an easy-to-use interface that makes networking a breeze.
 Another part of being active is to ensure your profile remains current. Continually update your profile with projects you've worked on or presentations you've given. You can share your work by writing articles or posting pictures and videos. The goal is to provide content that will benefit your connections and make them want to interact with you.
 Becoming a member in groups is another way to be effectively active. LinkedIn will allow you to join up to 100 groups. Once you join a group you become connected to the members within the group. This causes your profile to show up in more search results when someone is looking for your skillset.
 Write an effective tagline
Your tagline, also known as your headline, should be optimized and captivating. It will default to your current job title if you don't change it. But this is what potential connections and hiring managers will use to find you. To ensure it's optimized, include words that you want to be discovered for. 
 Rather than allowing it to default to your current job title, use the 120 characters to give the reader a snapshot of who you are. Provide a brief description that is both interesting and engaging. A captivating tagline will motivate them to click on your profile link to read further.
Use keywords
In addition to your tagline, use keywords throughout your profile. Include keywords you want to be targeted for within your headline, your position titles, summary, experience descriptions, projects, certifications, publications, and anywhere else they can be placed.
 Currently there are more than 11 million active job listings on LinkedIn. If you want to be considered for a new opportunity, you'll need to include those words within your profile. Recruiters use keywords to search LinkedIn for the job description they're trying to fill.
 Look through jobs you're interested in, and make note of the specific skills and words used within the descriptions. Sprinkling those words throughout your summary and experience sections will help you connect with your desired opportunities.
 But don't stuff your profile with keywords. Injecting too many keywords is going to be obvious, and demonstrates poor communication skills. It will be obvious to the reader that the profile was created only for LinkedIn's search engine optimization.
Discover your niche
How are you going to stand out among the millions of people on LinkedIn? At first, this may be overwhelming. But the solution is to select your desired niche. Identify yourself as specifically as possible.
 You'll be lost in the crowd if you simply market yourself as a manager. To attract the attention of a hiring manager, present yourself as an IT Security Manager with a CISM Certification. Distinction will make you standout and make you a more attractive candidate to the appropriate hiring managers.
 Make sure your profile is complete
Don't be satisfied with an incomplete profile. Complete all sections, including education, certifications, and interests
 A complete profile will provide better position within search results. Be sure to include your information for all the applicable profile sections. As you complete your profile, contemplate your personal brand and the impact of the information you provide.
 Consider the details that will help you standout among the competition. Include any certifications you have, projects you've been a part of, or foreign languages you speak.
 Consider your images
There are two images within your profile you should pay special attention to: your profile image and your background image.
 Your profile image says a lot about the rest of your profile. It's often someone's first impression of you. Your photo should be professional and appropriate for your industry.
 The profile picture provides a personal connection for recruiters and hiring managers. An unprofessional or missing photo can seriously impact your job search. The image increases the likeliness of your profile being viewed by 40%.
 In addition to your profile picture, use a background photo for additional personal branding. Use a photo that you have the rights to and communicates what you stand for. The size of this photo is 1400 x 425 pixels and should be a .jpg, .gif or .png file.
Get recommendations and endorsements
Having the recommendation of your peers is one of best ways to improve your profile's social standing. It may be uncomfortable to request a compliment from a colleague, but offering to reciprocate the favor can make it feel more natural.
 Don't overlook the importance of endorsements. LinkedIn provides you complete control over your them. You can select the skills users can choose to endorse you for. You can also delete any undesired endorsements.
 Endorsements also provide a unique networking opportunity. Whenever LinkedIn notifies you of an endorsement say "Thank You" to your endorser. This is a great way to naturally start a conversation with someone.
 Final thoughts
Understanding the features of LinkedIn can impact the success of your job search. Knowing what areas to focus on will increases the opportunities of your profile being viewed by the right person.
 Implement these 7 suggestions within your LinkedIn profile to help you connect with the right person in order to obtain the job you're searching for.
Networking events sometimes feel like speed dating. Talk to as many people as you can until you find a mutually beneficial connection. It can be less than comfortable.
These events are created with the best of intentions, but trying to create organic conversation in a manufactured setting can be difficult.
The thought of networking will cause you to reach for a stack of business cards or hide in the coat closet depending upon your personality. Rather then shuffling through your forced mental script of rehearsed questions, consider the following 5 ways to be effective at your next networking event.
Be memorable
We don't mean wearing a flashy tie. Be the man or woman who is remembered by what you say.
We're all used to the standard, "So, what do you do?" line of questioning. Simply being prepared for these standard questions can leave an impression.
Come up with an honest answer that is engaging and makes the other person want to know more.
Donald Miller, best selling author and CEO of StoryBrand, gives the following example of a conversation between two people at networking event.
Other person: "So, what do you do?"
You: "You know how hard it is to make a healthy dinner every weeknight with all the stuff your kids have going on? Well, our company delivers homemade frozen dinners that are actually affordable, so parents can relax and enjoy time with their families at night."
As Miller explains, this method works because you're telling a mini-story with this type of answer. This also positions you as the person who can solve a specific problem. If the other person can't work with you at the present time, they'll be able to file your name away in their mental Rolodex as the person with a specific solution.
Be genuine
Vanessa Van Edwards, a human behavioral expert, and author of Captivate, tries to provide a "me-too!" moment for the other person in every conversation. "It makes us feel accepted. It makes us feel heard. And most importantly, it makes us feel calm," she explains.
Genuinely showing you care goes a long way. During most of these events, you're surrounded by people searching for what they can get out of the other person. But entering a conversation with the desire to solve their needs often results in mutual benefit. Maybe you'll get their business or maybe you'll just get the blessing of being able to help someone.
Show the other person you care by asking questions you actually want to know the answer to. Rather than the standard, "What do you do?" or "What brought you here tonight?" try the following:
What are you most excited about with your job right now?
What are you most excited about with your industry right now?
What's the biggest challenge you're currently facing?
How did you end up in your line of work?
What are you looking forward to this week?
Know where to stand
It may sound trivial, but the location you choose to stand in a room can make all the difference. Rather than backing yourself up into a corner, choose strategic high-traffic locations within the room.
More specifically, stand where people are walking away from – against the flow. Find a place where there is a natural traffic flow such as a few feet from the bar or hors d'oeuvres table. This will allow you to make eye contact and be in position to naturally engage other attendees.
Check your body language
In a recent interview, Van Edwards explained that you want to maintain open body posture. This shows the other person you are open to conversation and non-threatening.
A simple way to demonstrate open body posture is to show your hands. Van Edwards says this is a primal survival mechanism showing that we are not carrying a weapon. Conversational stature often causes us to place our hands in our pockets or fold our arms. Subconsciously this communicates that we are closed off or even untrustworthy.
It can be hard to avoid folding your arms as this can be a natural tendency for many. However, if you need to, hold a glass or folder to keep yourself from placing your hands in your pockets.
Have a plan of action
You can usually decide early on in the conversation whether you will want to stay connected with the person you've been speaking with. If you do, you'll want to have a practical way to follow up. But if you decide that you won't want to stay connected, you need to have a natural exit strategy.
If you desire to stay in contact, provide them with your business card and tell them you'll be following up with them. Depending upon the conversation, you may be able to offer to email them a helpful resource.
However, if you realize you won't want to stay connected beyond the conversation, you need to have a way to remove yourself from the conversation. Simply asking to be excused in order to attend to needed business before the next session can be a honest, natural method. You can also watch for a natural break in the conversation and cordially thank them for their time and wish them the best of luck with the remainder of the year. While you want to show genuine interest in the other person, you need to value your own time as well.
Summary
Depending upon the length of the event or conference, you may have several conversations, but you'll only have one or two memorable connections. Once the event is over focus on the conversation that you see providing the most direct benefit.
Today, it's easy to make connections, but developing relationships can be difficult. Developing these relationships requires you analyze yourself and be proactive. While searching for connections, you need to be the person someone wants to network with. Keep these five tips in mind to make the most of the next networking event you attend.
Resources:
http://buildingastorybrand.com/episode-96/
http://buildingastorybrand.com/network-without-being-annoying/