A significant number of job candidates falsify information on their resumes. Surprisingly, many applicants who fabricate their information still land the job. How is that possible?
According to Neil Adelman, President of Safeguard, a comprehensive background screening company in Beachwood, Ohio, "About 50% of resumes contain incorrect information and many businesses either lack the proper in-house resources or initiative to carry out full employment verification procedures or criminal record checks. As a result, companies can easily make poor and costly hiring mistakes."
There are a variety of reasons why candidates falsify information. From my experience, the reasons run the gambit of trying to hide periods of unemployment, conceal substance abuse, and/or hide a criminal record. For some, it's simply to get the competitive edge in today's economy and fierce job market.
According to the Wall Street Journal and the Society for Human Resource Management, here are the top reasons why employers should screen their applicants:
Reduce Legal Liability
Ensure a Safe Work Environment
Prevent Theft & Other Criminal Activity
Comply with State Law
Assess Overall Trustworthiness
I'd like to add two more…it saves time and money. For example, I recently advised a client of mine to conduct a thorough vetting process before hiring my candidate or any candidate for that matter. The hiring manager said it was their policy to hire first and then check. Unfortunately, they initiated their criminal background check well into his first month of employment, after on-boarding and training were completed. To their dismay, they found criminal activity in his past that if repeated, would put their company at risk. They terminated his employment immediately. Neglecting to do a background check before hiring was a costly mistake for them. Thousands of dollars in company resources including financial, human capital, and time were wasted.
I recommend that the best time to do a background check is when you narrow the playing field to one or two candidates and before a job offer is even discussed. Employment and background verification is too important for your company to hesitate on, delegate to an untrained employee, or disregard your state's guidelines and requirements.
Frankly, you have a duty to take care of your workforce as well as mitigate risk for your company. That's why DRI uses screening services before hiring our own employees and recommend the same to our clients.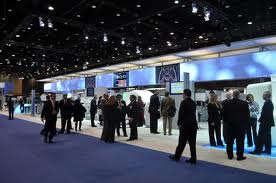 The 2015 trade show season is quickly approaching. After the holiday season, The DRI team will go into trade show mode. Whether you are attending these shows as an exhibitor or a visitor, it is important to maximize your time and get the most that you can out of the show.
For those of you asking yourselves why you should attend a trade show—there are lots of reasons! As an exhibitor, benefits include increased sales, face-to-face meetings, promotion of your brand, competition evaluation, and building credibility, to name a few. As a visitor, one of the main benefits is that you can meet large numbers of useful people in your industry in once place. If you are attending a show on behalf of your company, trade shows are a great way to forge good business relationships and make face-to-face contact. Trade shows are also the most time efficient forum to keep up to date with new to market technology, state of the art products, and innovations and developments in your specific industry.
So, as you start planning, here are 5 tips to keep in mind for getting the most out of your trade show experiences in 2015:
Prepare
Visitors: Make a list of the goals you want to achieve by visiting the show. Spend time researching the vendors so that you'll have a clear idea of who you need to see. Make contact before the show with key people you want to see and either set up a time to meet or at least get their telephone number so you can contact them once you arrive at the show. Bring a bag to carry everything you pick up, like promotional items.
Exhibitors: Ask yourself: who are you targeting at the show? Getting the right kind of traffic to your booth starts before the trade show, with pre-show activity such as e-mail blasts or marketing campaigns. Also, plan to bring any employees who would greatly benefit from attending the trade show, or who would be beneficial to have there. Lastly, don't forget to communicate via social media that you will be attending a trade show and to ask if others will be attending. (Also—don't forget to Tweet and use other social media platforms during and after the show!)
Have your materials ready
Visitors: Take plenty of business cards and any other materials you want to hand out. If you are representing your company, be sure to bring any literature that you want to give other visitors or exhibitors.
Exhibitors: Be sure to bring all of your marketing materials, including pamphlets, brochures, and other literature on your company and its services. Giveaways are also good and provide a valid reminder of your brand and tend to draw people to your booth.
Be mindful of your presentation
Visitors: Your personal appearance is important and is a representation of you and your company. Wear business attire and wear comfortable shoes.
Exhibitors: Make sure that your booth, and staff, are a good representation of your company. It is important to have an eye catching and functional display system to show off your merchandise or services as well as to attract and educate more potential clients about your business. Even if you get tired, don't pack up and leave early and don't sit there and look like you're waiting for the minute the show ends. This will make someone ask themselves, "Is this someone I want to do business with?" Staying energized and engaged until the trade show is officially over (or longer) proves to customers that you are a company committed to the trade show—and to their business.
Network, network, network
Visitors: Take advantage of the opportunity to meet industry peers. Don't be afraid to introduce yourself to others. By taking the initiative, you can promote yourself and your business and make valuable contacts.
Exhibitors: For many businesses, attending trade shows is one of the best ways to network and spread the word about your company. Engage with visitors and establish new relationships.
Follow up
Visitors: Ask permission to follow up with new contacts and make sure you understand the prospect's preferred method for doing so. Also, follow up with companies you requested additional information from. If you missed any companies while you were at the trade show, feel free to reach out to them after.
Exhibitors: Contact everyone you met at the show within two weeks. Separate contacts/business cards out by hot lead, warm lead and cold. This way you can easily establish the priority of who to contact right away. The goal is to move your relationship forward while the trade show is still fresh in their minds. Following up promptly is key to successfully maximizing your new contacts. A good idea is to organize a follow-up date for a qualified lead while at the trade show. Whether it's setting a date for a follow-up call or related to sending some follow-up materials, you must plant the seeds for a continuing discussion. People will be much more likely to keep you in the forefront of their thinking once they know that a follow-up is pre-arranged.
Millennials, also known as GEN Y, were born between the years ranging from the early 1980s to the early 2000s and are notorious job hoppers. Reports suggest they have a short attention span and the majority of this generation does not expect to stay with one employer for more than five years.
Companies are feeling the real costs of these job hoppers. Reported in the Chicago Tribune  30% of companies surveyed lost 15% or more of their Millennial employees in 2013; and 87% said it cost $15,000 to $25,000 to replace a former Millennial employee.
Is there any way to keep Millennials from walking out the door? Yes. But it may mean changing your company culture and/or implementing new and creative ways for employee retention.  Here are 5 suggestions:
1) Offer Job Hopping Opportunities Inside Your Company. Give Millennials an opportunity to have a wide range of experiences within your company. The ability to move between departments can lead to greater exposure and job fulfillment.
2) Leadership Development. Millennials pay close attention to whether their workplace offers leadership opportunities for them. Your company should develop and implement a variety of leadership programs that demonstrate a commitment to these young employees.
3) Mentorship Programs. Mentoring is very important to Millennials. Establishing an effective mentoring program is both a cost-effective means of facilitating connections, accelerate learning and send a positive message about their future with the company.
4) Current Technology. Millennials grew up with technology in their hands. They're very comfortable with smart phones, IPads, Laptops, etc. and are keenly aware of the latest applications and improved mechanics. Make sure your company offers the state-of-the-art technology to help them work more efficiently and increase productivity levels.
5) Work/Life Balance. Millennials will work hard but want flexibility. Offer them remote connectivity and alternative work arrangements for community or family events. Also, offer a relaxed environment. It's no coincidence that this generation admires the work environments of Google, Yahoo and Amazon. Gone are the days of wearing suits and ties as a more relaxed workplace is in.
If you're a Millennial and change jobs often, please comment on how job hopping has been a positive for you.
Success has nothing to do with luck. Success begins when developing a successful mindset. This mindset in turn builds character and ultimately creates success.
There are 7 things that all successful people have in common.  Not to worry if you don't have all seven. They can be learned. Find a role model and emulate their habits and behaviors that brought them success. Also, ask them to be your coach in order to help you learn and grow.
1)      They are dreamers. Successful people dream big and don't put boundaries on how far they can reach. They will do one thing each day that puts them closer to reaching their goals. However, they dream with a plan because without a plan, a dream is just a wish.
2)      They are willing to fail.  Success doesn't come easy and people are bound to fail along the way. Rather than staying down, Successful people pick themselves back up and learn from their failures and use them as stepping stones to success.
3)      They invest in themselves. Successful people invest their time and money towards bettering themselves.  They strive to learn a new skill or improve their current ones. They realize that without knowledge, they don't have power and without power, they cannot reach the next level.
4)      They network and connect with others. Successful people network with like-minded individuals. They seek out people with similar goals and who bring out the very best in them. They will join associations and attend events to stay connected.
5)      They take action. Successful people take immediate action and have excellent decision making skills.  They don't wait for things to happen but make things happen and do it without looking back or having regrets.
6)      They embrace change.  Successful people don't fear or resist change, they embrace it. With the world moving at warp speed and technology rapidly changing, they adapt and realize that change is inevitable.
7)      They see the bigger picture. Successful people never stop moving forward. They knock down any brick walls in their way. They also know that the problems they are facing today probably won't matter next week or in the long run. They are unstoppable.
What other traits do you think successful people have in common? Please post below!