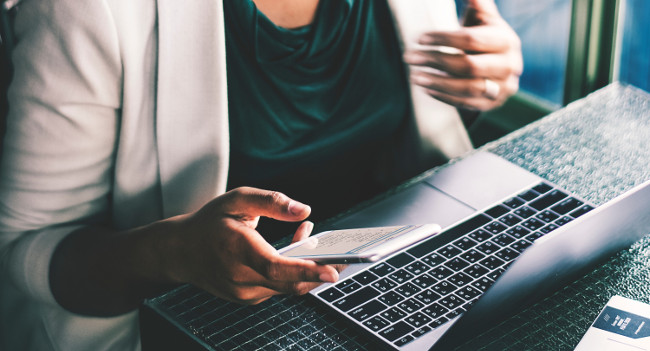 Managing your LinkedIn profile like a digital Rolodex could lead to countless missed professional opportunities.
 In spite of the many social platforms, LinkedIn remains the ideal social network for business professionals. According to the Society of Human Resource Management, more than 90% of recruiters rely on the platform to find candidates. And today, it's used in nearly every industry.
 Each year the platform continues to improve its interface to remain an invaluable networking resource for professionals. However, there are a few things you should keep in mind to ensure you're marketing yourself effectively on LinkedIn. Here are 7 ways to have an effective LinkedIn profile.
 Be active
LinkedIn is a powerful resource. But, to make the most of the social platform, you'll need to be socially active. Being an active user means engaging with your contacts by liking, sharing, and commenting on their activity.
 However, it can be difficult to interact with your contacts throughout the day. One of the simplest ways to be active is to download the mobile app. The LinkedIn app provides an easy-to-use interface that makes networking a breeze.
 Another part of being active is to ensure your profile remains current. Continually update your profile with projects you've worked on or presentations you've given. You can share your work by writing articles or posting pictures and videos. The goal is to provide content that will benefit your connections and make them want to interact with you.
 Becoming a member in groups is another way to be effectively active. LinkedIn will allow you to join up to 100 groups. Once you join a group you become connected to the members within the group. This causes your profile to show up in more search results when someone is looking for your skillset.
 Write an effective tagline
Your tagline, also known as your headline, should be optimized and captivating. It will default to your current job title if you don't change it. But this is what potential connections and hiring managers will use to find you. To ensure it's optimized, include words that you want to be discovered for. 
 Rather than allowing it to default to your current job title, use the 120 characters to give the reader a snapshot of who you are. Provide a brief description that is both interesting and engaging. A captivating tagline will motivate them to click on your profile link to read further.
Use keywords
In addition to your tagline, use keywords throughout your profile. Include keywords you want to be targeted for within your headline, your position titles, summary, experience descriptions, projects, certifications, publications, and anywhere else they can be placed.
 Currently there are more than 11 million active job listings on LinkedIn. If you want to be considered for a new opportunity, you'll need to include those words within your profile. Recruiters use keywords to search LinkedIn for the job description they're trying to fill.
 Look through jobs you're interested in, and make note of the specific skills and words used within the descriptions. Sprinkling those words throughout your summary and experience sections will help you connect with your desired opportunities.
 But don't stuff your profile with keywords. Injecting too many keywords is going to be obvious, and demonstrates poor communication skills. It will be obvious to the reader that the profile was created only for LinkedIn's search engine optimization.
Discover your niche
How are you going to stand out among the millions of people on LinkedIn? At first, this may be overwhelming. But the solution is to select your desired niche. Identify yourself as specifically as possible.
 You'll be lost in the crowd if you simply market yourself as a manager. To attract the attention of a hiring manager, present yourself as an IT Security Manager with a CISM Certification. Distinction will make you standout and make you a more attractive candidate to the appropriate hiring managers.
 Make sure your profile is complete
Don't be satisfied with an incomplete profile. Complete all sections, including education, certifications, and interests
 A complete profile will provide better position within search results. Be sure to include your information for all the applicable profile sections. As you complete your profile, contemplate your personal brand and the impact of the information you provide.
 Consider the details that will help you standout among the competition. Include any certifications you have, projects you've been a part of, or foreign languages you speak.
 Consider your images
There are two images within your profile you should pay special attention to: your profile image and your background image.
 Your profile image says a lot about the rest of your profile. It's often someone's first impression of you. Your photo should be professional and appropriate for your industry.
 The profile picture provides a personal connection for recruiters and hiring managers. An unprofessional or missing photo can seriously impact your job search. The image increases the likeliness of your profile being viewed by 40%.
 In addition to your profile picture, use a background photo for additional personal branding. Use a photo that you have the rights to and communicates what you stand for. The size of this photo is 1400 x 425 pixels and should be a .jpg, .gif or .png file.
Get recommendations and endorsements
Having the recommendation of your peers is one of best ways to improve your profile's social standing. It may be uncomfortable to request a compliment from a colleague, but offering to reciprocate the favor can make it feel more natural.
 Don't overlook the importance of endorsements. LinkedIn provides you complete control over your them. You can select the skills users can choose to endorse you for. You can also delete any undesired endorsements.
 Endorsements also provide a unique networking opportunity. Whenever LinkedIn notifies you of an endorsement say "Thank You" to your endorser. This is a great way to naturally start a conversation with someone.
 Final thoughts
Understanding the features of LinkedIn can impact the success of your job search. Knowing what areas to focus on will increases the opportunities of your profile being viewed by the right person.
 Implement these 7 suggestions within your LinkedIn profile to help you connect with the right person in order to obtain the job you're searching for.
August 9, 2017
By Christy Fox, Marketing Specialist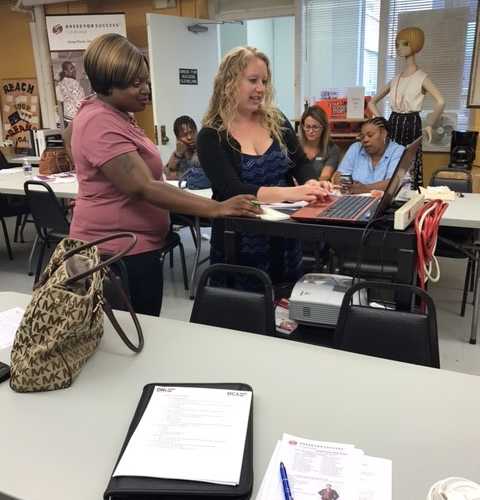 The mission of Dress for Success is to empower women to achieve economic independence by providing a network of support, professional attire and development tools to help women thrive in work and in life. Since 1998, Dress for Success Cleveland has been able to empower more than 19,000 women, establish three supportive service programs, and maintain a 52% placement rate in getting women connected to employment. About a month ago, the DRI and DCA Women's Group was able to take part in Dress for Success Cleveland's mission, and facilitate a professional development workshop.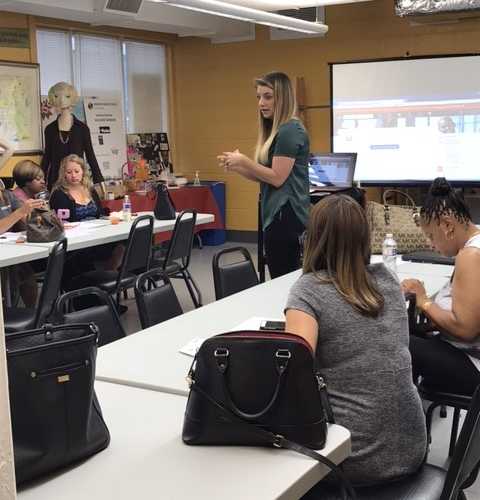 DRI and DCA women joined a group of 6 Cleveland women participating in an 8-week program designed to increase interview skills, presentation style, and inspire their career development plan. Specifically, DRI and DCA volunteered to contribute four sections of professional development tools, tips and information to encourage the ladies' success.
Part one of the workshop was dedicated to building LinkedIn profiles for the women. As a jobseeker, working professional, or even college student, LinkedIn profiles are a useful tool to network, search for jobs and build your online personal brand. DRI and DCA walked the women through a step-by-step demonstration of setting up the profile, and shared helpful tips to building out a profile that will help the women successfully brand themselves.
The next section of the workshop was to go over personal branding tips online and throughout social media profiles. DRI and DCA covered the basic do's and don'ts to online presence and sharing. This went hand in hand with the LinkedIn profiles and the proper way to use social media for professional development.
DRI and DCA then moved on to interview prep tips and information. There was a great deal of conversation regarding what the women had experienced in previous interviews, questions they may have for future interviews, and the best way to approach an interview from all angles. DRI and DCA shared information on how to answer any behavioral based interview question step by step.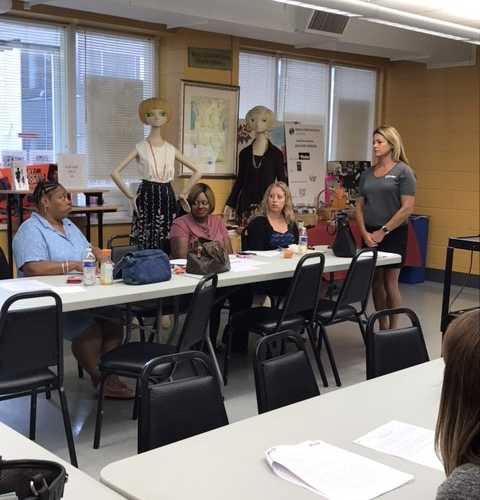 From there, the last section of the workshop was mock interviewing. DRI and DCA women asked the Dress for Success Cleveland participants common questions and coached them through how to best answer as well as tips on nonverbal communication skills.
Overall, the Dress for Success Cleveland workshop was beneficial for everyone involved. DRI and DCA women's group was thrilled to play a part in empowering other women in the community and to encourage them on their career journeys!
There are many ways you make a difference to the women of Dress for Success Cleveland. Please attend one of their upcoming Getting To Know Us breakfast events to learn more about the organization and how you can attend!
Wednesdays – 8:00am – 9:30am
September 20, 2017
November 29, 2017
RSVP by calling 216-881-6048

For more information on Dress for Success Cleveland, visit their website.