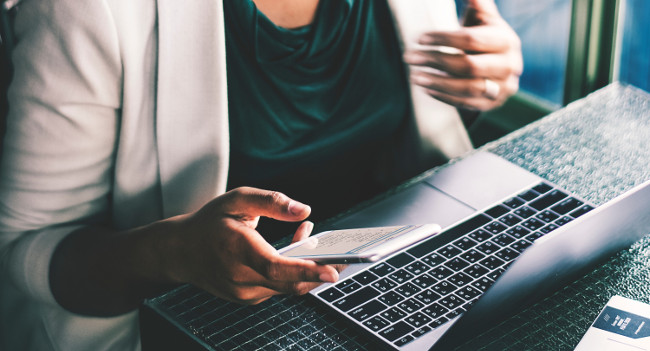 Managing your LinkedIn profile like a digital Rolodex could lead to countless missed professional opportunities.
 In spite of the many social platforms, LinkedIn remains the ideal social network for business professionals. According to the Society of Human Resource Management, more than 90% of recruiters rely on the platform to find candidates. And today, it's used in nearly every industry.
 Each year the platform continues to improve its interface to remain an invaluable networking resource for professionals. However, there are a few things you should keep in mind to ensure you're marketing yourself effectively on LinkedIn. Here are 7 ways to have an effective LinkedIn profile.
 Be active
LinkedIn is a powerful resource. But, to make the most of the social platform, you'll need to be socially active. Being an active user means engaging with your contacts by liking, sharing, and commenting on their activity.
 However, it can be difficult to interact with your contacts throughout the day. One of the simplest ways to be active is to download the mobile app. The LinkedIn app provides an easy-to-use interface that makes networking a breeze.
 Another part of being active is to ensure your profile remains current. Continually update your profile with projects you've worked on or presentations you've given. You can share your work by writing articles or posting pictures and videos. The goal is to provide content that will benefit your connections and make them want to interact with you.
 Becoming a member in groups is another way to be effectively active. LinkedIn will allow you to join up to 100 groups. Once you join a group you become connected to the members within the group. This causes your profile to show up in more search results when someone is looking for your skillset.
 Write an effective tagline
Your tagline, also known as your headline, should be optimized and captivating. It will default to your current job title if you don't change it. But this is what potential connections and hiring managers will use to find you. To ensure it's optimized, include words that you want to be discovered for. 
 Rather than allowing it to default to your current job title, use the 120 characters to give the reader a snapshot of who you are. Provide a brief description that is both interesting and engaging. A captivating tagline will motivate them to click on your profile link to read further.
Use keywords
In addition to your tagline, use keywords throughout your profile. Include keywords you want to be targeted for within your headline, your position titles, summary, experience descriptions, projects, certifications, publications, and anywhere else they can be placed.
 Currently there are more than 11 million active job listings on LinkedIn. If you want to be considered for a new opportunity, you'll need to include those words within your profile. Recruiters use keywords to search LinkedIn for the job description they're trying to fill.
 Look through jobs you're interested in, and make note of the specific skills and words used within the descriptions. Sprinkling those words throughout your summary and experience sections will help you connect with your desired opportunities.
 But don't stuff your profile with keywords. Injecting too many keywords is going to be obvious, and demonstrates poor communication skills. It will be obvious to the reader that the profile was created only for LinkedIn's search engine optimization.
Discover your niche
How are you going to stand out among the millions of people on LinkedIn? At first, this may be overwhelming. But the solution is to select your desired niche. Identify yourself as specifically as possible.
 You'll be lost in the crowd if you simply market yourself as a manager. To attract the attention of a hiring manager, present yourself as an IT Security Manager with a CISM Certification. Distinction will make you standout and make you a more attractive candidate to the appropriate hiring managers.
 Make sure your profile is complete
Don't be satisfied with an incomplete profile. Complete all sections, including education, certifications, and interests
 A complete profile will provide better position within search results. Be sure to include your information for all the applicable profile sections. As you complete your profile, contemplate your personal brand and the impact of the information you provide.
 Consider the details that will help you standout among the competition. Include any certifications you have, projects you've been a part of, or foreign languages you speak.
 Consider your images
There are two images within your profile you should pay special attention to: your profile image and your background image.
 Your profile image says a lot about the rest of your profile. It's often someone's first impression of you. Your photo should be professional and appropriate for your industry.
 The profile picture provides a personal connection for recruiters and hiring managers. An unprofessional or missing photo can seriously impact your job search. The image increases the likeliness of your profile being viewed by 40%.
 In addition to your profile picture, use a background photo for additional personal branding. Use a photo that you have the rights to and communicates what you stand for. The size of this photo is 1400 x 425 pixels and should be a .jpg, .gif or .png file.
Get recommendations and endorsements
Having the recommendation of your peers is one of best ways to improve your profile's social standing. It may be uncomfortable to request a compliment from a colleague, but offering to reciprocate the favor can make it feel more natural.
 Don't overlook the importance of endorsements. LinkedIn provides you complete control over your them. You can select the skills users can choose to endorse you for. You can also delete any undesired endorsements.
 Endorsements also provide a unique networking opportunity. Whenever LinkedIn notifies you of an endorsement say "Thank You" to your endorser. This is a great way to naturally start a conversation with someone.
 Final thoughts
Understanding the features of LinkedIn can impact the success of your job search. Knowing what areas to focus on will increases the opportunities of your profile being viewed by the right person.
 Implement these 7 suggestions within your LinkedIn profile to help you connect with the right person in order to obtain the job you're searching for.
Networking events sometimes feel like speed dating. Talk to as many people as you can until you find a mutually beneficial connection. It can be less than comfortable.
These events are created with the best of intentions, but trying to create organic conversation in a manufactured setting can be difficult.
The thought of networking will cause you to reach for a stack of business cards or hide in the coat closet depending upon your personality. Rather then shuffling through your forced mental script of rehearsed questions, consider the following 5 ways to be effective at your next networking event.
Be memorable
We don't mean wearing a flashy tie. Be the man or woman who is remembered by what you say.
We're all used to the standard, "So, what do you do?" line of questioning. Simply being prepared for these standard questions can leave an impression.
Come up with an honest answer that is engaging and makes the other person want to know more.
Donald Miller, best selling author and CEO of StoryBrand, gives the following example of a conversation between two people at networking event.
Other person: "So, what do you do?"
You: "You know how hard it is to make a healthy dinner every weeknight with all the stuff your kids have going on? Well, our company delivers homemade frozen dinners that are actually affordable, so parents can relax and enjoy time with their families at night."
As Miller explains, this method works because you're telling a mini-story with this type of answer. This also positions you as the person who can solve a specific problem. If the other person can't work with you at the present time, they'll be able to file your name away in their mental Rolodex as the person with a specific solution.
Be genuine
Vanessa Van Edwards, a human behavioral expert, and author of Captivate, tries to provide a "me-too!" moment for the other person in every conversation. "It makes us feel accepted. It makes us feel heard. And most importantly, it makes us feel calm," she explains.
Genuinely showing you care goes a long way. During most of these events, you're surrounded by people searching for what they can get out of the other person. But entering a conversation with the desire to solve their needs often results in mutual benefit. Maybe you'll get their business or maybe you'll just get the blessing of being able to help someone.
Show the other person you care by asking questions you actually want to know the answer to. Rather than the standard, "What do you do?" or "What brought you here tonight?" try the following:
What are you most excited about with your job right now?
What are you most excited about with your industry right now?
What's the biggest challenge you're currently facing?
How did you end up in your line of work?
What are you looking forward to this week?
Know where to stand
It may sound trivial, but the location you choose to stand in a room can make all the difference. Rather than backing yourself up into a corner, choose strategic high-traffic locations within the room.
More specifically, stand where people are walking away from – against the flow. Find a place where there is a natural traffic flow such as a few feet from the bar or hors d'oeuvres table. This will allow you to make eye contact and be in position to naturally engage other attendees.
Check your body language
In a recent interview, Van Edwards explained that you want to maintain open body posture. This shows the other person you are open to conversation and non-threatening.
A simple way to demonstrate open body posture is to show your hands. Van Edwards says this is a primal survival mechanism showing that we are not carrying a weapon. Conversational stature often causes us to place our hands in our pockets or fold our arms. Subconsciously this communicates that we are closed off or even untrustworthy.
It can be hard to avoid folding your arms as this can be a natural tendency for many. However, if you need to, hold a glass or folder to keep yourself from placing your hands in your pockets.
Have a plan of action
You can usually decide early on in the conversation whether you will want to stay connected with the person you've been speaking with. If you do, you'll want to have a practical way to follow up. But if you decide that you won't want to stay connected, you need to have a natural exit strategy.
If you desire to stay in contact, provide them with your business card and tell them you'll be following up with them. Depending upon the conversation, you may be able to offer to email them a helpful resource.
However, if you realize you won't want to stay connected beyond the conversation, you need to have a way to remove yourself from the conversation. Simply asking to be excused in order to attend to needed business before the next session can be a honest, natural method. You can also watch for a natural break in the conversation and cordially thank them for their time and wish them the best of luck with the remainder of the year. While you want to show genuine interest in the other person, you need to value your own time as well.
Summary
Depending upon the length of the event or conference, you may have several conversations, but you'll only have one or two memorable connections. Once the event is over focus on the conversation that you see providing the most direct benefit.
Today, it's easy to make connections, but developing relationships can be difficult. Developing these relationships requires you analyze yourself and be proactive. While searching for connections, you need to be the person someone wants to network with. Keep these five tips in mind to make the most of the next networking event you attend.
Resources:
http://buildingastorybrand.com/episode-96/
http://buildingastorybrand.com/network-without-being-annoying/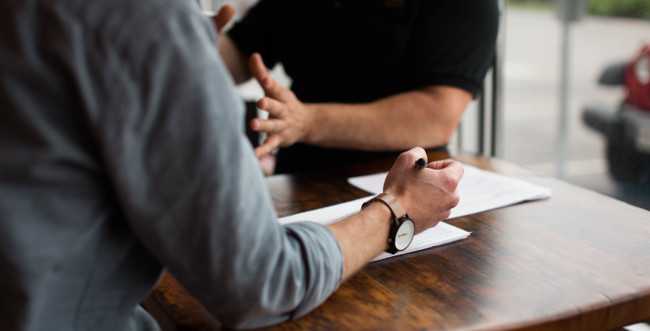 You have made it to the final interview for your dream job and now the conversation is winding down. The interviewer asks you: "Do you have any questions for me?" Now is not the time to say "No"! This is your moment to interject your own personality, comments and leave a favorable impression.
So many candidates fail to take advantage of this opportunity. Some of the best-qualified candidates fall short of the interview finish line and therefore, lose the job. Even if your interview went very well, the way you end the interview can make or break your chances of landing the position.
To help you cross the interview finish line, here are some effective exit statements to close out your interview:
1) Express your enthusiasm and interest. "This is an exciting position and just the kind of challenge I'm looking for. I feel that I'm the right candidate for this opportunity."
2) Summarize why you're right for the job. Reiterate your strengths and how they tie into the critical skills the company is seeking. Include several reasons why you should have the job.
3) Ask about any hesitations: "From what you heard today, do you think there are any issues or reasons that would prevent us from moving to the next step?" Address any hesitation.
4) Thank the interviewer for their time. Let the person who interviewed you know how much you appreciate their time, interest and consideration. Also, mention that you appreciated meeting their staff along the way (if others were involved in your interview).
5) Ask the final question: "What is the timeline for filling this position and when can I expect to hear from you?"
Make sure the interviewer's last impression of you is a good one. Closing out your interview with the right statements will significantly increase your chances of landing the job.
The quickest way to eliminate yourself from a job process is by having mistakes on your resume. Beyond the obvious grammatical and spelling mistakes to avoid, there are 5 other BIG mistakes to be aware of and stay away from:
1) Not including keywords that match the job. Your resume must show that you are qualified for the job so include keywords on your resume to refer to the specific position. You have very little time to grab a hiring manager's attention so don't send a generic resume. You will be lost in the pile.
2) Focusing on the wrong thing. Candidates often explain their responsibilities but forget to include results. Set yourself apart from the pack by highlighting specific accomplishments. The more quantitative, the better. In fact, numbers and metrics speak louder than words.
3) Being too modest. Don't forget to include any awards or recognition you've received such as "President's Club Member" for being over quota by 25%. Also, include any community service awards you received. Hiring managers look favorably upon people who not only work hard at the office but make a difference in the community as well.
4) Leaving unanswered red flags. Candidates usually wait until the first interview before addressing any gaps that may be on their resume, but this can prove to be a mistake. Most candidates won't make it to a first interview if the issues are not explained on their resume, cover letter or even LinkedIn profile. So if you moved around a lot in your career, it would be to your benefit to explain the reasons for your movement.
5) Writing too much. When writing your resume be as succinct and concise as possible. Keep your resume to 1 or 2 pages max. Bullet points and short paragraphs enhance readability. Limit your resume to the last 10 - 15 years of work experience. You don't need to include everything you ever did.
Categorized:

Candidate Advice, Career Advice

Tagged:

candidate, Direct Recruiters, DRI, job hunt, Job Search, jobseekers, recruiter, resume, resume advice, resume tips
January 3, 2018
By Barb Miller, Marketing Manager
If you're seeking a job, standing out and capturing the attention of hiring managers and recruiters can be a challenge. This means that you have to cut through all the noise out there, online and offline, in order to make yourself easy to find.
Here are a few suggestions:
Upload your resume to job boards. Hiring managers and recruiters often rely upon sites such as Career Builder, Monster, and Indeed to find candidates who aren't in their internal applicant tracking system. These job boards are a gold mine for trying to find the perfect candidate for a role. Large career sites such as Career Builder will ask you upload your resume into their database at no charge. Resumes stored into their database are then available to hiring managers and recruiters who pay for access to search their bank of resumes.
Keep your resume up-to-date. Make sure you update your resume every few months and make it stand out. Tailor your resume to your desired job title you're seeking and show how you're different. For example, every time you have an achievement or are recognized by your company or industry, brag about it. This is not the time to be humble. You need to showcase the stuff that hiring managers and recruiters are looking for.
Develop online presence at beBee.com. beBee is a new personal branding platform. The network was created to allow people to showcase and share their personal brand and market themselves to employers, clients, customers, vendors and media in their respective industries. beBee allows users to network with each other through common personal and professional interests, uniting their personal and professional lives in one place.
Beef up LinkedIn profile. It's no longer enough to just build a LinkedIn profile. You need to include the most relevant keywords used in your industry, highlight your skill sets, keep your accomplishments up-to-date, quantify achievements whenever possible, such as "increased productivity by 25%" or "doubled sales quota" and make sure your personal settings are allowing hiring managers and recruiters to view your profile. Double check by clicking on Settings, then click the Privacy header, you'll see a Job Seeking section. Set it to the mode that allows hiring managers and recruiters to know that you're open to opportunities.
Add Google+ to social media efforts. In addition to your LinkedIn, Facebook & Twitter profiles, add Google's social media channel, Google+. It's definitely worth exploring. Google+ offers great chances for professionals to showcase their work through online portfolios. Check out the Google+ communities and you'll discover a number of Google+ users are from various industries and job levels. Remember to keep your profile updated in Google+ including your current location so hiring managers and recruiters can easily find you.
Be seen in the right places. Never miss an opportunity to connect with key influencers and leaders in your field. Networking at industry events is the perfect environment to approach these people and have a discussion. Too often people shy away from the trade show exhibit hall at conferences. They fear that they will have to talk to salespeople, but these industry suppliers are some of the best people for you to get to know and learn more about the current business climate. Approximately 85% of jobs are filled through networking.
Volunteer in the community. To fill time between jobs or explore new opportunities and careers, many people are finding that a volunteer job especially in the nonprofit sector can sometimes lead to permanent, salaried employment. For example, each October, there's the "Make a Difference Day," one of the largest annual single-days of service nationwide. People from all walks of life, professions and industries come together with a single purpose…to improve the lives of others. On a day like this, you never know who you could meet or work alongside.
If you are in the job market, let us know what other ways you're using to grab the attention of hiring managers and recruiters. Please post below.
April 5, 2017
By Sarah Pozek, Director of Life Sciences
As an executive recruiter with a passion for social media, I spend a lot of time curating my personal brand and evaluating that of the candidates and companies in my sphere. Whether it is for your current career, job searching, networking, or simply to be social, chances are you interact with one or more social platforms daily… and the impression you leave makes an impact. CareerBuilder's annual social media recruitment survey in 2016 showed that 60% of employers use social media sites to research job candidates. From a recruiter's standpoint, it is closer to 100%. Culture fit is top priority for many of my clients, so when I check out someone's LinkedIn profile I am looking for any sign that they would be a good (or bad) addition to their team.
This is just one reason why it is essential to effectively manage your personal brand online. It is extremely important to not only monitor it for negativity, but to bring something positive and useful to the table. This will make you more memorable when looking for your next executive level role.
Here are 6 key practices to craft your personal brand:
Know who you are
While companies all have differentiating goals and values they want to showcase and promote online, i.e. athenahealth wants to "unbreak healthcare", while Medrio brings a rockstar mentality to clinical trials, individuals need to identify how they want to be perceived. Recent data from Glassdoor shows that 79% of jobseekers use social media in their job search. What is your differentiator?  Prospective employers, clients, and the rest of your network want to know!
Consistency
Consistency in the timing of posts, tone, and look of your personal brand is important to gain traction among your followers, friends, and connections.  From colors, images, types of language you use, to the content you re-post, it is important to keep a steady perception of your personal brand. While different social media sites are used for different reasons, it can only benefit you to make sure there are similarities in what you are projecting across all of them.
Engagement
Continuously updating your online presence with new content, job changes, or addition of new accomplishments will help grow engagement with your audience, but interacting with followers and friends is also important to gain feedback and essentially build brand loyalty. Always be receptive to feedback, new ideas, and the opportunity to learn something new from your connections. Also, never hesitate to throw out a "like" or "congratulations!"
Get Visual
Instead of posting standalone text, use photos, videos, infographics, and other types of visuals to capture your network's attention. A study from Hubspot shows that infographics are "liked" and shared on social media 3 times more than any other type of content, and Facebook posts with images see 2.3 times more engagement than posts without images.
Post Responsibly
As with a dinner party or networking event, the same conversation etiquette applies to social media – talk of religion, politics or money is frowned upon. It's a safe bet to keep controversial opinions and posts off your social media sites. Stay away from negative posting, venting or engaging in argumentative conversations online to keep your online brand positive.
Monitor
In businesses, marketers are always working to build their brand, but also to get relative feedback from customers to analyze, then make improvements.  Similarly, your personal brand will benefit from the same concept.  Paying attention to what regularly is happening across your social media sites and being responsive will pay off in making your online presence strong and positive.
What strategies are you taking to cultivate your personal brand? We would love to hear from you!
Sarah Pozek
Director of Life Sciences
Direct Recruiters, Inc.
440-996-0597
spozek@directrecruiters.com
March 15, 2017
By Dan Charney, President
A big deal is being made about self-starters these days because it is at the top of a hiring manager's list. It's considered one of the key traits that employers are looking for in their employees.
However, in the real world, most people are not self-starters. We don't always live up to expectations or our own ambitions. But that doesn't mean we can't change and become a self-starter. Here a few ways to get fired up:
Go for it and don't be afraid to fail. The fear of failure can paralyze you and keep you from reaching your goals. Instead, learn from failure and apply what you learned. Self-starters turn setbacks into successes. There's nothing wrong with taking a few chances. Without risk, there is no reward.
Take responsibility. A self-starter accepts the job at hand and takes responsibility for the decisions and actions they carry out. In addition, they often take on additional duties and responsibilities because they know that if carried out effectively, it can speed up a promotion.
Be reliable. Your boss, the people you work with, and clients should be able to rely on you on a daily basis, especially during peak or urgent periods. Be there on time and be the one they can count on.
Take ownership. Hold yourself accountable for your actions and how well you do your job. Always think of ways to improve how the job gets done. Bring fresh ideas to the table. But backup your actions with commitment and always keep your word.
Finish what you started. Don't stop working on a task half way through it. Instead, follow through until the very end. Then, follow-up. This shows you care about the task even after it has been completed.
Stay ahead of deadlines. Do your work early. Don't put it off even if it's a task you don't like. Self-starters don't dillydally. They are diligent and finish a project or task even before the deadline.
Show respect. Treat your bosses and colleagues with respect and help them out whenever possible. Refrain from office gossip and from complaining about the company, your boss, or co-workers. Self-starters stay away from negativity. They focus on the possible.
Be a problem solver. We are all faced with problems in our work and life. Solving those problems and minimizing the occurrence of problems takes courage and good decision-making skills. Self-starters meet problems head on before circumstances force their hand.
Don't call it work. Self-starters do not feel like they're in a daily grind. Rather, they focus on the long-term goal or reward that work brings. Those rewards might include a down payment on a house, saving money for a vacation, or simply growing a nest egg.
Overall, a self-starter is able to work effectively without regularly being told what to do. They realize that success requires work. Employers don't need to micromanage them or worry that their workload won't get done or meet the deadline.
The best part of being a self-starter is that anyone can learn to become one. You need to replace some of your old habits and adopt the new ones mentioned above. This is the first step in becoming a self-starter instead of a self-stopper.
July 27, 2016
By Christy Fox, Marketing Specialist
You have a job interview coming up and you're beginning to prepare by planning your outfit, confirming the time and place, and printing out resumes, cover letters, and reference sheets.  More importantly, you start to think about the questions that will be asked and how you should answer.  No matter how many interviews you have been on, it is likely that the first thing you do is type "interview questions" into Google to refresh your memory on the common questions and the best way to answer.  Odds are, you'll have an idea on how to answer these questions, but do you know why they're being asked and what the interviewer is really trying to find out?
Take a look at these 5 common questions, why interviewers are asking them, and good approaches to giving the best answers possible.
Tell us about yourself.
                This prompt often happens at the very beginning of the interview.  At first glance it seems self-explanatory why an interviewer would ask this, but normally this question is more important than you might think.  This is the opening for you, as an interviewee to make a great first impression as well as the chance to show how your background is relatable to the position.  It is a good idea to show the interviewer that you are qualified right from the start.
Do:
Keep the answer concise so you don't bore the interviewer
Relate your background to the details of the position
Don't:
Don't get too personal
Don't just list off what is already on your resume
What are your strengths?
Commonly used to gauge confidence, and again, see how you align with the position as a candidate, interviewers ask this question to identify what you are good at and find out if you will do well in the position.  Always think about this question before your interview and make sure that you are prepared with strengths to offer that show you will excel in the position.  While you may have many strengths, be sure to pick the strengths that are most relatable to the job.
Do:
Provide short examples of your strengths in action with recent accomplishments or positive results
Be confident when discussing your talents
Don't:
Don't pick a strength that is irrelevant to the position
Don't be too vague – be able to elaborate
What are your weaknesses?
                This might be one of the tougher common interview questions.  Even more important than the actual weakness, employers will pay attention to how you handle this question.  As you may know, while it is important to give an actual weakness you have, you also have to tell the interviewer the ways in which you improving upon it or how you are overcoming the weaknesss.  Try to decide on a weakness that won't directly ruin your chances at the job, but make sure to be honest.
Do:
Try to turn what may be perceived as a negative into a positive
Talk about what you are doing to improve
Don't:
Don't make a claim that you have no weaknesses
Don't talk about weaknesses that will immediately eliminate you from the job opportunity
Why do you want to work here?
                This question gives you an opportunity to show off how much you know about the company you are interviewing for, and how you are the right candidate to fit into the culture.  Make sure you mold your answer to project how you can help the employer in this position.  Do research on the company, the industry, the company values, financials, and the position to give a knowledgeable answer while adding value to yourself in the eyes of the interviewer.  Check out the company's website, LinkedIn, and other social media channels.
Do:
Show your interest, while speaking competently on the company and position
Take a look at company values beforehand and mention if they happen to match up with your personal values
Don't: 
Avoid giving vague answers such as "I heard it's a great company."
Don't focus your answer totally on yourself – try to show how you can be valuable to the company
Tell about a challenging situation and how you overcame it.
                Most interviewers will ask at least one situational question in an interview.  What they're really trying to find out is how you handle stress, working with others, and how you solve problems.  Be prepared with examples of situations you have been in with previous experience and make sure to tell how you solved a problem while remaining professional and calm.
Do:
Have multiple examples of different situations because this question could vary
Exemplify how you came up with a solution in the situations logically
Don't:
Don't bring up a difficult situation where you were the cause
It is always smart to prepare for as many different types of questions as possible before going into an interview.  For additional interview tips, take a look at our Candidate Toolkit here:  https://www.directrecruiters.com/for-candidates/candidate-tool-kit/
April 20, 2016
By Christy Fox, Marketing Specialist

Are you looking for a new job opportunity?  Will you be graduating soon without a job lined up?  If you are, you may be experiencing a range of feelings- excitement, fear, or happiness to name a few.  Job searching may be a brand new experience for some, while others are constantly looking for that perfect career opportunity so job hunting is very familiar.  Regardless of who you are, it is important to know how to navigate your job search process effectively.
Below are three tips that I found helpful in preparation for landing a new job:
Networking is key.
You have heard it a thousand times; "It's all about who you know."  You may think that your connections are not relevant to the jobs you want, but your network is still one of the most valuable tools in your job search.  Even if you send 200 resumes out online in a month, you're more likely to get an interview or conversation from the one resume that someone you know passed along for you.  The following contacts are just some who could be a vital piece in finding your next job opportunities:
College professors
Alumni from your college
Past employers
Previous coworkers
Contacts from networking events
Whether you are making short phone calls, writing e-mails, attending networking events, or connecting on social media such as LinkedIn, be sure to update your contacts on your job status.  If possible, let them know you're looking for jobs.  Even if your network can't directly help you land a job, their network may have opportunities that you can be connected to.  Always keep the lines of communication open and be candid about what you are looking for.
It's easier to find a job when you already have a job.
Picking up a temporary position or even an internship can be beneficial in the process of finding a full-time gig.  Many employers show concern when seeing a gap of time on your resume since your last job.  While it's commonly known that job searching can seem like a full-time job in itself, it is important to find a way to continue working.  For example, substitute teaching jobs are available for anyone with a Bachelor's degree and are welcomed in many school districts, along with seasonal or temporary retail jobs, or get creative and start your own side business to fill in the time gap.  Added bonuses of working while searching are the opportunity to continue networking with different people in different fields and a way to make income while you continue to job search.  Additionally, it is likely that your future employer will be impressed that you stayed occupied and continued to build your resume even during a transition phase.
Be prepared and proactive.
Job opportunities and the chance to share your professional information can show up at any time.  For that reason, it is safest to keep these job searching and interview materials up-to-date and current:
Resume
LinkedIn and any other social media profiles
Reference Sheets
Cover letter template
Business cards
Keep in mind to be organized with your materials and keep them on hand (or at least saved on your phone) to be able to send anytime and anywhere.  Whether you are at a job fair, having coffee with an old friend, or even at a family function, there's always a chance to make a connection to a job opportunity.
Not only do you need to make sure all your documents are up to date, but it is important to stay current on the market you are looking in.  Following relevant industry news, job opportunities available and companies you are interested in will help to prepare you and give you an edge in interviews.  It is also helpful to follow employers or job seeking social media sites that can be beneficial to you.  Make sure to have a clear vision of what type of positions you would like, or at the very least, what job functions you are interested in so you can relay that to your network.
Job searching can be a long and exhausting process.  Just remember that networking, staying busy, and being prepared will be extremely helpful over the course of your job search.
What other tips have you found helpful while job searching?
March 16, 2016
It's that time of year again when we're all looking for tax deductions and that means, we're getting calls from independent consultants and contractors as well as candidates interviewing for FTE positions who want to know if they can write-off their job hunting efforts. Let me start by saying that before you take any action, you should first consult with a trusted tax adviser.
For those of you who are independent contractors or consultants looking for your next gig, you're probably already familiar with the custom and ordinary tax deductions that come with being self-employed, i.e. health insurance, office space, office supplies, mileage, lodging, etc. But don't forget the little things that are worth counting including the membership dues of trade organizations and consultations about your freelance work with lawyers, accountants and other professionals.
If you are a candidate looking for your next FTE position,  pounding the pavement during your job search may help you cut your tax bill. However, there are certain circumstances and requirements you must meet to be eligible for tax deductions.
The first and foremost rule is that you have to be looking for your new job in the same field. In other words, if you are currently or were formerly employed as a software engineer, your job hunt must be for a new position within software engineering.
Second rule is that your job hunt must be continuous after leaving your position. You can't take a long, substantial break between leaving your last company and the start of your new job search.
Third rule is that if you are a recent grad, you're out of luck for a tax deduction. Sorry about that. If you have read this blog to this point and find yourself still eligible for a tax deduction, hang on to your job search receipts because here's what you can write-off:
Resume writing and printing services
Employment and any outplacement agency fees you incurred
Telephone calls and travel expenses which include out- of-town job hunting trips
Snail mail costs (stamps, envelopes, etc.)
Also, be aware that if you're attempting to establish your own business and freelance, as long as it's in the same field as your current or former profession, your efforts may be tax deductible.
Please note: The information of what is deductible in this blog is from US government resources. We presume the governmental information is correct, although we recommend you contact the Internal Revenue Service or a reputable tax accountant to double check the list of write-offs. With tax codes always changing, it's best to CYA!