Last week I attended the annual HIMSS conference in Chicago. It was an exceptional event with world class speakers, the latest in HIT products and services and great networking opportunities.
While there, I met with executives at numerous Healthcare IT companies. Below are specific companies I met with that were doing some very unique and innovative things that I felt were noteworthy:
HEALARIUM
Mobile platform designed to help patients follow their customized care plan. Healarium has 15 ready-to-use condition based care plans (30,000 completed by patients).
SEAMLESS MD
Patient Engagement solution specifically geared towards Surgery. The platform delivers customized clinical programs for pre-op and post-op patient engagement, data collection and monitoring across surgical episodes of care.
QUALCOMM LIFE
Cloud-based system that is an open ecosystem for medical devices and applications, enabling end-to-end wireless connectivity allowing medical device users and their   physicians/caregivers to easily access biometric data. This platform is a turnkey solution to monitor high risk patients in a home setting. During the Keynote address, Walgreens announced their partnership with Qualcomm Life. Qualcomm also recently announced a strategic relationship with Cerner.
VISUALDX
Visual Clinical Decision Support tool that allows physicians to enter a patient's symptoms and information to help them diagnose rare diseases. VisualDx has been getting a lot of interest from EMR vendors from an integration standpoint due to new Smart on FHIR API Integration capabilities. Here is a great article that was written about the company recently: http://www.wired.com/2015/04/visualdx/
HEALTHLOOP
"Automates Fantastic" is the company's slogan in regards to its high touch cloud-based Patient Engagement platform. Healthloop strives to help Health Systems, IDN's and Practices provide quality care to its patients and improve the overall patient experience. Healthloop has recently earned a Net Promoter score as good or better than Apple which shows how much its users like and adopt its second-to-none design.
SOCIALWELLTH
Focused on Prescriptive Digital Health by providing access to over 100,000 apps and helping Providers, Employers and Payers prescribe the appropriate apps to the consumer based on their condition. Helps facilitate communication between consumers and their healthcare sponsors at the point of care. SocialWellth announced a new "Wellth Chips" program at HIMSS to incentivize consumers to use its platform.
MEDAWARE
Behavior based software solution that detects and eliminates prescription errors. Similar to fraud detection in the credit card industry, MedAware takes EMR data, builds a mathematical model which represents real-world treatment patterns and detects when a prescription largely deviates from the standard treatment spectrum.
CRITICAL ALERT
Nurse Call system that does not need middleware to be able to function. Combines Secure Messaging, RTLS, Real Time Dashboards and Reporting and Clinical Workflow Escalations to allow hospitals to improve patient satisfaction, enhance outcomes and drive down costs.
PINGMD
Communication platform that allows two-way message, call and video chat (both patient-to-physician and physician-to-physician). PingMD helps build a "professional dynamic network" so that physicians can give effective referrals. PingMD helps care teams manage a patient's treatment.
EXTENSION HEALTHCARE
Alarm Management vendor that has built a next generation mobile platform that has been getting significant traction recently. Its open architecture allows seamless interoperability. Extension manages alarms, alerts and secure texting all under one umbrella to reduce alarm and interruption fatigue to improve workflow, response time and patient satisfaction.
APPSCRIPT
mHealth prescribing platform trying to make sense of over 125K health apps and 1000's of wearables and clinical devices. IMS's goal is to help doctors know which apps will provide the best clinical outcomes for specific conditions allowing Providers and Health Plans to better manage their populations.
AIRSTRIP
Mobile Interoperability platform that allows live remote monitoring enabling clinicians to access critical patient data whether they are inside or outside of the hospital. This innovative tool enables care collaboration and single workflow visualization to improve decision making. Airstrip's goal is to provide clinicians with less overall data to quiet the "noise" but more actionable data to help treat patients effectively.
INTELLIGENT INSITES
Real-Time Operational Intelligence vendor that focuses on RTLS/RFID, Asset Management, Workflow Management, Environmental Monitoring, Patient Safety and Infection Control. Having both a mobile and desktop platform, Intelligent InSites provides its customers with second to none analytics and dashboards to improve financial and operational efficiency, quality, regulatory compliance and patient satisfaction.
Overall the conference displayed state-of-the-art healthcare technology. The emerging solutions that the companies I met with have developed will undoubtedly change the way healthcare is provided. Most impressive, was the incredible passion of the people I met with for what their companies are doing to improve healthcare delivery. I feel so lucky to work in an industry where people are so passionate for what they are doing and truthfully, it is what drives me to wake up and come to work to talk to so many interesting people every day!
For more information about HIMSS 2015, contact Norman Volsky 440-996-0059 or nvolsky@directrecruiters.com
Matthew Cohen, Energy Management Practice Leader with DRI, intervbest-michael-smiews Michael Best, VP of Software Operations at SCIenergy, who shares his insights on how best to overcome the many obstacles in the energy analytics space.
The following interview was also featured on EnergyManagerToday.com. Click here to see the original article.
Overcoming Obstacles in the Energy Analytics Industry
The energy management software industry has transformed itself from a novelty to a necessity for building owners and managers in the last few years. The energy management software industry is thriving. It is moving quickly to adapt to a market that is experiencing exponential growth and building owners whose need for performance data has increased tenfold. I asked Michael Best, vice president of software operations for SCIenergy to share his insights on how best to overcome the many obstacles in the energy analytics space.
Matthew Cohen: How can an energy analytics company differentiate itself from its competitors in the current market?
Michael Best: Energy analytics on their own don't actually change anything; they only give the information to change. End users that pay the fees to get analytics installed and configured need to be committed to make change. Energy analytics companies get the best results when they become the active energy managers for the end users and guide their customers with the help of the analytics to fix the most important things first and hold them accountable with constant communication and reports of their efforts. Once they see the success of their actions, they are much more likely to make policy change from that point forward. The value of an energy analytics company is its outcome, not just its software.
Matthew Cohen: What type of buildings are being underserved by energy intelligence software, and what can the industry do to change that?

Michael Best: There are probably 80 percent of commercial real estate buildings in the market that do not have energy intelligence in them. The reasons could be…
There is no building management system (BMS) installed.
The value of the results of energy intelligence does not get acted upon.
There is no budget to do energy intelligence, fixes or retrofitting.
All of these problems can be overcome.
There are many ways to collect data from a building, such as a simple BMS system that provides scheduling, data collection and control. There are impressive documented savings for a building with a BMS versus those without a BMS.
The value in currency and in kWh from the data is vitally important to prioritize fixes, to show improvement and to measure and verify results.
If real-time miles per gallon is displayed in our vehicles, we change how aggressively we drive because we know it is hurting us in our pocket. This takes behavioral change and accountability. Likewise, if results are shown from energy intelligence and we do nothing, we will save nothing. Results need to be acted upon.
Matthew Cohen: As VP and a team leader, how do you attract and retain top-performing talent in the energy analytics space?

Michael Best: HVAC is moving from being an old-school, manual industry to a "cool" big data industry and is starting to attract younger more technology driven industry.
The younger generation see energy big data analytics as a game changer for the environment, and that is driving the hiring process. The data side is also driving salaries a little higher, which helps retain talent. The sustainability side of buildings is attracting women to a traditionally male career, which is exciting as well.

Matthew Cohen: What do you see as the next frontier for energy analytics?

Michael Best: Integration to preventative maintenance or other CMMS systems via software application programming interfaces (API's) is imperative and can bring additional checks and balances to help drive the behavioral changes needed.
The addition of the "Internet of Things" excites me immensely. Having the ability to add extra sensor data to analytics brings even more value. Being able to bring lighting, occupancy, plug loads, data center data, security, elevators, audio visual, parking, water management and irrigation, look up pricing, ADR and the smart grid using dashboards and digital signage to display the results in a meaningful non-confusing manner is the next frontier.
Doing all of this and not exposing the building to a security risk is of utmost importance, and one-way communication for the data outbound only is important. There should be no need to reach into a building to get the data, the building needs to send the data only; the rest is done in secure servers.
Matthew Cohen: As a leader in the industry, what is your biggest challenge in keeping pace with changes in technology?
Michael Best: We have only begun the big data analytics revolution, especially with all the additional potential sensors. I believe energy analytics companies can give time back to people running buildings by using technology, analytics and insight to drive savings and be their trusted technology advisors.
There are so many new technologies, new sensors, and communication protocols that they have no time to start to understand it. Let your analytics company do that for you and stay abreast with the growth explosion.
There are multiple barriers to adoption of new technologies — trust, privacy, security, protocols, value propositions and standards — but the opportunities for solutions and outcome services are endless.
Matthew Cohen
Energy Management Practice Leader
Direct Recruiters, Inc.
440-996-0860
mcohen@directrecruiters.com
By Sydney Arnett, Marketing Specialist, DRI & DCA
Last month, Glassdoor.com announced its seventh annual Employees' Choice Awards, honoring the Best Places to Work across the United States. Companies on the list exemplify those with a strong company culture and happy employees, as well as an engaged work.
While these two things are great for improving morale and productivity, they're also incredibly powerful tools for recruitment marketing and attracting new talent. According to Glassdoor Career Trends Analyst Scott Dobroski, "Company culture is among the top five factors people consider" when weighing a job offer.
To attain the best candidates in today's rebounding job market you need to be able to market your employer brand and attract job seekers. So what are common traits of companies with an engaged workforce and strong company culture, and how can you make sure your company is a "Best Place to Work?"
Continuous training and professional development – A 2014 Deloitte study found that, in the last year alone, corporate budgets for training and development have risen by 15 percent. To begin, try implementing a weekly training meeting, send some employees to a conference, or organize a mentoring program.
Recognition of personal accomplishments and milestones – Another key component of engagement is employee recognition. Make employees feel valued and appreciated for all of their hard work and contributions to the organization as most employees want to be recognized by their managers for their hard efforts. Companies that fail to implement reward systems do their employees and their culture a disservice.
A fun environment – For many employees, engagement means having a little fun at the office once in a while. Creating a positive work environment that includes fun ways for employees to interact will go a long way in engaging employees. Whether this means having an occasional birthday or holiday celebration in the office, or a more formal annual retreat, employees will have something to look forward to other than the daily grind.
Value employees' opinions – Employees want to feel valued and respected. Make employees feel involved and empowered to make a difference in the organization.
Offer some flexibility – Employees appreciate having a say over when they work. Allow employees to work from home on an as-needed basis and/or permit flexible work hours for employees to deal with personal matters when they come up.
Post any other qualities you look for in a company when job hunting.
It was definitely worth waiting 3 years for NPE 2015 in Orlando, Florida! We found it to be a great venue to learn about the latest technology, trends in the industry, and the strong need for young up and comers. After walking miles of aisles in the West and South Hall, David Peterson, Jason Toth, and I were amazed by what we saw and all indicators pointed to the boom happening in the Plastics industry. As executive search recruiters, we were excited to know that the present and future of the recruiting business is alive and well within the plastics industry. Now that it's been a couple of weeks after the show and we've let it all sink in, we came up with few key takeaways… David Peterson, Practice Leader for the Plastics Practice, DRI Inc.:
After talking with many individuals at different booths such as Davis Standard and Milacron at the show, it seemed the overall tone was very positive and the plastics business is very strong right now. With a record-breaking number of around 65,000 attendees, business seemed to be thriving and the evidence of an increasingly high hiring rate was found in the number of new searches our firm received.
The buzz around the industry is that there is a need, especially in the machinery sector, to hire younger workers and begin developing future leaders within plastics. Organizations such as SPI (Society of the Plastics Industry) and SPE (Society of Plastics Engineers), were sponsors and encouraged internships and mentorships in order to build a strong new generation of plastics professionals.
Additionally, another apparent increasing trend was the desire of companies to recruit sales talent with a technical background. Quite a few hiring managers expressed interest in individuals with a chemical engineering degree or sales engineer background to fill a territory where they required a new regional sales manager.
Jason Toth, Executive Recruiter in the Plastics Practice, DRI Inc.:
COMPANIES ARE HIRING!  There are a lot of open positions.  How do I know? Well, because I asked.  So what does this mean? It means we are very much in a candidate driven market and companies have to provide more compelling reasons why they are the best to work for.  Remember in times of growth like these, candidates will be interviewing you as much as you are interviewing them.
There is great potential for young professionals in this industry.  They are a hot commodity.  Nearly every hiring manager I talked to discussed the challenges they are facing as they focus on the future of their company.  It was very encouraging to see SPI create a group like FLIP (Future Leaders in Plastics), providing a great environment and atmosphere that welcomed the up and comers.
Rachel Gulko, Executive Recruiter for the Plastics Practice, DRI Inc.:
Strides in plastics industry since NPE 2012, are impressive. Just imagine the innovation that we'll see over the next few years. Having the ability to see the technology in the plastics industry up close and personal is priceless.  It is one thing to have a Sumitomo Demag injection molding machine or a Macchi blow molding machine described over the phone by someone that works at the company but to see them in action in a whole other experience.
My perception of the plastics machinery is that of one big family.  Even though everyone is technically competing, at the same time a lot of the companies rely on pieces and parts and sometimes whole systems from each other complete their product(s). That was so evident when entering the South hall where all the materials companies were.  That's we found all of the machines. Davis Standard, Wittman Battenfeld, and Arburg were just a few of the many used by all these material companies.
Fortunately, everyone gets the opportunity to once again experience all the innovation and excitement of the plastics industry at NPE 2018, hosted again in Orlando!  We are looking forward to future positive hiring trends within plastics machinery and materials and what new technology is in store.  It's a great time for this industry and Direct Recruiters, Inc. Plastics Team who feel privileged and energized to be a part of it all.
By Barb Miller, Marketing Manager, DRI
These days, employers look for skills beyond the 'academic qualifications' of candidates. Many of them believe that academic qualifications and experience are something that can easily be found but the right combination of characteristics that help a company make money or save money, are hard to find.
With that in mind, here are 6 of the most desirable characteristics that employers expect from employees:
Taking Initiative. Initiative is all about taking charge. It's having the motivation to accomplish tasks on your own. If you want to be great at what you do and be considered for a leadership position, you need to show that you are ready, able, and willing to get things done without being asked.
Positive Attitude. Many employers believe that having a positive attitude is more important than the knowledge an employee brings to the table. A positive attitude is infectious. It spreads to all others in the workplace. Also, if you're a positive person, you tend to be more curious about things. As a result, your job performance is usually better than a negative person because you are always looking for new ideas that yield higher productivity levels.
Entrepreneurial Spirit. Entrepreneurs are innovators. They are always trying to figure out new ways to accomplish tasks. Entrepreneurs like change because change often brings a plethora of opportunities. The essence of the entrepreneurial attitude is that you are able to anticipate change and formulate innovative responses to change that will result in success.
Results-Oriented. Results-oriented individuals are focused on making things happen no matter the challenges or road blocks. This means you dig through projects and figure out how to obtain the desired result(s). In addition, you stay resolute and focused on each project, meet deadlines, and deliver value to the organization.
Team Player. Employers know that their employees are more productive and tend to be more loyal and committed to the organization when they see themselves as an integral part of a team.  Team players show a willingness to collaborate with others in order to execute work assignments and accomplish goals.
Dependable and Responsible. Being dependable means that you do what you say you will do. Employers value employees who come to work on time and take responsibility for their actions and behaviors. In addition, employers know that dependable and responsible employees value their job, job expectations, and their performance level.
Desire for Continued Learning. Continual learning enables employees to increase the contribution they make to the company. If you show a willingness to take advantage of training programs offered at work, attend seminars, read relevant books etc. you become more valuable to every assignment and ultimately the organization. Also, don't forget to ask for advice from your team and manager on things you need to learn in order to progress.
If you are a hiring manager, are there any other characteristics that you consider to be "must haves" in your workplace?  Please share your comments below.
By John Yurkschatt, IT Director of Sister Company DCA
In 2014, Millennials comprised 36% of the workforce. By 2025, they will make up 75% of the workforce. Compared to Baby Boomers and Gen Xers, the Millennials have a very different view of what the workplace landscape should look like and therefore, come into the workforce with different expectations. We're already seeing some companies, including our own, that have adopted new techniques for hiring, motivating, managing, and retaining this young talent. Eventually all companies will need to adjust and prepare for this emerging demographic and shift.
On the whole, millennials are hard workers. But what do they really want in the workplace? Here's our list of the 7 ways they will reshape the future of work:
Emphasis on Technology.  As the most technologically literate generation, millennials find it important that employers keep them connected with the latest and best technology including mobile platforms. In fact, many companies now offer online pre-interview questionnaires and video interviews. Not only is the video interview process a cost-effective and convenient way to screen candidates, it also highlights the company's use of technology and can help draw in top talent.
Corporate Culture and Meaningful Work are Paramount. Millennials say that meaningful work is a key factor when accepting a job. They want to know that their work will have a positive impact on their co-workers, manager, and on the company at large. In addition, millennials are especially fond of volunteering whether for skills-based volunteering or company volunteering days.
Leadership Must be Transparent and Authentic. Transparency is one of the top four qualities that millennials look for in leaders so it's no surprise that when they become leaders it is something they will make a priority. Also, this generation is able to smell phony and pretentiousness a mile away. They're fed up with politicians and business leaders who don't keep promises and are more concerned about personal gain than serving others. They want leaders with integrity.
Working from Home Will Become the Norm.  The Census Bureau reported that 13.4 million people work from home in America. That number will only continue to rise as more Millennials enter the workforce. They like the idea of remote connectivity and dislike the idea of being confined in an office from 9 to 5. They value a work/life balance but expect to stay highly connected and engaged with their employer and team.
Rewards and Instant Gratification Expected.  Millennial expectations for rewards and instant gratification are due to their emphasis on connectedness and communication. Technology has cultivated an expectation of quick responses and immediate appreciation for a job well done. However, this appreciation is not necessarily monetary. Instead, millennials want their ideas to be considered, appreciated and implemented.
Annual Performance Reviews Eliminated. Millennials want feedback in real-time or at the very least, on a regular basis. They aren't willing to wait until an annual review to improve. In addition, they want to know what's expected of them from the start.
Leadership Development a Must. Millennials have a strong opinion about how they will learn and develop leadership skills. Career coaching, mentorship programs, and rotational assignments are the most desired types of leadership training. Less important are the traditional types of training including e-learning, university courses and instructor-led classes. Millennials want to learn through experiences, rather than traditional training.
If you're a Millennial, what other changes do you see coming in the workplace? Please post below.
Looking for a new job? In today's competitive job market job seekers have to be connected, organized and prepared. To stay ahead of the curve, tech-savvy job seekers are taking advantage of mobile job search apps.
According to glassdoor.com, 9 in 10 job seekers search for jobs via their mobile phones, which is consistent with Direct Consulting Associates' analytics that say the number one way people come to our website is via the iPhone. In addition, 77% of job seekers use mobile job search apps. Job search apps are becoming increasingly popular as they give job seekers constant access, both at home and on the go, with up-to-date job postings.
Given 59% believe they have a better chance of being considered for a job if they apply as soon as the job is posted online, speed and having access to the latest job listings is a top priority for job seekers. Apps are also popular because many company's career sites are not mobile-optimized, making it difficult to apply to jobs using a mobile device.
Looking for a job is undeniably one of the most stressful hurdles in one's life. Whether you're out of a job or not satisfied in your current position, mobile job searching app can definitely make your hunt a little easier.
Here are 6 mobile job search apps every job seeker should know about:
Job Aware
JobAware is an app that allows you to search jobs in cities near you and helps you organize and track your progress throughout the job application process. The app also offers salary comparisons for hundreds of occupations, LinkedIn account integration to help you take advantage of your network, and job search advice from top career experts. And that's not all. There's also an autofill feature that allows JobAware to automatically fill out job applications, rapidly speeding up the application process. The app also allows you to find the top cities for any job search term or company.This app can be used to search for full-time, part-time, contract, freelance jobs and internships.
GetHired
Just enter what you are looking for and getHired will provide job listings from 8 different job search engines (Indeed, CareerJet, JuJu, LinkUp, SimplyHired, CareerBuilder, JobServe and USAJobs.gov) across more than 60 countries.  getHired is like job classifieds on your phone and is extremely easy and simple to use. However, it's best used to simply search positions while on the go as it is unable to directly submit your resume. getHired is also only available on Windows phones and tablets.
Job Compass
JobCompass is the first application on the iPhone or iPad that searches millions of jobs, locating and plotting them on a map showing you exactly where the jobs are in relation to a specific address or zip code. This app in addition to providing job description information, also allows you to apply directly from your phone.
SnagAJob
SnagAJob is a top-ranked search engine for full-time and part-time hourly positions throughout the US. This app allows you to search and apply to over 350,000 jobs across a variety of industries, including restaurant, retail and customer service.
Switch

Switch is a new job hunting app that lets you search for a job the same way you'd swipe for a date on Tinder. Switch allows you to quickly browse through available job listings. You swipe right on jobs you're interested in and left on jobs you want to pass on. Hiring managers do the same on anonymized candidate profiles and when there's a match both users are notified. However, Switch is currently exclusive to tech, media, and startup companies in NYC.
Link-Up
LinkUp's unique search engine, updated daily, lists only jobs that are found on company and employer websites. This helps you uncover the hidden job market of opportunities not publicly advertised on the major job search engines. An additional upside is that as positions are filled and company websites are updated so are LinkUp's job search listings – so no more applying to outdated job postings.
According to Forbes Magazine, 86% of workers in North America say they plan to actively look for a new job this year and for good reason…the job market has opened up. That means those who stayed in their current job roles for years due to a lack of choices and the security of a paycheck, now have the upper hand.
In fact, The U.S. Bureau of Labor Statistics just announced that 2014 was the best year for hiring since 1999 and that the unemployment rate fell from 5.8% to 5.6% (employers added 252,000 jobs in December). Better still, 36% of employers plan to increase their full-time staff in 2015, according to a CareerBuilder survey.
What does this mean for you? For the first time in 6 years, the job market is strong.  Job seekers now will find a greater number of opportunities available that will most likely offer better pay.  The hottest industries for hiring are information technology, financial services, manufacturing, and healthcare.
What hasn't changed are the strategies you need to get noticed and considered for these opportunities. In DRI's recent blog "Your 2015 Job Search", I mentioned 8 ways to get noticed. Here's 6 more strategies for you:
1) Update your resume in ways to capture attention.  You will be especially attractive if you expertise in those hard to fill positions.  Include all your specialty areas on your resume.  Remember to include any quantifiable results you have achieved. For example, if you increased customer retention by 20% over the years, make sure to highlight this accomplishment.  Also, add your social media links especially to LinkedIn so employers can find out more about you.
2) Get insider information.  The best job opportunities never get advertised especially if they're high level.  You need to network and reach out to people who you know who work at the companies that are of interest to you. If you don't know an insider, tap into your LinkedIn contacts or try to connect with someone in the know who can help you get considered for open positions.
3) Set up "Google Alerts" for companies of interest to you.  Be in the hiring loop by setting up Google Alerts for 3 to 5 companies at which you would like to work. This way, you'll be on top of breaking news, job postings and business opportunities long before your competition without having to devote hours to research.
4) Download mobile job apps.  Mobile apps allow job seekers to search discreetly for positions anytime and anywhere and respond to postings quickly. There are apps that help with career planning, organize the job search process, alert job seekers to compatible positions, and can even upload and send resumes to recruiters.
5) Raise your profile and presence.  In and above being active in professional organizations, nominate yourself for speaking opportunities. This will raise your profile and capture the attention of employers.  Also, think about blogging on a regular basis to display your passion and knowledge.  You just may land a new job by being discovered digitally.
6) Be open to recruiters.  If a recruiter contacts you, be open to a discussion. They may be working on an active search that's right in your wheelhouse and meets most of your "must haves". But even if it's not the perfect fit, recruiters also know about other available career opportunities. It doesn't hurt to entertain a conversation. Also, help out a colleague if you can.  If you pay it forward, one of your colleagues might pay it back at a later date.
Are you among the 86% that are looking to make a job change this year?

A significant number of job candidates falsify information on their resumes. Surprisingly, many applicants who fabricate their information still land the job. How is that possible?
According to Neil Adelman, President of Safeguard, a comprehensive background screening company in Beachwood, Ohio, "About 50% of resumes contain incorrect information and many businesses either lack the proper in-house resources or initiative to carry out full employment verification procedures or criminal record checks. As a result, companies can easily make poor and costly hiring mistakes."
There are a variety of reasons why candidates falsify information. From my experience, the reasons run the gambit of trying to hide periods of unemployment, conceal substance abuse, and/or hide a criminal record. For some, it's simply to get the competitive edge in today's economy and fierce job market.
According to the Wall Street Journal and the Society for Human Resource Management, here are the top reasons why employers should screen their applicants:
Reduce Legal Liability
Ensure a Safe Work Environment
Prevent Theft & Other Criminal Activity
Comply with State Law
Assess Overall Trustworthiness
I'd like to add two more…it saves time and money. For example, I recently advised a client of mine to conduct a thorough vetting process before hiring my candidate or any candidate for that matter. The hiring manager said it was their policy to hire first and then check. Unfortunately, they initiated their criminal background check well into his first month of employment, after on-boarding and training were completed. To their dismay, they found criminal activity in his past that if repeated, would put their company at risk. They terminated his employment immediately. Neglecting to do a background check before hiring was a costly mistake for them. Thousands of dollars in company resources including financial, human capital, and time were wasted.
I recommend that the best time to do a background check is when you narrow the playing field to one or two candidates and before a job offer is even discussed. Employment and background verification is too important for your company to hesitate on, delegate to an untrained employee, or disregard your state's guidelines and requirements.
Frankly, you have a duty to take care of your workforce as well as mitigate risk for your company. That's why DRI uses screening services before hiring our own employees and recommend the same to our clients.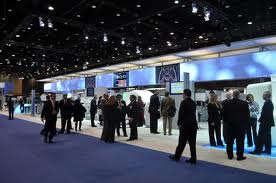 The 2015 trade show season is quickly approaching. After the holiday season, The DRI team will go into trade show mode. Whether you are attending these shows as an exhibitor or a visitor, it is important to maximize your time and get the most that you can out of the show.
For those of you asking yourselves why you should attend a trade show—there are lots of reasons! As an exhibitor, benefits include increased sales, face-to-face meetings, promotion of your brand, competition evaluation, and building credibility, to name a few. As a visitor, one of the main benefits is that you can meet large numbers of useful people in your industry in once place. If you are attending a show on behalf of your company, trade shows are a great way to forge good business relationships and make face-to-face contact. Trade shows are also the most time efficient forum to keep up to date with new to market technology, state of the art products, and innovations and developments in your specific industry.
So, as you start planning, here are 5 tips to keep in mind for getting the most out of your trade show experiences in 2015:
Prepare
Visitors: Make a list of the goals you want to achieve by visiting the show. Spend time researching the vendors so that you'll have a clear idea of who you need to see. Make contact before the show with key people you want to see and either set up a time to meet or at least get their telephone number so you can contact them once you arrive at the show. Bring a bag to carry everything you pick up, like promotional items.
Exhibitors: Ask yourself: who are you targeting at the show? Getting the right kind of traffic to your booth starts before the trade show, with pre-show activity such as e-mail blasts or marketing campaigns. Also, plan to bring any employees who would greatly benefit from attending the trade show, or who would be beneficial to have there. Lastly, don't forget to communicate via social media that you will be attending a trade show and to ask if others will be attending. (Also—don't forget to Tweet and use other social media platforms during and after the show!)
Have your materials ready
Visitors: Take plenty of business cards and any other materials you want to hand out. If you are representing your company, be sure to bring any literature that you want to give other visitors or exhibitors.
Exhibitors: Be sure to bring all of your marketing materials, including pamphlets, brochures, and other literature on your company and its services. Giveaways are also good and provide a valid reminder of your brand and tend to draw people to your booth.
Be mindful of your presentation
Visitors: Your personal appearance is important and is a representation of you and your company. Wear business attire and wear comfortable shoes.
Exhibitors: Make sure that your booth, and staff, are a good representation of your company. It is important to have an eye catching and functional display system to show off your merchandise or services as well as to attract and educate more potential clients about your business. Even if you get tired, don't pack up and leave early and don't sit there and look like you're waiting for the minute the show ends. This will make someone ask themselves, "Is this someone I want to do business with?" Staying energized and engaged until the trade show is officially over (or longer) proves to customers that you are a company committed to the trade show—and to their business.
Network, network, network
Visitors: Take advantage of the opportunity to meet industry peers. Don't be afraid to introduce yourself to others. By taking the initiative, you can promote yourself and your business and make valuable contacts.
Exhibitors: For many businesses, attending trade shows is one of the best ways to network and spread the word about your company. Engage with visitors and establish new relationships.
Follow up
Visitors: Ask permission to follow up with new contacts and make sure you understand the prospect's preferred method for doing so. Also, follow up with companies you requested additional information from. If you missed any companies while you were at the trade show, feel free to reach out to them after.
Exhibitors: Contact everyone you met at the show within two weeks. Separate contacts/business cards out by hot lead, warm lead and cold. This way you can easily establish the priority of who to contact right away. The goal is to move your relationship forward while the trade show is still fresh in their minds. Following up promptly is key to successfully maximizing your new contacts. A good idea is to organize a follow-up date for a qualified lead while at the trade show. Whether it's setting a date for a follow-up call or related to sending some follow-up materials, you must plant the seeds for a continuing discussion. People will be much more likely to keep you in the forefront of their thinking once they know that a follow-up is pre-arranged.