According to Forbes Magazine, 86% of workers in North America say they plan to actively look for a new job this year and for good reason…the job market has opened up. That means those who stayed in their current job roles for years due to a lack of choices and the security of a paycheck, now have the upper hand.
In fact, The U.S. Bureau of Labor Statistics just announced that 2014 was the best year for hiring since 1999 and that the unemployment rate fell from 5.8% to 5.6% (employers added 252,000 jobs in December). Better still, 36% of employers plan to increase their full-time staff in 2015, according to a CareerBuilder survey.
What does this mean for you? For the first time in 6 years, the job market is strong.  Job seekers now will find a greater number of opportunities available that will most likely offer better pay.  The hottest industries for hiring are information technology, financial services, manufacturing, and healthcare.
What hasn't changed are the strategies you need to get noticed and considered for these opportunities. In DRI's recent blog "Your 2015 Job Search", I mentioned 8 ways to get noticed. Here's 6 more strategies for you:
1) Update your resume in ways to capture attention.  You will be especially attractive if you expertise in those hard to fill positions.  Include all your specialty areas on your resume.  Remember to include any quantifiable results you have achieved. For example, if you increased customer retention by 20% over the years, make sure to highlight this accomplishment.  Also, add your social media links especially to LinkedIn so employers can find out more about you.
2) Get insider information.  The best job opportunities never get advertised especially if they're high level.  You need to network and reach out to people who you know who work at the companies that are of interest to you. If you don't know an insider, tap into your LinkedIn contacts or try to connect with someone in the know who can help you get considered for open positions.
3) Set up "Google Alerts" for companies of interest to you.  Be in the hiring loop by setting up Google Alerts for 3 to 5 companies at which you would like to work. This way, you'll be on top of breaking news, job postings and business opportunities long before your competition without having to devote hours to research.
4) Download mobile job apps.  Mobile apps allow job seekers to search discreetly for positions anytime and anywhere and respond to postings quickly. There are apps that help with career planning, organize the job search process, alert job seekers to compatible positions, and can even upload and send resumes to recruiters.
5) Raise your profile and presence.  In and above being active in professional organizations, nominate yourself for speaking opportunities. This will raise your profile and capture the attention of employers.  Also, think about blogging on a regular basis to display your passion and knowledge.  You just may land a new job by being discovered digitally.
6) Be open to recruiters.  If a recruiter contacts you, be open to a discussion. They may be working on an active search that's right in your wheelhouse and meets most of your "must haves". But even if it's not the perfect fit, recruiters also know about other available career opportunities. It doesn't hurt to entertain a conversation. Also, help out a colleague if you can.  If you pay it forward, one of your colleagues might pay it back at a later date.
Are you among the 86% that are looking to make a job change this year?

A significant number of job candidates falsify information on their resumes. Surprisingly, many applicants who fabricate their information still land the job. How is that possible?
According to Neil Adelman, President of Safeguard, a comprehensive background screening company in Beachwood, Ohio, "About 50% of resumes contain incorrect information and many businesses either lack the proper in-house resources or initiative to carry out full employment verification procedures or criminal record checks. As a result, companies can easily make poor and costly hiring mistakes."
There are a variety of reasons why candidates falsify information. From my experience, the reasons run the gambit of trying to hide periods of unemployment, conceal substance abuse, and/or hide a criminal record. For some, it's simply to get the competitive edge in today's economy and fierce job market.
According to the Wall Street Journal and the Society for Human Resource Management, here are the top reasons why employers should screen their applicants:
Reduce Legal Liability
Ensure a Safe Work Environment
Prevent Theft & Other Criminal Activity
Comply with State Law
Assess Overall Trustworthiness
I'd like to add two more…it saves time and money. For example, I recently advised a client of mine to conduct a thorough vetting process before hiring my candidate or any candidate for that matter. The hiring manager said it was their policy to hire first and then check. Unfortunately, they initiated their criminal background check well into his first month of employment, after on-boarding and training were completed. To their dismay, they found criminal activity in his past that if repeated, would put their company at risk. They terminated his employment immediately. Neglecting to do a background check before hiring was a costly mistake for them. Thousands of dollars in company resources including financial, human capital, and time were wasted.
I recommend that the best time to do a background check is when you narrow the playing field to one or two candidates and before a job offer is even discussed. Employment and background verification is too important for your company to hesitate on, delegate to an untrained employee, or disregard your state's guidelines and requirements.
Frankly, you have a duty to take care of your workforce as well as mitigate risk for your company. That's why DRI uses screening services before hiring our own employees and recommend the same to our clients.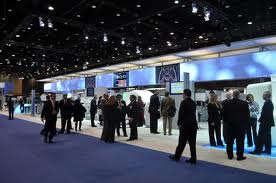 The 2015 trade show season is quickly approaching. After the holiday season, The DRI team will go into trade show mode. Whether you are attending these shows as an exhibitor or a visitor, it is important to maximize your time and get the most that you can out of the show.
For those of you asking yourselves why you should attend a trade show—there are lots of reasons! As an exhibitor, benefits include increased sales, face-to-face meetings, promotion of your brand, competition evaluation, and building credibility, to name a few. As a visitor, one of the main benefits is that you can meet large numbers of useful people in your industry in once place. If you are attending a show on behalf of your company, trade shows are a great way to forge good business relationships and make face-to-face contact. Trade shows are also the most time efficient forum to keep up to date with new to market technology, state of the art products, and innovations and developments in your specific industry.
So, as you start planning, here are 5 tips to keep in mind for getting the most out of your trade show experiences in 2015:
Prepare
Visitors: Make a list of the goals you want to achieve by visiting the show. Spend time researching the vendors so that you'll have a clear idea of who you need to see. Make contact before the show with key people you want to see and either set up a time to meet or at least get their telephone number so you can contact them once you arrive at the show. Bring a bag to carry everything you pick up, like promotional items.
Exhibitors: Ask yourself: who are you targeting at the show? Getting the right kind of traffic to your booth starts before the trade show, with pre-show activity such as e-mail blasts or marketing campaigns. Also, plan to bring any employees who would greatly benefit from attending the trade show, or who would be beneficial to have there. Lastly, don't forget to communicate via social media that you will be attending a trade show and to ask if others will be attending. (Also—don't forget to Tweet and use other social media platforms during and after the show!)
Have your materials ready
Visitors: Take plenty of business cards and any other materials you want to hand out. If you are representing your company, be sure to bring any literature that you want to give other visitors or exhibitors.
Exhibitors: Be sure to bring all of your marketing materials, including pamphlets, brochures, and other literature on your company and its services. Giveaways are also good and provide a valid reminder of your brand and tend to draw people to your booth.
Be mindful of your presentation
Visitors: Your personal appearance is important and is a representation of you and your company. Wear business attire and wear comfortable shoes.
Exhibitors: Make sure that your booth, and staff, are a good representation of your company. It is important to have an eye catching and functional display system to show off your merchandise or services as well as to attract and educate more potential clients about your business. Even if you get tired, don't pack up and leave early and don't sit there and look like you're waiting for the minute the show ends. This will make someone ask themselves, "Is this someone I want to do business with?" Staying energized and engaged until the trade show is officially over (or longer) proves to customers that you are a company committed to the trade show—and to their business.
Network, network, network
Visitors: Take advantage of the opportunity to meet industry peers. Don't be afraid to introduce yourself to others. By taking the initiative, you can promote yourself and your business and make valuable contacts.
Exhibitors: For many businesses, attending trade shows is one of the best ways to network and spread the word about your company. Engage with visitors and establish new relationships.
Follow up
Visitors: Ask permission to follow up with new contacts and make sure you understand the prospect's preferred method for doing so. Also, follow up with companies you requested additional information from. If you missed any companies while you were at the trade show, feel free to reach out to them after.
Exhibitors: Contact everyone you met at the show within two weeks. Separate contacts/business cards out by hot lead, warm lead and cold. This way you can easily establish the priority of who to contact right away. The goal is to move your relationship forward while the trade show is still fresh in their minds. Following up promptly is key to successfully maximizing your new contacts. A good idea is to organize a follow-up date for a qualified lead while at the trade show. Whether it's setting a date for a follow-up call or related to sending some follow-up materials, you must plant the seeds for a continuing discussion. People will be much more likely to keep you in the forefront of their thinking once they know that a follow-up is pre-arranged.
Matthew Cohen, Energy Management Practice Leader with DRI, interviews Jon Hilberg, President & CEO of KMC Controls who talks about new technology and talent acquisition in the Building Automation space.
KMC Controls helps facilities achieve higher levels of indoor environmental quality and energy efficiency by automating and controlling building systems.
1) In what areas do you see the greatest growth in the Building Automation Industry?
The Building Automation Industry is going through tremendous change right now and it is only accelerating. As the world becomes more "connected" via The Internet of Things (IoT), massive data collection (Big Data) the opportunity in the BAS Industry will be exponential over the next 10-15 years. While Green Buildings have grown in popularity, the "openness" of systems running in buildings today is paramount. C-level executives today want data they can have in "real time" which allows critical decisions be made without waiting for "old data". This data also ties very closely to the Demand Response world and Utility Companies need to control electricity usage at critical times. Cloud based systems are also becoming more accepted and utilized allowing large building data storage to be housed remotely and securely away from the facility itself. There are many growth factors as you can see. The challenge is to "pick a lane" and stay focused on it.
2) What do you see as the biggest challenge facing BAS manufactures and system integrators today?
With the popularity of "Apps" today many of the mundane, time-consuming tasks are being cut back or eliminated that SI's face today. That being said finding qualified technicians that are both HVAC and IT savvy is a tremendous challenge. "Speed to Market" with new, robust, easy to install products challenge the manufacturers as well as continued market pricing pressures.
3) In choosing senior level talent for KMC, what are the key factors you look for when expanding you team?
We look for dedicated, passionate employees who are willing to go the extra mile. Being a smaller player in the BAS space, we have people performing more than just one task if they are capable.

4) What are the major challenges you face when acquiring top talent in the BAS industry?
The biggest challenge we face as a manufacturer is drawing talent to the smaller rural area where we reside. Lifestyle is valuable to many and if they want a larger city environment, it makes our recruiting tougher. We are addressing by opening a design center in a major city which will help somewhat. Allowing people in certain positions to work form home at least 2-3 days a week if not full time also has helped.
Matthew Cohen
Energy Management Practice Leader
Direct Recruiters, Inc.
440-996-0860
mcohen@directrecruiters.com
Millennials, also known as GEN Y, were born between the years ranging from the early 1980s to the early 2000s and are notorious job hoppers. Reports suggest they have a short attention span and the majority of this generation does not expect to stay with one employer for more than five years.
Companies are feeling the real costs of these job hoppers. Reported in the Chicago Tribune  30% of companies surveyed lost 15% or more of their Millennial employees in 2013; and 87% said it cost $15,000 to $25,000 to replace a former Millennial employee.
Is there any way to keep Millennials from walking out the door? Yes. But it may mean changing your company culture and/or implementing new and creative ways for employee retention.  Here are 5 suggestions:
1) Offer Job Hopping Opportunities Inside Your Company. Give Millennials an opportunity to have a wide range of experiences within your company. The ability to move between departments can lead to greater exposure and job fulfillment.
2) Leadership Development. Millennials pay close attention to whether their workplace offers leadership opportunities for them. Your company should develop and implement a variety of leadership programs that demonstrate a commitment to these young employees.
3) Mentorship Programs. Mentoring is very important to Millennials. Establishing an effective mentoring program is both a cost-effective means of facilitating connections, accelerate learning and send a positive message about their future with the company.
4) Current Technology. Millennials grew up with technology in their hands. They're very comfortable with smart phones, IPads, Laptops, etc. and are keenly aware of the latest applications and improved mechanics. Make sure your company offers the state-of-the-art technology to help them work more efficiently and increase productivity levels.
5) Work/Life Balance. Millennials will work hard but want flexibility. Offer them remote connectivity and alternative work arrangements for community or family events. Also, offer a relaxed environment. It's no coincidence that this generation admires the work environments of Google, Yahoo and Amazon. Gone are the days of wearing suits and ties as a more relaxed workplace is in.
If you're a Millennial and change jobs often, please comment on how job hopping has been a positive for you.
In today's challenging job market, it's not just about who you know but how you get to know them.  If NOT done correctly, networking is a waste of your time. If your approach is to seek out people to tell them about ME, ME, ME, you'll walk away from every networking event/opportunity disappointed.
The right way to network is to do it with "purpose".  That means think beyond "What's in it for me?"  Instead, think "How can I help you?"
True networking is all about connecting, communicating and building a relationship.  It's about enjoying your conversation with others and actively listening in order to figure out what they need as well as how you can connect them with the right people without designs for personal gain.
For many of you, this revelation is eye opening.  It's probably contrary to what you've been doing.  If so, the following 5 tips on how to network successfully are especially meant for you:
1) Start networking before you're in a pinch. Desperation can be smelled from across the room. Don't be that person with panic in your eyes and only out for yourself. Handing out resumes at an event will make people run away from you instead of towards you. Start networking when you don't have an ulterior motive.  Get to know people and about what's important to them and start building a relationship.
2) Never dismiss anyone as being unimportant. Everyone has value and you'll discover that fact if you keep your mind open and don't judge people based on titles. Remember everyone has connections therefore, everyone is important.
3) Ask for an attendee list. Prior to attending each event, ask the organizer for a list of attendees.You can do some research on the people you want to meet. Check out their LinkedIn profiles and Google their names to gather more information.
4) Fish in the right pond. Unfortunately many of you are attending every event you can. You want to meet anybody and everybody. Slow-down. You need to be more focused. For example, if you're looking for a big fish, i.e. a key contact with a large company because you want to work for a large company, then you must attend the right event. You have to fish where the big fish are.
5) Figure out how you can be useful. Networking is not just one sided. It's not asking for favors. It's about building relationships. It's about a two way street and that means asking others how you can be of service to them. Be sincere and generous. Give them your business card and let them know they can call you anytime.
Please share how you network with purpose by posting a comment in the box below.
Have you ever lied on your resume or embellished the truth when speaking with a recruiter or hiring manager? It happens fairly often and it puzzles me because background checks and references are quite easy to conduct. In addition, a simple Google search can quickly uncover false information.
Recently I caught a candidate in the midst of a lie just by asking the same question twice. The first time I spoke with him, he said he made $80,000 in 2013 and wanted to better himself by changing jobs. When I called back a week later and asked that same question again to make sure that the position I was about to present was in his "must have" range, he bumped his 2013 earnings up to six figures.  All of the sudden, he earned over $100,000 in 2013. I asked to see his W2 for verification purposes but he declined.  He also hung up on me which was for the best since any confidence and trust I placed in him was now gone.
What other things do candidates often embellish or just plain lie about? Here are 5 that my team and I encounter quite often:
Enhancing skill sets & accomplishments. If you didn't do it, or didn't achieve it, don't list it.  However, there's nothing wrong with enhancing your resume with quantifiable accomplishments and improving how you display them.
Unexplained gaps of employment. Rather than make up a fictional job to cover an employment gap, try acknowledging the gap in your cover letter. If you were taking time off to raise children or to take care of a sick parent, no employer will fault you especially if you can show that you've kept up with the industry.
Fabricated education, degrees and certifications.  This is very risky. This lie is one that could not only get you fired, but might also incite legal action on the part of your employer. It's simply not worth the risk.
Omitting past employment.  Depending on the circumstances or why you left a previous job, you might be tempted to leave it off your application or resume. Carefully weigh your decision, because a background check or employment verification could reveal your omission, making it look as if you are hiding part of your work history.
Falsifying reasons for leaving prior employment. There's a tactful way of explaining being fired or quitting abruptly, and it doesn't have to involve lying. Just figure out the best way to explain it in as positive a light as possible. Not explaining the reason(s) can and will ruin your chances of getting hired.
Here's where I need to reiterate that honesty is still the best policy. Lying on your resume or directly to a recruiter or hiring manager will come back to haunt you. Once you've told lies, they snowball.  If you land the job, you've got to keep up the charade of each lie for the rest of your career. Who can keep up with all of them?
Have you ever embellished your resume or know somebody who did and got caught? Share your resume stories with us below.
Public Relations is important for companies to promote and maintain a positive image, but it's also important for an individual who is searching for a job. If you do not know how to make yourself stand out in the right way, you may lose an opportunity to someone who does. If you aren't knowledgeable about the company you are interviewing for, you are at a disadvantage to a candidate who is. Not knowing the proper way to use social media and how to network can hurt you as well.
How can you use public relations to help with your search? Here are 6 good ways:
Promote Yourself– Find your strengths and talk about them. Think hard and separate your strengths from your weaknesses, then use your strengths as your sales pitch. This requires you to be honest with yourself. Use anecdotes to elaborate on why you chose what you did as your strengths. It can also be helpful to have personal business cards and a short website about yourself.
Find the Right Angle– Figure out what sets you apart from the other applicants; what makes you better. Go above and beyond the everyday status quo and show your potential new employer what you can bring to the table.
Do Your Research– Be sure to know about the person or company that is interviewing you. Know your personal values and how they align with the corporate values of the company. If they don't match up exactly, either be flexible and willing to adjust your values to work with those of the company or accept that that particular position may not be for you and move on.
Social Media– It's important to be informed, so be sure to stay up to date with news and trends. Don't be afraid to interact with brands and companies on your social media platforms. Remember to follow the 1/3 rule: make 1/3 of your content interaction with your followers, 1/3 industry related, and 1/3 building your brand or business—and don't forget to keep your personal pages clean.
Network– Talk to everybody you can. Keeping in touch with people in your industry and similar fields can help you in a future job search or in collaborations. Always be nice to the people around you and don't burn bridges—you never know whose help you will need in the future or who you will run into again
With today's competitive job market, it is important to maintain every advantage that you can. Overall, PR is a very handy tool to help you stand out.
Have you used any of these methods in a job search or do you have any other ways to use PR?
Mike Silverstein and Kasey Fahey of Direct Recruiters interview
Scott Kornhauser, CEO of Azuba and Founder of Healthation (Aldera)


Scott Kornhauser is the CEO of Azuba and the Founder of Aldera, formally known as Healthation. Mike Silverstein is a Managing Partner and the Director of Healthcare IT at Direct Recruiters, Inc. Kasey Fahey is the Payer Practice Lead of the Healthcare IT Division at Direct Recruiters, Inc.
Tell us about yourself and the company.
My career has been a logical progression. I started in the pharmacy industry, first as VP Operations for a drug wholesaler in New York. This led to an operations executive role for two successful mail order pharmacy and PBM startups. These then lead logically to my role as President of ComCoTec, where I brought the first and most widely deployed commercial PBM system, RxCLAIM, to market in 1991. Today RxCLAIM processes over one billion pharmacy claims annually. After delivering real-time pharmacy adjudication systems for 10 years, it was only logical that I founded Healthation in 2002 (now Aldera), delivering the industry's first core payer administration system that is architected from the ground up for real-time rules based adjudication across all lines of business.
I am currently the CEO of Azuba. Azuba's mission is to improve health outcomes by empowering patients and caregivers with meaningful use of their electronic health records – anytime, anywhere. Azuba enables patients and caregivers with mobile access to the patient's health and medical records across healthcare providers (physicians, hospitals, pharmacies, labs, dentists, urgent care, etc.), payers (insurance companies) and Health Information Exchanges (HIEs) while securely sharing that information with other providers, caregivers and family. Azuba is the perfect activator for patients manage their own health in this new age of coordinated care and personalized medicine. Enabling patients to liberate and activate their own lazy data—Azuba turns the family health history into an indispensable high value
asset for generations to come.
You're a successful entrepreneur in the payer space and built Healthation (Aldera); how did you see the industry change in those 10 years, and what is your advice to other entrepreneurs?
My advice is to recognize that rapid change in the US healthcare industry is glacier slow as compared to other industries. You need to be prepared for this financially and spiritually. When I started Healthation there was no Affordable Care Act, but it was clear that the political and economic winds were headed towards reform…towards transformation. I think we have seen more transformation in the past 10 years than in the past century combined. But innovation and growth in this market has proven to be challenging. Nimble organizations, technology, and investment are the key ingredients to success. So my advice to other entrepreneurs is have a long-term vision, be patient and stay nimble.
What are the most important market trends to help set company strategy for the future?
I like to refer to what I call the four truths when summing up the current market trends. First, the market is going through a retail transformation. Second, the foundation for this retail transformation is a shift from fee for service to value based models. Third, these value based models require coordinated care to work. And fourth, coordinated care requires real-time interoperable information at the point of decision, sale, and care in order for it to work. Any future strategy must align with these market trends. For example, retrospective data analytic tools without real-time automated decision support capabilities
will not be very useful in the retail coordinated care market.
How are you helping to transition patients into becoming active healthcare consumers?
At Azuba, we believe that healthcare consumer activation and engagement starts with ownership and management of comprehensive personal health records. The market condition – political, social, technological and economic, are all aligning to support retail healthcare consumers. From insurance exchanges to mobile bio-metric monitoring devices, consumers have a growing retail marketplace of options. What they don't have is an automated way to collect, manage, and leverage all of their health records and information like they can in other retail markets. Azuba will empower them with information automation.
What is the long-term outlook of technology's influence on population health?
Well, going back to the four truths, personalized medicine and care are the ultimate goal of population health in a transformed retail market. Real-time coordinated value based care can't happen without technology. Long-term, technology needs to stay far enough ahead of the market to pull the market through its ultimate transformation. Long-term, I see technology's influence moving population health from dashboards to transactional data services that both inform and automate care.
How do you separate yourself from other mHealth companies? Do you think mHealth will revolutionize the healthcare industry?
mHealth is revolutionizing the healthcare industry…both technically and culturally. It is accelerating the market awareness and expectation of what's possible and thus desirable in a truly connected healthcare world where consumerism rules. Azuba is not a mHealth company as much as it is a mHealth enabled company. At the end of the day Azuba is in the data business. It just so happens that mobile platforms are dominating consumer communication now and into the foreseeable future.
What is your philosophy on leadership and can it be learned? Any thoughts on how to solve the leadership shortage?
Certainly it can be learned. I think leaders never stop learning. For me, whether you are a leader or not, the most important ingredient for career success is what I call the cumulative benefit factor. If there is no continuous cumulative benefit from your work experience, you are not going to have career growth. Especially in this complex US healthcare market. Understanding this very complex ecosystem and how your area of expertise fits into the bigger picture is invaluable. Leaders need to be more than organizational mechanics; they need to be visionaries that can connect the dots for their team. Each team member then has to be given the tools to do the same. Solve the shortage? Retain and continually educate high quality people so they can add that cumulative benefit factor. Teach them to connect the dots.
How will communication across the continuum of care effect outcomes?
Now I am going to start sounding like a broken record. Coordinated care across the continuum of care is the key to effective outcomes. That's why at Azuba we are focused not only on creating the market's first ubiquitous patient health record, but also the "data factory" for real-time data transactions that enable meaningful conversations between all endpoints in the coordinated care delivery system. Like other market data factories, such as Google, Apple, Facebook, Twitter, eBay, LinkedIn, and Priceline, the Azuba data factory sits in the middle, connected directly to consumers, who provide content, feedback, and permissions.
Where do you see the Payer market moving in the next 5 years?
Everyone is talking about the new intersection of payers and providers…providers as the new payers.Payers are deploying an increasingly complex set of tools, technologies, incentives, policies, and analytics to coordinate value based care while sustaining profitable growth. The "XM" of healthcare in the new value based marketplace includes care management, case management, utilization management, disease management, outcomes management and population management. All this management is complex and expensive. Increasingly, payers are franchising themselves into the new at risk provider market. They are packaging their administrative, clinical, underwriting, and technology assets for deployment within provider led at risk initiatives. Over the next 5 years, this will inevitably lead to some interesting business roll-ups and combinations.
What is going through a hiring manager's head when selecting a candidate? There are 7 top factors that influence their decision making about whether you get hired:
A Great Resume.
To get noticed in the first place, you have to have an impressive resume. Remember, your resume is the first impression the hiring manager will have of you. Keep it current and fresh. Also, look at other people's resume typical to your industry and check how yours compares.
Showing Long-Term Potential.
Employers want people in their organization to work their way up and grow with the company. Flags go up if they see that you like to change jobs every 2 years.  So if asked where you see yourself in 5 years, it's best to say that you envision your future at the company on a continued success track.
Ability to Get Along with Others.
Since you will spend a lot of time with co-workers, employers want to make sure you have the ability to work well with lots of different people. Also, employees who have a sense of belonging with their co-workers tend to be happier at their jobs.
A Clean Online Presence.
These days, there's a good chance that the hiring manager found you through social media in the first place. Turn your social media presence into a positive by making sure your public profiles are appropriate and kept up to date.
The Right Skills and Experience.
Having the right hard and soft skills with experience in the industry will put you ahead of the pack. Employers want to know that you can contribute from day one.
Giving Specific Examples.
Hiring Managers want people who can prove that they will increase the organization's revenues, decrease costs or help it succeed in some way. Provide specific examples in your interview of how you were able to contribute elsewhere and quantify your work if you can.
Positive Attitude.
Just about every hiring manager will be excited about a candidate who is enthusiastic and gives off positive vibes. People are attracted to happy and positive people. If you lack experience and skills, this could be your trump card.
If you're a Hiring Manager, what else has influenced your decision to hire a specific candidate?