August 9, 2017
By Christy Fox, Marketing Specialist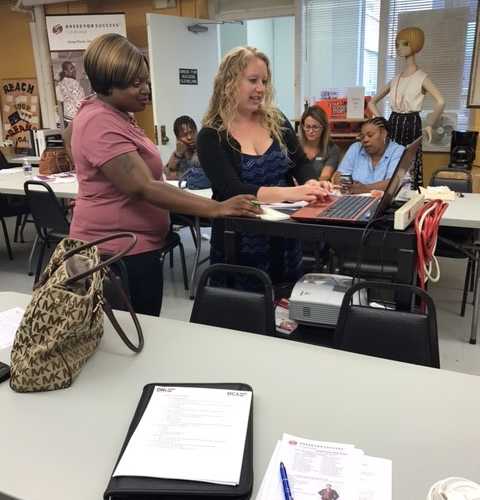 The mission of Dress for Success is to empower women to achieve economic independence by providing a network of support, professional attire and development tools to help women thrive in work and in life. Since 1998, Dress for Success Cleveland has been able to empower more than 19,000 women, establish three supportive service programs, and maintain a 52% placement rate in getting women connected to employment. About a month ago, the DRI and DCA Women's Group was able to take part in Dress for Success Cleveland's mission, and facilitate a professional development workshop.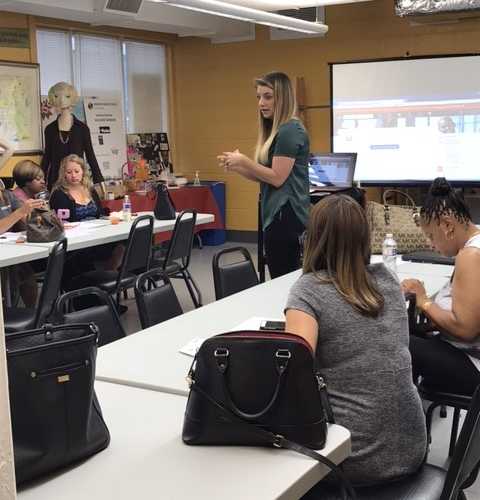 DRI and DCA women joined a group of 6 Cleveland women participating in an 8-week program designed to increase interview skills, presentation style, and inspire their career development plan. Specifically, DRI and DCA volunteered to contribute four sections of professional development tools, tips and information to encourage the ladies' success.
Part one of the workshop was dedicated to building LinkedIn profiles for the women. As a jobseeker, working professional, or even college student, LinkedIn profiles are a useful tool to network, search for jobs and build your online personal brand. DRI and DCA walked the women through a step-by-step demonstration of setting up the profile, and shared helpful tips to building out a profile that will help the women successfully brand themselves.
The next section of the workshop was to go over personal branding tips online and throughout social media profiles. DRI and DCA covered the basic do's and don'ts to online presence and sharing. This went hand in hand with the LinkedIn profiles and the proper way to use social media for professional development.
DRI and DCA then moved on to interview prep tips and information. There was a great deal of conversation regarding what the women had experienced in previous interviews, questions they may have for future interviews, and the best way to approach an interview from all angles. DRI and DCA shared information on how to answer any behavioral based interview question step by step.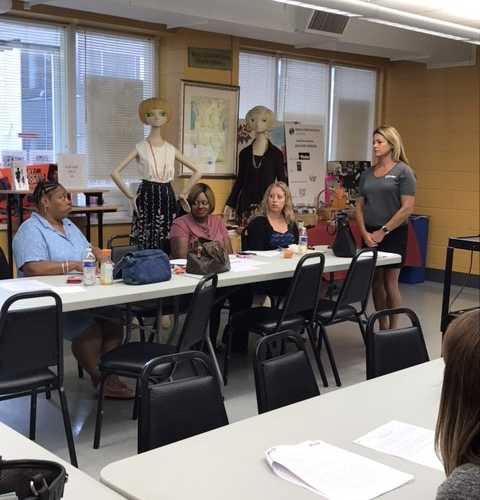 From there, the last section of the workshop was mock interviewing. DRI and DCA women asked the Dress for Success Cleveland participants common questions and coached them through how to best answer as well as tips on nonverbal communication skills.
Overall, the Dress for Success Cleveland workshop was beneficial for everyone involved. DRI and DCA women's group was thrilled to play a part in empowering other women in the community and to encourage them on their career journeys!
There are many ways you make a difference to the women of Dress for Success Cleveland. Please attend one of their upcoming Getting To Know Us breakfast events to learn more about the organization and how you can attend!
Wednesdays – 8:00am – 9:30am
September 20, 2017
November 29, 2017
RSVP by calling 216-881-6048

For more information on Dress for Success Cleveland, visit their website.
October 21, 2015
By John Yurkschatt, Director of IT for DCA
While cross training is popular in sports and a great way of developing fitness, there's another type of cross training that has become popular in business that is beneficial to the fitness and overall health of both companies and employees.
Businesses should think of cross training as a disaster recovery plan.  Implemented correctly, it will help a business to run smoothly in the event there is an absence of one or more key players.  Whereas, employees should think of cross training as a way to become more valuable to the company.
Let's look closer at the cross training benefits for employers as well as employees:
For Employers:
Mitigate risk.  With cross training, organizations are better equipped to recover quickly from disruptions and handle transitions gracefully.  To be specific, employees will be able to easily step into other roles to make sure the job gets done especially in the event that a key employee leaves.
Discover leaders.  Cross training can uncover some people's hidden talents.  Companies may see an employee not only be able to learn and perform new duties but emerge as a leader and motivator to others.
Enhance teamwork & boost morale.  Cross training helps employees to appreciate each other's jobs and recognize all the duties of their co-workers that they may have overlooked before.
Higher efficiency & productivity. Cross training forces teams to refine processes by making them take a hard look at the way they do things as they train others.
Recruiting tool. Today's young workers want greater satisfaction from their work. They are geared toward seeking employment that allows them to learn new skills. Therefore, employers are more likely to attract and keep good employees.
Derive Cost Savings.  Depending upon the business, once employees have been cross trained, a company may not need to hire as many workers.  Additionally, employees hone and increase skills enabling them to work in multiple areas. The business should see costs go down and efficiency go up.
For Employees:
Growth opportunity.  Cross trained employees may be considered for a promotion faster than others.  Employers may find that an employee has a special talent in a different role.
Increase employee satisfaction.  Employers that cross train have noticed a decrease in employee boredom and stagnation and an increase in productivity and value.
Develop new skills. Cross training allows your employees to build their professional, technical, and soft skills. By building their skill sets they feel more confident and valuable to the organization.
Build teams & relationships.  Cross training gives employees a chance to build new relationships with people they might otherwise never have contact with. These relationships will help with teamwork and gain a better understanding of the bigger picture.
Higher motivation.  Recognition in the form of training and development works wonders for employee motivation because it's proof the company is investing the necessary time and resources for employees to acquire new skills. An employee who believes their employer is genuinely concerned about their career development, is likely to exhibit an increased level of job satisfaction and motivation.
Cross training can be used in almost any position in almost any industry.  If you have cross training experience or story, please comment below.

By Dan Charney, President of Direct Recruiters, Inc.
A big deal is being made about self-starters these days because it is at the top of a hiring manager's list. It's considered one of the key traits that employers are looking for in their employees.
However, in the real world, most people are not self-starters. We don't always live up to expectations or our own ambitions. But that doesn't mean we can't change and become a self-starter. Here a few ways to get fired up:
Go for it and don't be afraid to fail.  The fear of failure can paralyze you and keep you from reaching your goals. Instead, learn from failure and apply what you learned. Self-starters turn setbacks into successes. There's nothing wrong with taking a few chances. Without risk there is no reward.
Take responsibility. A self-starter accepts the job at hand and takes responsibility for the decisions and actions they carry out. In addition, they often take on additional duties and responsibilities because they know that if carried out effectively, it can speed up a promotion.
Be reliable. Your boss, the people you work with, and clients should be able to rely on you on a daily basis, especially during peak or urgent periods. Be there on time and be the one they can count on.
Take ownership. Hold yourself accountable for your actions and how well you do your job. Always think of ways to improve how the job gets done. Bring fresh ideas to the table. But back-up your actions with commitment and always keep your word.
Finish what you started. Don't stop working on a task half way through it. Instead, follow through until the very end. Then, follow-up.  This shows you care about the task even after it has been completed.
Stay ahead of deadlines.  Do your work early. Don't put it off even if it's a task you don't like.  Self-starters don't dillydally. They are diligent and finish a project or task even before the deadline.
Show respect. Treat your bosses and colleagues with respect and help them out whenever possible. Refrain from office gossip and from complaining about the company, your boss, or co-workers. Self-starters stay away from negativity. They focus on the possible.
Be a problem solver. We are all faced with problems in our work and life. Solving those problems and minimizing the occurrence of problems takes courage and good decision making skills. Self-starters meet problems head on before circumstances force their hand.
Don't call it work. Self-starters do not feel like they're in a daily grind.  Rather, they focus on the long-term goal or reward that work brings. Those rewards might include a down payment on a house, saving money for a vacation, or simply growing a nest egg.
Overall, a self-starter is able to work effectively without regularly being told what to do.  They realize that success requires work. Employers don't need to micromanage them or worry that their work load won't get done or meet the deadline.
The best part of being a self-starter is that anyone can learn to become one. You need to replace some of your old habits and adopt the new ones mentioned above. This is the first step in becoming a self-starter instead of a self-stopper.
By Cherie Shepard, Director of Packaging & Material Handling, DRI
We are half way through our first year of our "Professional Women's Organization" at DRI and DCA!
Recently, I wrote Part I about how our women's group gives us a chance to bond and grow personally and professionally and the benefits derived.  Part II is below and about how a company can actually derive benefits as well.
Let's explore the benefits a women's organization has to a company.
Recruiting new female employees– As someone who talks to candidates and hiring managers every day I hear from both sides "tell me about the culture" or "we have a great culture". From a woman's perspective, hearing about the company's Women's Organization and how it can benefit them as an individual is a strong indication of a forward thinking company. Let's face it, we all know we spend a significant amount of time with our coworkers. Knowing that there is a provision for connection before walking in the door is a big selling point.
Retaining female employees – There is an expense to replacing employees. Traditionally, women leave organizations at a faster rate than men. By instilling a women's professional network companies have found that the gender gap in retention is closing. Women's groups offer professional and personal development. It is an internal resource for education which may be available outside of a work setting but not without an expense to the individual.
Developing Top Talent – Teaching employees to become great leaders and offering opportunities to further their professional and personal development offers an additional resource for developing future leaders in an organization. Women's organizations within companies offer insight into communication skills, confidence building techniques, and negotiation tactics. These skills can translate into promoting employees within an organization rather than having to seek outside your company.
I would love to hear your thoughts and ideas on what you are experiencing in your professional women's groups and how it is effecting your company.
By John Yurkschatt, Director of IT Services, DCA
For most workers, there comes a day when it's time to look for a new job or career path.  However, how do you look for your next opportunity while still working full-time at your current job?  Very carefully!
Here's what to keep in mind when you're determined to move on:
Keep job search quiet.  It's best not to confide in any of your co-workers that you are job hunting.  Big news like that often gets leaked. Above all, do not tell your boss.  In doing so, you will compromise your current employment.  As soon as your boss discovers you're looking, he/she will start looking for your replacement. Consider your good name and job toast.
Don't use company resources.  It's tempting to use your company's copier, fax machine, and email to send your resume to prospective employers. But it's also a huge no-no to use your mobile devices if they were company issued.  In addition, it's just not a good idea to look for your next job while on their clock. Use off hours. These days everything is digital and your job hunt is no longer restricted to an 8 to 5 time frame therefore, apply for jobs at home after hours.
Maximize your day.  Get up an hour earlier and commit that hour to planning, searching and following-up on leads. Also, use that time to send emails, prepare for an interview, or any other job-search related activity.
Stay employed.  It's easier to find a job while still employed. Employers prefer to hire someone who is currently working since they are perceived as more desirable and valuable.  There's no question that discrimination against the unemployed does happen.  Hiring managers wonder what caused the unemployment and if a candidate's skills are up-to-date or if training will be required.
Be smart with social media.  Using LinkedIn is crucial to your job search but try not to do a massive renovation to your profile all at once. This might send a red flag to your current employer. Instead, update your profile during lower traffic times like at night or on a weekend or holiday. Also, be smart about your settings.  Modify your broadcast settings so your connections aren't alerted of every update you make.
Schedule your interviews wisely.  When you get to the interview stage of your job search, ask that interviews be scheduled at times that won't conflict with your work schedule, such as early morning, during lunch, or after hours. Many employers will accommodate you.  If you absolutely have to interview in the middle of the day, try to use vacation time or a personal day.
Be careful with references. Accidentally using your boss or supervisor as a reference is a big mistake. Just think how they will take it when being contacted by an employer checking up on your references. References should be given upon request only and then even then with the caveat that your job search is confidential for the time being.
Are there more things to keep in mind when it's time to move on and you're still employed? If so, share below.
By John Yurkschatt, IT Director, DCA
Have you been passed up for a promotion lately? Are you not where you thought you would be in career by now? You're smart, hard-working, and creative. So what's the problem?
There are a number of very real reasons that could be holding you back from reaching your potential including fears you may have or false-thinking patterns. No matter what the reason, once you recognize the issue, you have the power to change it.
From my experience and vantage point, here are the 10 biggest reasons why you're not where you should be in your career:
Fear of Success. Many people feel they don't deserve success in life or fear their own greatness. Just as the fear of achieving a personal worst can motivate personal growth, the fear of achieving a personal best can also hinder achievement. You need to believe in yourself and that you deserve to succeed. Have you heard of "Fake it till you make it?" It means if you don't feel confident, pretend you are until you gain the confidence needed.
Fear of Failure. Fearing failure can damage everything at work and in life. It ruins your productivity, destroys your dreams, and keeps you from building the professional success you're trying to build. Don't fear failure but expect it. Your mistakes will teach you and show you a better way to get what you want and remember there's no reward without risk.
Thinking Way Too Small. You may be looking at the future one day at a time or even one week at a time. You don't have vision for the long-term. You see the trees and not the forest. Transformational leaders have one thing in common…their vision is bigger than average. Just like them, you need to open up your mind's eye to continually seek new opportunities.
Lack of Soft Skills to do the Job. Your hard skills might have landed you the job but the lack of the right soft skills will hold you back from moving forward within the organization. According to Careerealism, the critical soft skills employers most desire in their employees today are honesty and integrity, strong work ethic, emotional intelligence, self-motivation, high energy, and being a team player. The good news is that soft skills can be learned. Take the initiative and get trained on those you need.
Preoccupied with Social Media. If you waste valuable work hours and productivity time on Facebook, Twitter, LinkedIn or other social media platforms (unless your job is in social media), you're not going to get anywhere. Employers will see you working on "not working." Your chance for a promotion is gone and soon you'll be gone.
Feeling Entitled. Entitled, comfortable and security are words that you should never utter or experience. These are words that justify complacency, certain privileges, and low performance on the job. Being "entitled" to be treated differently than you are being treated can absolutely ruin your career. The reality is that coworkers don't appreciate others leaving more work for them and bosses don't reward bare minimum performance.
Paralysis by Analysis. Wiki defines Paralysis by Analysis as the state of over-thinking a situation so that a decision or action is never taken, in effect paralyzing the outcome. There's a great cost to an organization if the decision making process overwhelms you and therefore prevents you from making any decision at all.
Negative Thinking. Negative workplace attitudes have an effect on every person in the organization and negative attitudes effects employee morale, productivity, and team building abilities. It also has an effect on the overall workplace environment or culture. Get rid of your toxic thinking and beliefs before they send you into a downward spiral and ruin your career altogether.
Lack of Goals. If you don't plan anything, play it by ear, and just hope things will fall into place, you are not being realistic. What you need is a clear understanding of the company mission and create a number of professional and personal goals that relate to the company's mission and success. Put your goals in writing. This makes them more real. By not setting goals, you look lazy and management will perceive you as having a lack of ambition or initiative.
Thinking Like an Employee and Not a Leader. Today, companies are in dire need of future leaders. If you're giving them the impression you're only showing up for a paycheck, it's not likely that you'll be high on their list of those ready for a promotion or leadership position. Therefore, to get ahead, it's a good idea to demonstrate that you have leading edge ideas and the ability to implement them for the continued success of the company.
Is there something that's keeping you back from reaching success in your career? If so, please share your story or comment below.
By Sydney Arnett, Marketing Specialist, DRI & DCA
Last month, Glassdoor.com announced its seventh annual Employees' Choice Awards, honoring the Best Places to Work across the United States. Companies on the list exemplify those with a strong company culture and happy employees, as well as an engaged work.
While these two things are great for improving morale and productivity, they're also incredibly powerful tools for recruitment marketing and attracting new talent. According to Glassdoor Career Trends Analyst Scott Dobroski, "Company culture is among the top five factors people consider" when weighing a job offer.
To attain the best candidates in today's rebounding job market you need to be able to market your employer brand and attract job seekers. So what are common traits of companies with an engaged workforce and strong company culture, and how can you make sure your company is a "Best Place to Work?"
Continuous training and professional development – A 2014 Deloitte study found that, in the last year alone, corporate budgets for training and development have risen by 15 percent. To begin, try implementing a weekly training meeting, send some employees to a conference, or organize a mentoring program.
Recognition of personal accomplishments and milestones – Another key component of engagement is employee recognition. Make employees feel valued and appreciated for all of their hard work and contributions to the organization as most employees want to be recognized by their managers for their hard efforts. Companies that fail to implement reward systems do their employees and their culture a disservice.
A fun environment – For many employees, engagement means having a little fun at the office once in a while. Creating a positive work environment that includes fun ways for employees to interact will go a long way in engaging employees. Whether this means having an occasional birthday or holiday celebration in the office, or a more formal annual retreat, employees will have something to look forward to other than the daily grind.
Value employees' opinions – Employees want to feel valued and respected. Make employees feel involved and empowered to make a difference in the organization.
Offer some flexibility – Employees appreciate having a say over when they work. Allow employees to work from home on an as-needed basis and/or permit flexible work hours for employees to deal with personal matters when they come up.
Post any other qualities you look for in a company when job hunting.
By John Yurkschatt, IT Director of Sister Company DCA
In 2014, Millennials comprised 36% of the workforce. By 2025, they will make up 75% of the workforce. Compared to Baby Boomers and Gen Xers, the Millennials have a very different view of what the workplace landscape should look like and therefore, come into the workforce with different expectations. We're already seeing some companies, including our own, that have adopted new techniques for hiring, motivating, managing, and retaining this young talent. Eventually all companies will need to adjust and prepare for this emerging demographic and shift.
On the whole, millennials are hard workers. But what do they really want in the workplace? Here's our list of the 7 ways they will reshape the future of work:
Emphasis on Technology.  As the most technologically literate generation, millennials find it important that employers keep them connected with the latest and best technology including mobile platforms. In fact, many companies now offer online pre-interview questionnaires and video interviews. Not only is the video interview process a cost-effective and convenient way to screen candidates, it also highlights the company's use of technology and can help draw in top talent.
Corporate Culture and Meaningful Work are Paramount. Millennials say that meaningful work is a key factor when accepting a job. They want to know that their work will have a positive impact on their co-workers, manager, and on the company at large. In addition, millennials are especially fond of volunteering whether for skills-based volunteering or company volunteering days.
Leadership Must be Transparent and Authentic. Transparency is one of the top four qualities that millennials look for in leaders so it's no surprise that when they become leaders it is something they will make a priority. Also, this generation is able to smell phony and pretentiousness a mile away. They're fed up with politicians and business leaders who don't keep promises and are more concerned about personal gain than serving others. They want leaders with integrity.
Working from Home Will Become the Norm.  The Census Bureau reported that 13.4 million people work from home in America. That number will only continue to rise as more Millennials enter the workforce. They like the idea of remote connectivity and dislike the idea of being confined in an office from 9 to 5. They value a work/life balance but expect to stay highly connected and engaged with their employer and team.
Rewards and Instant Gratification Expected.  Millennial expectations for rewards and instant gratification are due to their emphasis on connectedness and communication. Technology has cultivated an expectation of quick responses and immediate appreciation for a job well done. However, this appreciation is not necessarily monetary. Instead, millennials want their ideas to be considered, appreciated and implemented.
Annual Performance Reviews Eliminated. Millennials want feedback in real-time or at the very least, on a regular basis. They aren't willing to wait until an annual review to improve. In addition, they want to know what's expected of them from the start.
Leadership Development a Must. Millennials have a strong opinion about how they will learn and develop leadership skills. Career coaching, mentorship programs, and rotational assignments are the most desired types of leadership training. Less important are the traditional types of training including e-learning, university courses and instructor-led classes. Millennials want to learn through experiences, rather than traditional training.
If you're a Millennial, what other changes do you see coming in the workplace? Please post below.