August 9, 2017
By Christy Fox, Marketing Specialist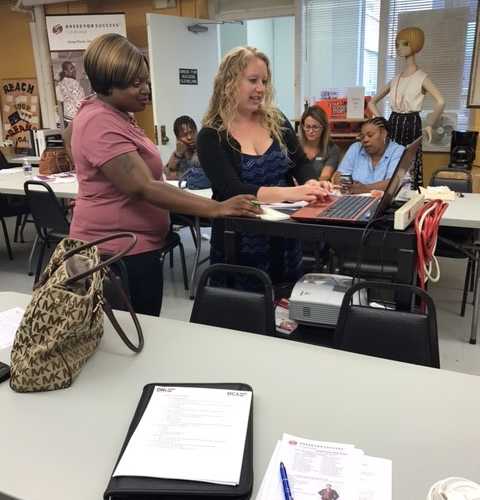 The mission of Dress for Success is to empower women to achieve economic independence by providing a network of support, professional attire and development tools to help women thrive in work and in life. Since 1998, Dress for Success Cleveland has been able to empower more than 19,000 women, establish three supportive service programs, and maintain a 52% placement rate in getting women connected to employment. About a month ago, the DRI and DCA Women's Group was able to take part in Dress for Success Cleveland's mission, and facilitate a professional development workshop.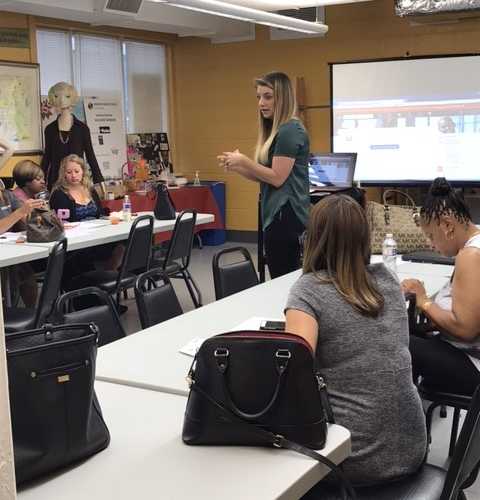 DRI and DCA women joined a group of 6 Cleveland women participating in an 8-week program designed to increase interview skills, presentation style, and inspire their career development plan. Specifically, DRI and DCA volunteered to contribute four sections of professional development tools, tips and information to encourage the ladies' success.
Part one of the workshop was dedicated to building LinkedIn profiles for the women. As a jobseeker, working professional, or even college student, LinkedIn profiles are a useful tool to network, search for jobs and build your online personal brand. DRI and DCA walked the women through a step-by-step demonstration of setting up the profile, and shared helpful tips to building out a profile that will help the women successfully brand themselves.
The next section of the workshop was to go over personal branding tips online and throughout social media profiles. DRI and DCA covered the basic do's and don'ts to online presence and sharing. This went hand in hand with the LinkedIn profiles and the proper way to use social media for professional development.
DRI and DCA then moved on to interview prep tips and information. There was a great deal of conversation regarding what the women had experienced in previous interviews, questions they may have for future interviews, and the best way to approach an interview from all angles. DRI and DCA shared information on how to answer any behavioral based interview question step by step.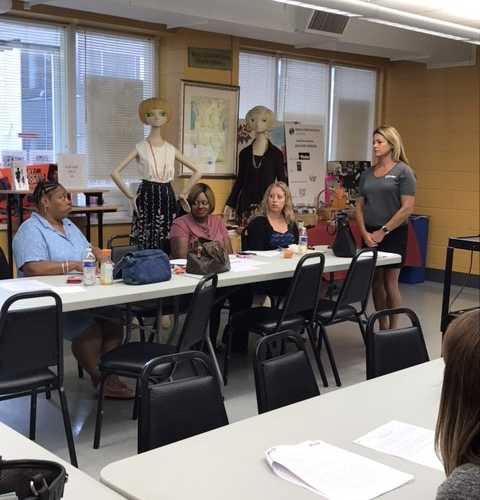 From there, the last section of the workshop was mock interviewing. DRI and DCA women asked the Dress for Success Cleveland participants common questions and coached them through how to best answer as well as tips on nonverbal communication skills.
Overall, the Dress for Success Cleveland workshop was beneficial for everyone involved. DRI and DCA women's group was thrilled to play a part in empowering other women in the community and to encourage them on their career journeys!
There are many ways you make a difference to the women of Dress for Success Cleveland. Please attend one of their upcoming Getting To Know Us breakfast events to learn more about the organization and how you can attend!
Wednesdays – 8:00am – 9:30am
September 20, 2017
November 29, 2017
RSVP by calling 216-881-6048

For more information on Dress for Success Cleveland, visit their website.
By John Yurkschatt, Director of IT, DCA
There are a number of obvious benefits to volunteering including feeling good, giving back, and making a difference in your community.  But volunteering is a great way for you to find a job or new career.  Here's how it can help:
Volunteers are desirable to employers. Employers like to hire people who can demonstrate that they are committed and hard-working even though they did not get paid for their efforts.
Volunteering can expand your professional network. If you can find a volunteer position within your field, you will have the opportunity to network with people already working in your target field. As you probably already know, networking is the #1 way to land a job these days.
Volunteering lifts your spirits. Taking time to help others increases your sense of usefulness and well-being. It's keep you healthier as well. In turn, you'll gain a positive mindset which is extremely critical for finding work.
Volunteering can help hone your skills and offer new ones. If you're a seasoned professional, you can put your skills to good use.  You can also use this opportunity to develop new skills like project management, time management, leadership, strategic planning, etc.  The organization gets the benefit of your unique abilities and you'll have a list of new accomplishments to talk about during your next job interview, which might lead to an offer.
Volunteering can fill in employment gaps. If you have suffered from long-term unemployment, volunteering fills the gap on your resume and shows you're committed to the community. It can also earn you references, which could be key to getting back to work after a long absence.
Volunteering gives you a track record for a cause. Non-profit organizations value their volunteers. If you demonstrate hard work and commitment to their specific cause, they may take notice and hire you. Keep in mind that non-profit organizations are potential employers.
If you found a job through volunteering, let us know your story.