August 9, 2017
By Christy Fox, Marketing Specialist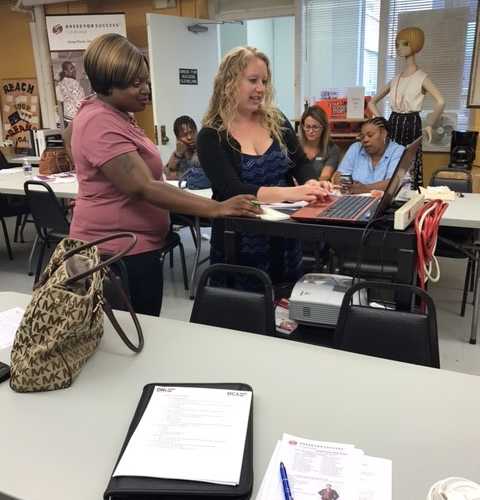 The mission of Dress for Success is to empower women to achieve economic independence by providing a network of support, professional attire and development tools to help women thrive in work and in life. Since 1998, Dress for Success Cleveland has been able to empower more than 19,000 women, establish three supportive service programs, and maintain a 52% placement rate in getting women connected to employment. About a month ago, the DRI and DCA Women's Group was able to take part in Dress for Success Cleveland's mission, and facilitate a professional development workshop.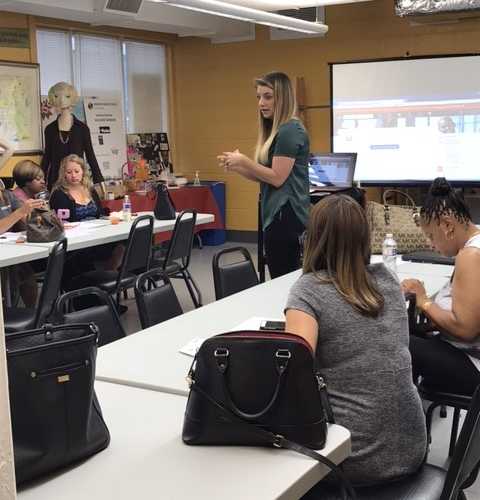 DRI and DCA women joined a group of 6 Cleveland women participating in an 8-week program designed to increase interview skills, presentation style, and inspire their career development plan. Specifically, DRI and DCA volunteered to contribute four sections of professional development tools, tips and information to encourage the ladies' success.
Part one of the workshop was dedicated to building LinkedIn profiles for the women. As a jobseeker, working professional, or even college student, LinkedIn profiles are a useful tool to network, search for jobs and build your online personal brand. DRI and DCA walked the women through a step-by-step demonstration of setting up the profile, and shared helpful tips to building out a profile that will help the women successfully brand themselves.
The next section of the workshop was to go over personal branding tips online and throughout social media profiles. DRI and DCA covered the basic do's and don'ts to online presence and sharing. This went hand in hand with the LinkedIn profiles and the proper way to use social media for professional development.
DRI and DCA then moved on to interview prep tips and information. There was a great deal of conversation regarding what the women had experienced in previous interviews, questions they may have for future interviews, and the best way to approach an interview from all angles. DRI and DCA shared information on how to answer any behavioral based interview question step by step.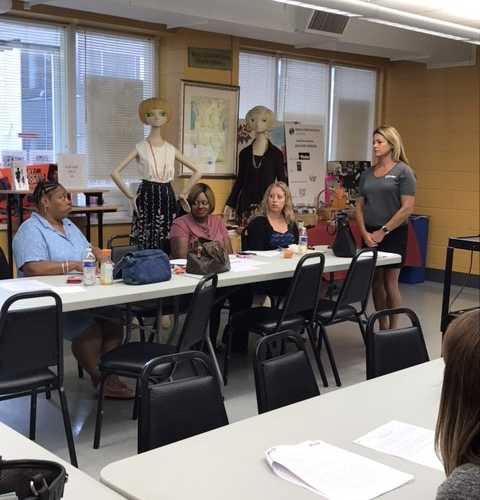 From there, the last section of the workshop was mock interviewing. DRI and DCA women asked the Dress for Success Cleveland participants common questions and coached them through how to best answer as well as tips on nonverbal communication skills.
Overall, the Dress for Success Cleveland workshop was beneficial for everyone involved. DRI and DCA women's group was thrilled to play a part in empowering other women in the community and to encourage them on their career journeys!
There are many ways you make a difference to the women of Dress for Success Cleveland. Please attend one of their upcoming Getting To Know Us breakfast events to learn more about the organization and how you can attend!
Wednesdays – 8:00am – 9:30am
September 20, 2017
November 29, 2017
RSVP by calling 216-881-6048

For more information on Dress for Success Cleveland, visit their website.
November 2, 2016
By Nicole Dauria, Executive Recruiter
So you have been asked to a lunch or dinner interview…
One of the major reasons a future employer will ask you to a lunch or dinner interview is if the position you are interviewing for has a lot of client interaction, but whatever the reason, there are some good rules to follow:
Being on time is the first order of importance. Make sure you have the address in your GPS, you have allotted enough time for traffic, and time to get lost and also find parking.
Dress for success. If you're not sure of the attire, it is always best to over dress than under dress as a rule of thumb.
In the day of having your cell phone managing much of your life, this is the one opportunity you need to TURN IT OFF! There is nothing worse than trying to have a conversation with someone and they are constantly looking at their phone. First impressions are everything and you don't want to ruin an interview by not making eye contact or being distracted because of your phone.
One of the most important facts you need to keep in mind is what to say and not to say during an interview. NEVER say anything bad about anyone or anything. You never know the affiliations your interviewer may have. Most of all, never talk with a mouth full of food.
In the event you have never taken an etiquette class, there is plenty of information on the Internet to help you through dining etiquette.  Just remember to not talk with a mouth full of food or eat with your hands. Just imagine your mother is sitting next to you!
Greeting your interviewer with a firm handshake and make sure you make eye contact is a must. Thank them for having you when you meet and make sure to thank them for the meal afterwards. This is the best time to ask for that next step in the interview process too!
Make sure you are polite and courteous to the wait staff as well as everyone that joins you for the meal. Keep your conversation cautious and not overly personal. The majority of the interview should be taking place before the meal is served so the conversation can flow and not be interrupted by chewing food.
What to order and not order off the menu is important too. NEVER order alcohol even if everyone at the table is drinking. Try not to order an entre that will entail you eating with your fingers like ribs or chicken wings. It's a good idea to only order a desert if the interviewer is doing so and asks you if you want something. Most importantly, don't order the most expensive thing on the menu!
Good luck and bon appetite!