August 9, 2017
By Christy Fox, Marketing Specialist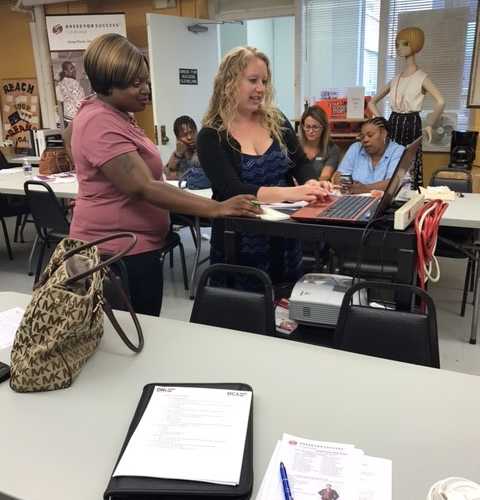 The mission of Dress for Success is to empower women to achieve economic independence by providing a network of support, professional attire and development tools to help women thrive in work and in life. Since 1998, Dress for Success Cleveland has been able to empower more than 19,000 women, establish three supportive service programs, and maintain a 52% placement rate in getting women connected to employment. About a month ago, the DRI and DCA Women's Group was able to take part in Dress for Success Cleveland's mission, and facilitate a professional development workshop.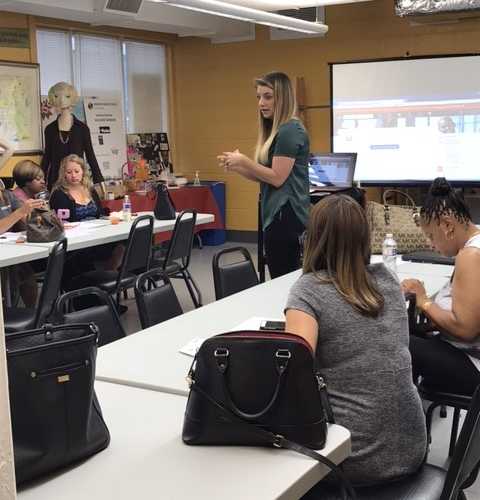 DRI and DCA women joined a group of 6 Cleveland women participating in an 8-week program designed to increase interview skills, presentation style, and inspire their career development plan. Specifically, DRI and DCA volunteered to contribute four sections of professional development tools, tips and information to encourage the ladies' success.
Part one of the workshop was dedicated to building LinkedIn profiles for the women. As a jobseeker, working professional, or even college student, LinkedIn profiles are a useful tool to network, search for jobs and build your online personal brand. DRI and DCA walked the women through a step-by-step demonstration of setting up the profile, and shared helpful tips to building out a profile that will help the women successfully brand themselves.
The next section of the workshop was to go over personal branding tips online and throughout social media profiles. DRI and DCA covered the basic do's and don'ts to online presence and sharing. This went hand in hand with the LinkedIn profiles and the proper way to use social media for professional development.
DRI and DCA then moved on to interview prep tips and information. There was a great deal of conversation regarding what the women had experienced in previous interviews, questions they may have for future interviews, and the best way to approach an interview from all angles. DRI and DCA shared information on how to answer any behavioral based interview question step by step.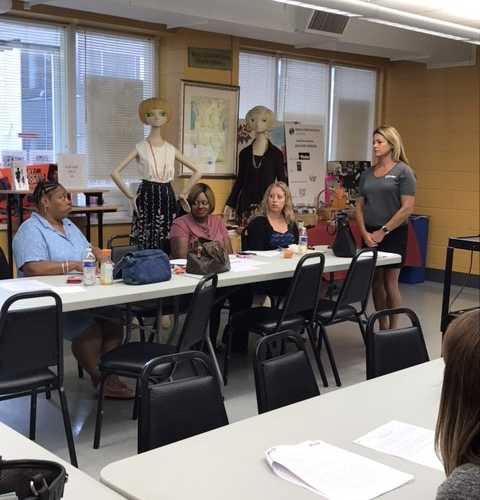 From there, the last section of the workshop was mock interviewing. DRI and DCA women asked the Dress for Success Cleveland participants common questions and coached them through how to best answer as well as tips on nonverbal communication skills.
Overall, the Dress for Success Cleveland workshop was beneficial for everyone involved. DRI and DCA women's group was thrilled to play a part in empowering other women in the community and to encourage them on their career journeys!
There are many ways you make a difference to the women of Dress for Success Cleveland. Please attend one of their upcoming Getting To Know Us breakfast events to learn more about the organization and how you can attend!
Wednesdays – 8:00am – 9:30am
September 20, 2017
November 29, 2017
RSVP by calling 216-881-6048

For more information on Dress for Success Cleveland, visit their website.
October 19, 2016
By Jessica Ondo, Recruiter, Direct Consulting Associates

Talking too much
Interviews are two sided, an opportunity for the employer to asses potential candidates and for potential candidates to asses potential employers.  Quite often, the positive feedback we receive from candidates is due to their having just spent an hour or two sharing their life story.  Usually, the feedback from the employers on the same candidates results in a thumbs down.
The golden rule for an interview for all candidates is to find a way to speak no more than 40% of the time.  Be aware of your chattiness, your audience, and be prepared with intelligent talking points to prevent a rambling interview.
Attire
Dress one or two steps above your title.  If you are interviewing for a manager or director role, you might be required to dress business casual with an occasional tie.  For your interview, wear a tie and a jacket!  If you are interviewing for an entry level role fresh out of college, dress sharp!  While a suit and tie might be overdoing, it is always a good idea to be over dressed than under.  Underdressing yields an aura of overconfidence and often arrogance.
One to two times a month, we receive less than flattering feedback on candidate's attire.  Be sure to dress up a step or two to ensure you dodge this bullet!
Not being prepared
Research the company! When asked, "So what do you know about ABC Company?" PLEASE……..don't answer, "Well, I know a little bit, but can you tell me more about the organization?"  This is the quickest way to find oneself fighting an uphill battle.  On the other hand, answering the question with the following would show your vested interest in the opportunity, "I've had an opportunity to do quite a bit of research on your website, LinkedIn, and industry related newsletters.  I found it interesting how philanthropic your group is and your involvement in XYZ charities.  Furthermore, some of the changes and your top initiatives for the next year seem exciting."  Enough said.
Finally, have questions prepared to ask about the company, the team, what makes people stay/leave and remember to keep all questions open ended.  This will allow the interviewee to gain the most insight about the opportunity.
Complaining about former employers
RED FLAGS!  No hiring manager wants to hear a sob story (right or wrong) about why you've been mistreated, lied to, and your career trajectory has been stunted.  Of course, things are certain to change, you've just had bad luck for the last 30 years right?  Not so much!  Talking negatively about previous bosses, employers, and colleagues will not give the hiring manager the feeling that you are willing to take on challenges, fight battles with colleagues, and overcome obstacles to better the organization.
It is okay to discuss reasons you are exploring opportunities but knocking your previous jobs is never a good idea.
Hygiene
Be on your "A" game!  Remember, you only have one chance to make a first impression.  Regardless of your daily habits, be showered, don't overdo the cologne/perfume, and be well groomed.  Who knows, you might walk in the door and interview with a bunch of folks looking like cavemen/women in which case your habits can change AFTER you get the job.  However, always err on the side of caution and recognize the person interviewing for the job will be viewed on a different level until they get hired and become productive.