DRI Team Attends NPE, The Plastics Show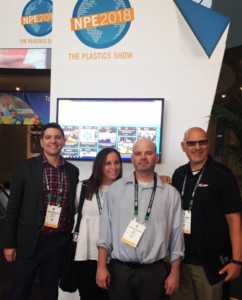 May 31, 2018
At the beginning of May, The Direct Recruiters Plastics and Flexible Packaging team attended NPE in Orlando, Florida. The show provided access to innovations, networking opportunities, technology, and ideas shaping the future of plastics. With over 2,180 exhibiting companies showcasing at NPE, it was the largest show in history. The DRI team enjoyed the show and shared their thoughts on NPE 2018:
David Peterson, Managing Partner of Plastics and Flexible Packaging
"This was my 3rd NPE and each one has been unique.  The buzz around industry 4.0 was exciting.  It's important for the plastics industry to continue to adopt newer technology.  This keeps the industry moving forward but also helps significantly in attracting the millennial generation as well as talent that will be graduating from college in the coming years. From a job perspective, Field Service and Engineering was in super demand especially with the OEMS. Several companies are looking for the exact same talent making the market super tight and competitive.  From the materials perspective technical service roles continue to be in demand. People that are able to talk tech but have a sales side to themselves are very valuable right now. From all companies we met with there continues to be concern at the executive level that pending retirements, with the lack of available candidates to backfill these roles, will be a major issue.  In general, we felt the "vibe" was very good, the weather was terrific, and overall it was a positive experience for those that attended.  My only complaint remains the same as always.  It takes two weeks for my back and feet to stop hurting from all the walking.  You?"
Adam Swinderman, Plastics and Flexible Packaging Executive Recruiter
"The technology at the show was great.  It was amazing to see where the industry is going.  The one thing that really stood out, was the sense of community there.  Everyone was very willing to help other people out.  This made the event a great opportunity to network and find ways to enhance one's career and for business to collaborate.  I'm very excited to see how things will evolve in the next 3 years when we all meet for the next event."
What were your thoughts on the show? Contact our Plastics team to discuss.