DRI Interviews greenbox Robotics Executives
November 16, 2020
Max Resnik, Medical Cannabis Practice Leader at Direct Recruiters, had the opportunity to connect with Caroline Murphy, Director of Operations at greenbox Robotics, for a series of Thought Leader Interview questions. The interview includes Caroline's insights on the state of the cannabis industry, the innovation of greenbox Robotics, along with post-election reactions from greenbox Robotics CEO, Zack Johnson.
Manufactured in the United States, greenbox is the first fully automated CBD kiosk. From the moment we step out the door, our daily lives are simplified by the wonders of modern-day automation. Whether it's pre-ordering your Starbucks on your phone, printing your plane ticket at an airport kiosk, or simply ordering your groceries online, automation is the grease that keeps this high-paced world spinning. So why should buying your CBD be any different? greenbox Robotics has harnessed the most sophisticated automation technology to make your buying and selling experience fast, easy, and way ahead of its time.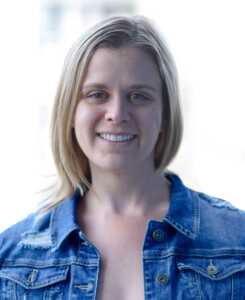 Caroline Murphy
Director of Operations
greenbox Robotics
How did you find your way to the cannabis industry?
The concept of the greenbox robot was conceived by Zack Johnson, while he was waiting in line at Erba Markets in Los Angeles to purchase the same products that he gets every time he shops: cartridge, eighth of flower and a couple of pre-rolls. While waiting in line, he was pondering how there could be a way for him to get in and out of the shop quickly because he knew exactly what he wanted. That was the problem he wanted to help dispensaries solve.
Shortly after, our greenbox robot was built specifically to dispense cannabis products and made it more efficient for customers to pick up their favorite products at their local dispensary. Our main focus has always been to provide education surrounding the products stocked in the robot in addition to finding a quicker way for customers to checkout. Little did we know the potential of our machines would expand much further than selling cannabis in a dispensary.
We want to help the world positively incorporate plant-based wellness products into their daily routine. We provide a retail outlet for easier access to products commonly purchased, such as cannabis and CBD. Greenbox's goal is to promote the use of plants and alternative therapy products which we call modern wellness.
greenbox is more than just a kiosk. How is it also a data hub?
We are constantly collecting data, from seeing what types of products are purchased, to who is buying them. Our favorite feature of greenbox is the ability to shop by desired effect or by product category. The greenbox desired effects collections include drift & dream, beauty & pleasure, relief & recovery and relaxation. If a customer chooses to shop by our "drift & dream" desired effect collection, they will find the products that we would recommend for sleep and end-of-the-day relaxation.
Another feature that makes our greenbox robot unique is the brands can market their products directly to the consumer to ensure the most accurate information is available. We list everything you would want to know about each SKU on our Product Pages, which display an image of the product, product details and description, along with onset time and ingredients.
Additional ways we collect data are through our tradeshow mode, which is a valued feature of our robot. In tradeshow mode, we ask our customers a few questions about themselves and their CBD experience, along with their email address to release a free CBD product of their choice. This data has allowed us to maximize the potential of our outreach by collecting this information.
What challenges do you face?
Each industry comes with its own challenges. To sell cannabis in a legal dispensary, staying compliant within the state's regulations is always our number one priority. This requires daily maintenance by restocking the robot with the necessary inventory and making sure the customers are successful while using the robot.
A challenge we have faced in the CBD industry is the product menu being dependent on the approval of the host location. Big surprise! Certain products are not allowed at specific locations due to a lack of regulations on hemp-derived CBD products. For example, we found hemp flowers or concentrated hemp products, such as vaporizers, were not allowed to be sold in our robots due to difficulties getting these products approved.
Aside from federal legalization, what are the biggest obstacles facing the cannabis industry today?
Staying compliant within the state's rules and regulations is a challenge that we all face in the cannabis industry. Our focus at greenbox is normalization within the cannabis industry by promoting modern wellness and alternative plant-based products. Our company was started to help the customers that shop daily get in and out of the dispensary quickly but has proven to be a repeatable business model for pop-up stores in convenient locations to moderate their CBD transactions. We have placed our robots in locations such as 7-Eleven, local shopping malls, retail locations, apartment complexes and have seen different levels of success for certain products in various parts of the country.
Of course, with the conversation leading to federal legalization in the future, we believe greenbox will be a safe and sustainable solution for providing alternative medicine in beneficial locations. Right now, we are on the right track with being able to test various locations nationwide. We are finding the sweet spot for our CBD Robots is located in apartment complexes due to the COVID-19 pandemic. Everyone is staying inside their homes, and with a high-rise apartment complex, this is the perfect addition as a vending solution.
We hear from people every day who want to get into the industry. In your opinion, where's the best place for them to start?
You can never do too much research before diving into a new industry, and in our opinion, that is always the best place to start. Your research needs to start with having a comprehensive understanding of the cannabis plant from seed to sale.
Always consider the ancillary opportunities in the cannabis industry such as accounting, legal and marketing just to name a few. When you are ready for an interview, a great way to be prepared is to have an understanding of the basic terminology used in the cannabis industry. There are many roles to be filled in the cannabis industry, and as more states are moving forward with recreational cannabis, numerous opportunities are becoming available!
What did you think when you saw each of the cannabis ballot initiatives pass on Election Day?
"CLEAN SWEEP! I am thrilled with the progress of cannabis reform across the country. This plant has so many wellness benefits and needs to be more accessible across our nation. It's time to legalize cannabis at the federal level so that we can bank like other industries, operate across state lines like other industries, and most importantly amend non-violent convictions for possession of cannabis." - Zack Johnson, CEO