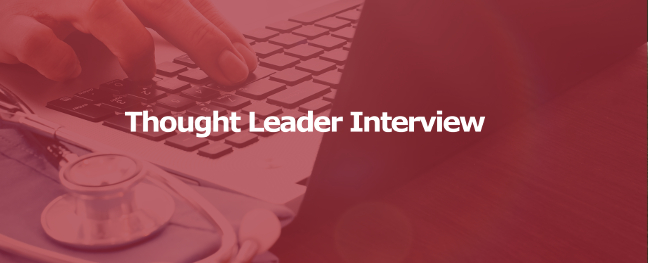 Brian Silverstein Interviews Bruce Brandes – CEO, Founder of Lucro
December 1, 2017
Brian Silverstein, Director of Life Sciences recently had the opportunity to interview a Healthcare IT industry leader, Bruce Brandes - CEO, Founder of Lucro. Mr. Brandes shared the background of Lucro, thoughts about trends and innovations in the industry, and other helpful insights. 
Please tell us about yourself and the company you founded, Lucro.
I've spent 28 years in healthcare IT, first with IBM and then with a series of growth-stage software and technology companies.  
We started Lucro in 2015, in partnership with a network of leading health systems, to help them decrease costs and save time by simplifying their buying process.  As a byproduct of our digital platform, Lucro delivers a new marketing channel that improves efficiency and lowers sales costs for vendors.
What was your motivation and the background behind founding Lucro, and where did the name come from?
My entire career as a vendor, I thought the sales process in healthcare was nonsensical.  While I was managing director at Martin Ventures (with longtime hospital operator, Charlie Martin), we realized the long, expensive sales cycle was just a symptom of the root problem – that the hospital buying cycle was broken for complex, collaborative vendor selections.  Through our collective relationships, we aligned with health systems that collectively operate 20% of all the hospitals in the country, and added financial backing of HCA and Heritage Group, to develop a solution.
Comically, the company name was about our 20th choice, as all the other names we liked were already taken by an overcrowded universe of unknown, new digital health companies.  "Lucro" is from the Spanish root meaning "to gain" or "to profit."
Given the success of Lucro – How will you disrupt the healthcare market?
The healthcare organizations using Lucro are collectively retraining the vendor community on their preferred way to discover, evaluate, and choose new products and services.
For buyers, Lucro manages their vendor selection process, replacing antiquated RFIs and RFPs, fragmented spreadsheets and documents, and an unmanageable volume of emails and meetings.
For sellers, the platform redirects ineffective sales and marketing spend, to focus on more relevant, qualified opportunities – while offering unprecedented market insights regarding industry needs and positioning their solutions.
With innovation as a common theme throughout your career and Lucro, how do you make sure that your company is always driving innovation?
I believe for us to be successful, there are three key elements:
a deep understanding and singular focus on the problem we seek to solve

imagine a solution without being constrained by legacy thinking or incentives

recruit and empower a team of complementary talents within an aligned culture
When did you feel that your business model was going to be a success and you were solving the problem you set out to solve?
We are never too complacent regarding any successes we achieve, but our team is particularly encouraged when we see examples of virality – our current clients proactively sharing our solution with their peers to encourage them to actively engage in the network.
What advice would you give to up and coming entrepreneurs in the industry?
Going to market in healthcare is unique from other industries – neither be naïve nor discouraged – there is meaningful opportunity for passionate entrepreneurs to make a difference in people's health and wellness.
What are the biggest challenges you see in the healthcare industry at this point?
Amid transformational clinical and technical breakthroughs, the underlying business model of healthcare has created misaligned financial incentives to common sense solutions.  Established and emerging stakeholders face unprecedented change and uncertainty, clouding the path forward for all.
What trends do you expect to see in the healthcare industry in the next 5 years?
The consumer will begin to be in charge of how, when, and where care is delivered, as the individual will realize meaningful incentives for making healthier, fiscally responsible choices regarding their care.
They will seek care based on cost, convenience, and quality, the rational way most consumers make every other purchase decision in their life.  More care will be managed by loved ones in the home, supported virtually by clinicians that come to you, with a shift away from hospitals.
Unfortunately, I do not believe these changes will happen nearly as quickly as many predict.  Healthcare is complicated for many reasons, and many current stakeholders that stand to be disrupted will slow this inevitable shift.
As a leader, what traits do you think define leadership?
Well, there are lots of leaders – with both good and bad intentions.  Vision, integrity, and selflessness characterize those who lead for good.
What made you choose healthcare as a focus in your career path?
I always imagine my mother, my wife, my daughter as the person in need of care and want to help empower the passionate clinicians and supportive organizations to do the best jobs they can to systematically provide the best healthcare possible.
What new technologies or innovations are you most excited about in the industry?
There are so many innovations that hold great promise – and I believe the most encouraging ones are those that are insanely simple solutions to big problems.
Two of my favorite examples to which I've recently become introduced:
Accendowave – a small device worn by a patient that uses EEG technology to remove the subjectivity from the assessment of pain – this can lead to happier, more comfortable patients while preventing overuse of opioids.
IRIS (Intelligent Retinal Imaging Systems) – empowers primary care doctors to offer a simple test in their office to end preventable blindness in diabetic patients.
What is on your pizza?
I am a pizza snob – I make my own at home every Friday – a family favorite!  However, I confess that I get my toppings from the hot bar at Whole Foods – so it varies every week depending on which veggies and meats look best that day!
Brian Silverstein
Director of Life Sciences
440-996-0877
bsilverstein@directrecruiters.com