August 9, 2017
By Christy Fox, Marketing Specialist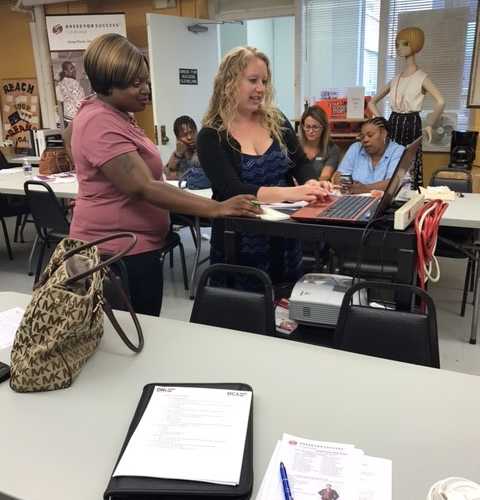 The mission of Dress for Success is to empower women to achieve economic independence by providing a network of support, professional attire and development tools to help women thrive in work and in life. Since 1998, Dress for Success Cleveland has been able to empower more than 19,000 women, establish three supportive service programs, and maintain a 52% placement rate in getting women connected to employment. About a month ago, the DRI and DCA Women's Group was able to take part in Dress for Success Cleveland's mission, and facilitate a professional development workshop.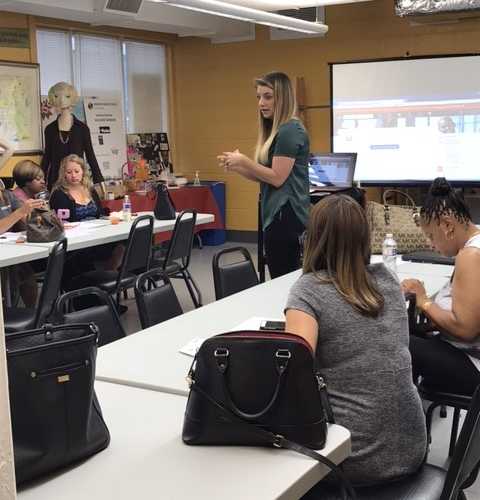 DRI and DCA women joined a group of 6 Cleveland women participating in an 8-week program designed to increase interview skills, presentation style, and inspire their career development plan. Specifically, DRI and DCA volunteered to contribute four sections of professional development tools, tips and information to encourage the ladies' success.
Part one of the workshop was dedicated to building LinkedIn profiles for the women. As a jobseeker, working professional, or even college student, LinkedIn profiles are a useful tool to network, search for jobs and build your online personal brand. DRI and DCA walked the women through a step-by-step demonstration of setting up the profile, and shared helpful tips to building out a profile that will help the women successfully brand themselves.
The next section of the workshop was to go over personal branding tips online and throughout social media profiles. DRI and DCA covered the basic do's and don'ts to online presence and sharing. This went hand in hand with the LinkedIn profiles and the proper way to use social media for professional development.
DRI and DCA then moved on to interview prep tips and information. There was a great deal of conversation regarding what the women had experienced in previous interviews, questions they may have for future interviews, and the best way to approach an interview from all angles. DRI and DCA shared information on how to answer any behavioral based interview question step by step.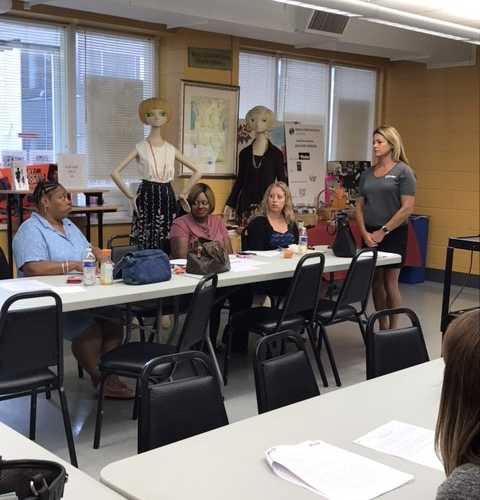 From there, the last section of the workshop was mock interviewing. DRI and DCA women asked the Dress for Success Cleveland participants common questions and coached them through how to best answer as well as tips on nonverbal communication skills.
Overall, the Dress for Success Cleveland workshop was beneficial for everyone involved. DRI and DCA women's group was thrilled to play a part in empowering other women in the community and to encourage them on their career journeys!
There are many ways you make a difference to the women of Dress for Success Cleveland. Please attend one of their upcoming Getting To Know Us breakfast events to learn more about the organization and how you can attend!
Wednesdays – 8:00am – 9:30am
September 20, 2017
November 29, 2017
RSVP by calling 216-881-6048

For more information on Dress for Success Cleveland, visit their website.
Women in Business Part 1
By Cherie Shepard, Director of Packaging & Material Handling, DRI
Direct Recruiters and Direct Consulting Associates recently created a Women's Organization. While the idea of establishing a women's group may sound very 1970's; beginning our Women's Group is far from exchanging recipes, diets or "how to's" of child rearing. We didn't begin this organization to divide ourselves from the men in our company (no they are not included). We did it to give us a chance to bond and grow personally and professionally. We want to encourage our employees to feel a part of our company and to develop the skills to speak in a public open format which can be a short fall of women in business. We each bring a unique set of skills, life events and experiences that offer new ideas and discussions.
When starting a women's group it is important to establish some ground rules and plans of action to make it successful.
1) Have a plan of action at each meeting
We are extremely fortunate. We have a culture where there is a good deal of comradery together with a lot of fun. For this reason we know we had to have an agenda for our meetings. We want to make sure we stay on task and on time. Let's face it we all have jobs to do and having a meeting where we just keep circling around no specific idea is a time stealer. Prior to our meeting we send an article, video or podcast to the group to be viewed ahead of time. This gives us a poignant conversation piece to bring to the discussion.
2) Meetings are not an open forum to complain about your company or management
Any time a group of employees gets together, whether it is over lunch or drinks, the topic of conversation can move toward the negative. Our goal is if there is a situation that is frustrating for one or more of us we discuss it; having our conversations become negative is counterproductive to the success of our organization. Situations that arise can produce suggestions to fix a problem; they also open a non-judgmental forum and help bring clarity to an experience.
3) Make it fun
Just because we are at work and we are professionals we still want to enjoy ourselves. Most of us are not golfers or basketball players. Shocking but true. So we don't have the same bonding times that these activities offer. So we try to schedule our meetings around other things. Some ideas are a picnic, a wine tasting and a painting party for starters. Even something as simple as walking during our lunch break for some physical activity enables us to get together and connect.
What ideas do you have for a group like this in your organization?
(Stay tuned for Part 2 on how this type of group can benefit your company)