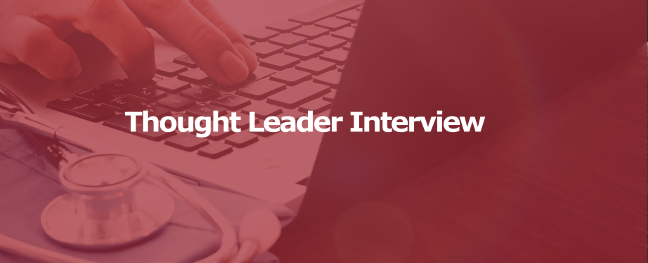 October 10, 2017
N
orman Volsky, Director of Mobile Healthcare IT recently had the pleasure of interviewing Justin Kahn, Founder/CEO of TruClinic for a Thought Leader Interview. Justin shares the interesting background of his career and the inspiration behind TruClinic, as well as industry insights, advice for young entrepreneurs, and more.
Please tell us about yourself.
My name is Justin Kahn, I'm 39 years old. I have had multiple careers in my life – I've been a Realtor, a Natural Disaster Claims Adjuster and for the past seven years, I have been the Founder and CEO of TruClinic.
Give us some background on TruClinic, why you started the company, and the mission behind it.
I joke around and say telehealth chose me, which is kind of true. When I was young I got hit in the head with a baseball bat during a softball game.  I suffered a traumatic brain injury and was misdiagnosed with Post Traumatic Stress Disorder for over a decade. When I was in my late 20s, I had a seizure that scared me into seeking out the help of a neurologist who discovered, after working with her over a period of time, that I had TLE (Temporal Lobe Epilepsy). She put me on an anti-seizure medication and it changed my life almost overnight. I used to suffer from anxiety and panic attacks and those went away after I started this medication. As a side note, I grew up around the VA hospital system. My stepfather was an administrator for the VA so we lived on the grounds of different hospitals growing up as a kid. I knew what the infrastructure was like at the VA and knew some of the problems they had as it related to behavioral healthcare in particular. In 2008, I happened to read a transcript of a speech that Robert Gates had given to the graduating class of West Point and he talked about how the DOD was going to start investing billions of dollars into the PTSD epidemic that had been plaguing the branches of the military. That article resonated with me because growing up, I always wanted a doctor to see these panic and anxiety attacks I was having in real time instead of trying to explain what had happened weeks later in the doctor's office. When I read that article and started to think about the infrastructure at the VA, I came up with an idea, really thinking about what I wanted for myself and how that might apply to the VA. My idea was to connect active duty troops with VA providers from the troops' home state at the beginning of their service career. When the troops graduated from training, they would be deployed and assigned with a group of providers from the VA.  During deployment, they would be able to meet with those providers through a secure video conference and the idea was that it would be outside of the military, but not outside of the DOD. The hope was that the troops would be comfortable engaging with the VA providers while they were deployed so when they transitioned to a veteran status, they would already have those relationships established and would continue to engage those providers, and more importantly, they would get used to the technology.  The video technology piece is important because close to 40% of veterans live in rural and frontier counties in the US. I took this whole idea to the Salt Lake VA, and they liked it. The VA said if we could produce the technology we were proposing, then they would give us a grant. Less than a year later, we brought the BETA version of the technology in for a pilot in which relaxation exercises were taught to a test group of veterans using the technology. They measured the retention rate against the control group, which did not use technology, and they had phenomenal success with the test group. That led us to apply for grants with Utah Valley University and also from the Governor's Office of Utah to finish building out the first version of the platform.  We also used grants to do a couple of projects with the Goshute Native American tribe, one of the most rurally isolated tribes in the continental United States. Our success with the Goshutes led us to get the seed capital for the company, which was really the beginning of TruClinic and how we started off to the races.
As an accomplished, young entrepreneur, with several awards to back that, what advice would you give to up and coming entrepreneurs?
Don't quit. Take criticism, feedback, advice, and learn from people who have been through the experience. Take their advice with a grain of salt and don't be afraid to make decisions. The best piece of advice anyone ever gave me outside of my father is "the only wrong decision is indecision. You can either act, react, or do nothing, but you do it consciously."
What drives you to succeed?
Success is an unattainable target; an ongoing goal. I love what I do because I am capable of doing it. I am always working towards the never-ending definition of what success could be. In my opinion, success can only be measured against the happiness one feels in their day to day activities.
What interesting new projects are you working on?
The stuff we are really interested in right now is machine learning. With the launch of our new version 3 platform we have much more robust capabilities around gathering and analyzing data and using that in a way that actually provides real ROI back to our customers. The first movers in telehealth as it relates to machine learning and AI are around patient triage and common symptoms, deciding whether or not individuals need to go to the doctor or if this is something that could be handled through an algorithm. This is the place to start and is one of the low-hanging fruits, but when you start really thinking about predictive analytics, clinical decision support and longitudinal data and what that means in terms of not only helping to streamline efficiency, but also to improve patient outcomes- that's one of the things that really interests me personally as we think about how telehealth moves into the next iteration. My team and I think of that as virtual health where you're unifying the experience between what happens inside of the four walls and outside in the real world.
What challenges do you currently see in the healthcare IT industry?
It's the wild west in a lot of ways, but there's also a lot of noise. As one of my mentors would say, "there's a lot of sizzle but not a lot of sirloin." The first wave of telehealth was the direct-to-consumer and specialist consults. The second wave was the platform play, and now there are a variety of different technologies to choose from. Video is a commodity, and now there are a lot of single use, tactile solutions out there that are limiting in how they can be applied to different use cases and workflows. Frankly, I feel bad for hospital and health systems and even the smaller mom and pop clinics and practices.  The challenge they face when it comes to picking a vendor and building a strategy is that they may spend millions of dollars with a platform or provider services organization and then hit the proverbial wall with what they can do with it. What that has led to is organizations buying multiple overlapping and sometimes redundant solutions in order to fill the different use cases or work flows they're trying to support as it relates to telehealth, and it becomes cumbersome, unruly, and unmanageable especially in large organizations.  That's why TruClinic is winning customers. We are seeing customers who have invested into those platforms and transitioned over to us, and we have also seen new customer entrants in the market coming straight to us because of the solutions and the services we provide and the partnerships we have created with our customers.
Have you had a mentor(s) throughout your career?
I collect mentors. I am only as smart as the people I surround myself with. I make it a point to engage and meet people by going out for coffee, learning, asking questions, and posing scenarios. I find that is one of the most effective ways for me to gain perspective and insight and to help me in how I think about the challenges or problems that I'm faced with.
What strategies do you use at TruClinic to retain top talent?
We are a big family here at TruClinic. Every person that I work with is someone that is part of the culture, and part of the fabric. We all support each other and we all make sure that we are helping each other in carrying the load. We all have our own domain expertise so we collaborate internally as a team as well as externally with our customers. I think that a focus on collaboration and team dynamic allows for the most constructive work program. We also use other strategies; For example, our engineers are not allowed in the corporate office unless they're specifically here for a meeting. Otherwise they're home, in a coffee shop or wherever their safe space is for programming. We do that because there is this component of what is called context switching – to have an engineer be in a mindset and be developing and have to switch, attend a meeting, or phone call then come back to programming, it's difficult to do. We are an agile shop, so we decided that engineers work their own time, they have to be on certain calls or meetings for check-ins, and stay in constant communication. Everything we do is written, but I don't care if engineers code at 2 AM or 2 in the afternoon as long as they get the work done. We have an understanding of different teams and different dynamics, and how they work and when they need to be available. We try to build the culture where, following the Netflix model, we don't care when the work gets done as long as it gets done, and it is quality work, and on time. From a CEO perspective, the trick is to treat your team like a family, listen to the concerns and suggestions they have, and build the culture and team at the same time.
You received your B.A. in International Economics, and B.S. in Political Science and Government. What led you to pursue healthcare?
Originally, I thought I wanted to be a lawyer working on international infrastructure projects. That's where I thought my career would go in college. Instead, my career went a different way. I came out of school, got a sales job, did some consulting and learned real estate because it was interesting to me and that was the direction my life went for the better part of a decade. I knew that being a Real Estate Agent wasn't something I wanted to do for the rest of my life. It was more the fact that it gave me a lot of flexibility in terms of trying to figure out what I did want to do with my life. A real estate commission can be significant, so being a real estate agent and a claims adjuster gave me the ability to save money and invest it. When I made the decision that I wanted to pursue TruClinic, I self-funded the company for the first 2 years and did that based on the commissions I was making. This all led into what we, as a company have been able to do. Like I said before, I am only as smart as the people I surround myself with and everyone on this team has been an integral part of the company. Their knowledge, background, expertise and their experience have all help shape the vision and the direction and the strategy of this company.
What trade shows are you looking forward to attending in the near future?
I'll be heading to the Gartner IT Symposium, the Conex Event in Dallas, HIMSS, ATA, AHA, SPS, and ISM. We do a decent amount of shows and speaking.
Norman Volsky
Director of Mobile HIT
440-996-0059
nvolsky@directrecruiters.com
October 5, 2017
By Mike Silverstein, Managing Partner of Healthcare IT and Life Sciences
Value-based care, population health, telemedicine, cybersecurity and interoperability are just some of the topics taking priority in Healthcare IT professionals' minds. More importantly, leaders in HIT organizations need to have the talent to support these types of Healthcare IT initiatives to drive innovation and strategy. Landing this talent has been challenging in a tight global labor market where candidates have options and the upper-hand. In a recent CEB Global Talent Monitor Report, global employee confidence in the economy reached 53.8%, the highest it has been in almost three years, and employees' perceptions of job opportunities increased 1.2%. While employees are confident they could find a new job, this confidence increase has not translated to increased job seeking. Instead, employees are beginning to work harder and stay longer at their current jobs with a 4.5% increase in employees planning to stay with their current employer in North America.
This candidate-driven market paired with the need for workers with new and complex skills means hiring managers need to address what potential candidates are looking for in order to attract and retain the best talent. Here are four factors leaders and hiring managers need to take note of to land these job-confident individuals.
Respect
CEB Global Talent Monitor reported that employees are increasingly looking to be respected and treated fairly in the workplace. This is important to remember throughout the entire hiring and onboarding process. This includes respecting the candidates' time throughout the interview process, then continuing to offer valuable feedback and constant communication throughout employment to ensure mutual expectations are met.
Compensation and Benefits
Money might not be everything, but it is a crucial piece in attracting talented individuals. With candidates having several options on the table, employers need to stay on top of salary and benefit information in the industry. Not only do employees expect to enter a job with a great compensation package, but they also expect competitive raises, bonuses and benefits such as paid time off, healthcare insurance and retirement savings.
Culture and Engagement
Company culture is a reflection of an organization's values, mission and vision. Employers need to strive to create a strong work environment where employees feel that they belong and want to stay. Making sure employees are engaged at work and enjoy the culture can be a company's strongest asset. Employers can attract new candidates to an exciting culture by showcasing it in their brand, website, social media and throughout the interview process.
Opportunity
Clear growth plans and upward mobility for employees to apply their skills and advance their careers in the company are extremely important. Managers and leadership teams need to be open, provide employees with training and development options, allow room for new ideas and be accessible to their teams. Candidates are looking to make a difference and feel a purpose in their job, so the freedom to take advantage of their strengths is crucial for employers to remember.
Attracting and retaining top talent is a challenge in every industry. By addressing the 4 factors mentioned above, hiring managers will have an edge on the competition in a candidate-driven market.
Contact Mike Silverstein:
440-996-0594
msilverstein@directrecruiters.com
October 2, 2017
By Rachel Makoski, Executive Recruiter, Food Service Equipment
Opening the Food Service Equipment Reports website the other day, the first three headlines I read were "NAFEM Pitches In Big For Hurricane Relief," "Antunes Hits Hole-In-One At Golf Fundraiser" and "A Record-Setting Jerry Maahs Memorial Golf Outing." Corporate focus on charitable efforts isn't a new concept, yet in recent years it seems to have gotten more of a spotlight. The cause? Perhaps it's getting repetitive, but the likely force seems to be the Millennial push toward Corporate Social Responsibility. The expectations of Millennials coming into the industry seems to be an all-too-common conversation over the last couple of years, but since they surpassed Baby Boomers as the largest population by generation in 2016, it bears repeating.
Millennials have been called the "Non-Compensation Generation," which is interesting as they are also the most debt-ridden generation our country has seen with student-loan debt at an all-time high, but I suppose that's a separate topic. It's no secret by now that Millennials tend to flock toward employers whose packages offer perks like better work-life balance, fast-tracked career advancement, wellness programs or options to work remotely. But to what extent are Millennials allowing a company's efforts toward community social programs shape their career path?
According to the 2016 Cone Communications Millennial Employee Engagement Study, 76% of Millennials take a company's social and environmental commitments into consideration when deciding where to work and 64% will not take a job if a potential employer doesn't have strong corporate social responsibility practices. Furthermore, 88% say their job is more fulfilling when employers provide opportunities to make a positive impact. While obvious reasons for this push toward philanthropy could be a sense of social responsibility, a desire to be a part of an organization that is contributing to the greater good, job-fulfillment as a result of making a positive impact, or working for a company whose charity efforts have awarded them respect in the industry, or perhaps it's more self-serving than that. With the average Millennial switching jobs every couple of years in an effort to climb the corporate ladder more quickly, Philanthropic events are a great opportunity to network! And as most of us have learned, it is more who you know than what you know that gets you your next opportunity (unless of course you're working with a recruiter, but I suppose that's a "who you know" as well << shameless plug).
With Millennials' focus in their careers to bring value to society and truly see a purpose in their work, it is worthwhile for companies to understand their thinking, which will in turn, help attract more Millennials to the company. It is beneficial to clearly exemplify your corporate responsibility program and how it ties to your core values, in addition to allowing your employees to get involved and share ideas with how they would like to participate in corporate responsibility and giving.
How much does your organization focus on philanthropic efforts? And to what extent are you advertising that to potential candidates?
On September 20th, David Peterson, Managing Partner of Plastics and Flexible Packaging at DRI had the opportunity to give a presentation to Machinery Dealers National Association (MDNA) at their Cleveland Chapter Meeting! He spoke on a popular workplace topic: Millennials. David had already given a presentation about the generation everyone is buzzing about at the Plastics News Executive Forum in March.
With a presentation entitled, "How to Attract and Retain a New Generation of Workers," David provided information to the MDNA group about traits of Millennials, statistics, what they are looking for in the workplace, how to attract them to your company, and finally, how to accomplish the challenging task of retaining Millennial workers.
Many professional associations are introducing programs to bring young professionals into their respective industries. MDNA for example, has a program called Young Guns, while Plastics Industry Association created FLiP: Future Leaders in Plastics, both to offer exposure and education for professionals entering into the industry.
If you would like to contact David to learn more about his presentation, please contact him at 440-996-0590 or dpeterson@directrecruiters.com.
This year Pack Expo is being held September 25th through the 27th at the Las Vegas Convention Center. Several team members from DRI are excited to attend Pack Expo and see innovative technologies, learn about packaging trends, and network among the 30,000 attendees at the event.
Members of DRI's Automation, Robotics, Controls, Packaging, Material Handling, and Food Processing teams will be at the event and available to schedule networking meetings. Please contact any of the individuals below to set up a time to meet.
DRI Packaging Team
Cherie Shepard, Director of Packaging
cshepard@directrecruiters.com
440-996-0582
Jason Herbert, Practice Leader of Packaging
jherbert@directrecruiters.com
440-996-0591
Dan Charney, President and CEO
dcharney@directrecruiters.com
440-996-0589
DRI Automation, Robotics, and Controls
Robert Cohn, Managing Partner of Automation, Robotics, and Controls
rcohn@directrecruiters.com
440-996-0595
Josh Olgin, Director of Robotics
jolgin@directrecruiters.com
440-996-0585
Dave Bevington, Director of Automation
440-996-0584
dbevington@directrecruiters.com
The following blog is based on the article posted August 1, 2017, on the website of Women on Business.
Millennials are now the largest age group in the US workforce. What's more, most Millennials put great emphasis on a company's culture when considering employment. They want to work for a company with values that align with their own.
Therefore, company culture has become the newest and best selling point for an organization. The kind of culture that companies support and breed matters more than ever.  
With that in mind, here are 5 broad types of corporate culture:
Traditional Culture
This is the old-fashioned approach to the corporate environment. A traditional corporate culture relies on clearly defined roles and relationships between workers. It has a dress code, rigid hierarchies, and typical employee monetary rewards.  Orders are given from the top and then implemented without much room for employee decision making or risk taking. In these types of organizations, procedures are normally standardized and strictly enforced. Due to the face of the new workforce and changing values, companies with this type of culture are likely to have trouble keeping good talent.
Entrepreneurial Culture
A big part of driving an entrepreneurial culture is creating an environment where people can act like entrepreneurs and empower themselves. Companies with an entrepreneurial environment value innovation and encourage risk-taking. This type of culture starts with hiring the right people, nurturing their skills, helping them grow, and keeping them happy by offering flexibility, transparency, open communication and advancement opportunities. It also gives employees a considerable amount of leeway in decision making and risk-taking. Currently, in the fast-moving and competitive technology industry, an entrepreneurial culture is what most organizations strive for.
Social Culture
A company with a social culture puts their employees' needs first and they're all about team work and collaboration. Employees have access to professional development programs, training and other benefits that help them grow as individuals and bond with their coworkers. They are often committed to playing together just as hard as working together.  In addition, social company cultures often encourage their employees to participate in charities and other programs for the good of their community. Organizations with a social culture build strong ties among employees to ensure they're all invested in each other's success.
Strength-Based Culture
An employment brand that conveys an organization's strength-based workplace is quite attractive to top talent. A strengths-based brand draws job seekers who are motivated to use and develop their abilities as well as people who are dedicated to performance and thrive in a highly-driven work environment. Connecting strengths to a company's brand and employee value proposition (EVP) not only attracts world-class candidates but also intensifies the myriad performance outcomes of a strengths-based work environment.
Horizontal Culture
Horizontal corporate culture is common among start-ups because it makes for a collaborative environment and an everyone-pitch-in mindset. Individual titles are not important and the traditional roles of boss and subordinate usually don't exist. These typically younger companies have a product or service they're striving to provide and though they have a smaller team size that might limit their customer service capabilities, they do whatever they can to keep the customer happy—their success depends on it.
August 9, 2017
By Christy Fox, Marketing Specialist
The mission of Dress for Success is to empower women to achieve economic independence by providing a network of support, professional attire and development tools to help women thrive in work and in life. Since 1998, Dress for Success Cleveland has been able to empower more than 19,000 women, establish three supportive service programs, and maintain a 52% placement rate in getting women connected to employment. About a month ago, the DRI and DCA Women's Group was able to take part in Dress for Success Cleveland's mission, and facilitate a professional development workshop.
DRI and DCA women joined a group of 6 Cleveland women participating in an 8-week program designed to increase interview skills, presentation style, and inspire their career development plan. Specifically, DRI and DCA volunteered to contribute four sections of professional development tools, tips and information to encourage the ladies' success.
Part one of the workshop was dedicated to building LinkedIn profiles for the women. As a jobseeker, working professional, or even college student, LinkedIn profiles are a useful tool to network, search for jobs and build your online personal brand. DRI and DCA walked the women through a step-by-step demonstration of setting up the profile, and shared helpful tips to building out a profile that will help the women successfully brand themselves.
The next section of the workshop was to go over personal branding tips online and throughout social media profiles. DRI and DCA covered the basic do's and don'ts to online presence and sharing. This went hand in hand with the LinkedIn profiles and the proper way to use social media for professional development.
DRI and DCA then moved on to interview prep tips and information. There was a great deal of conversation regarding what the women had experienced in previous interviews, questions they may have for future interviews, and the best way to approach an interview from all angles. DRI and DCA shared information on how to answer any behavioral based interview question step by step.
From there, the last section of the workshop was mock interviewing. DRI and DCA women asked the Dress for Success Cleveland participants common questions and coached them through how to best answer as well as tips on nonverbal communication skills.
Overall, the Dress for Success Cleveland workshop was beneficial for everyone involved. DRI and DCA women's group was thrilled to play a part in empowering other women in the community and to encourage them on their career journeys!
There are many ways you make a difference to the women of Dress for Success Cleveland. Please attend one of their upcoming Getting To Know Us breakfast events to learn more about the organization and how you can attend!
Wednesdays – 8:00am – 9:30am
September 20, 2017
November 29, 2017
RSVP by calling 216-881-6048

For more information on Dress for Success Cleveland, visit their website.
Companies are twice as likely to use a search firm this year and the numbers will only increase over the next decade. Employers are recognizing that search firms can play a critical role in helping them find talent.
Search firms are comprised of talent acquisition specialists who focus on helping their clients identify, attract, and hire the most qualified individuals for their unique organizational needs. But with so many various types and sizes, which should you choose…small, medium or large?
When it comes to searching for and placing candidates, some recruiting firms do a better job of it than others. The top 5 firms may come to mind. However, the largest search firms may not necessarily be the best. Let's take a look at their advantages and disadvantages.
Advantages of Large Recruiting Firms:
– Able to take on higher volume of job orders
– Larger database of candidates
– Well-known (brand recognition), work with bigger brands or Fortune 500
– More dollars allocated for marketing, training, and technologies
Disadvantages:
– Could be spread too thin across multiple locations
– Not as niche/can't always become experts on industry like smaller firms
– Less flexible (example: if you want weekly billing or daily reporting, smaller firms may be able to do that while larger agencies wouldn't as easily)
– Impersonal process. For example, the recruiter who takes your call is probably not the one who will be actually working on your search. In addition, follow-up calls and regular contact throughout search process may be hard to come by
– Large firms are often generalized firms and do not specialize
When big is too big, clients have turned to smaller boutiques. However, the smaller boutique firms may have some nice advantages but also may have limitations.
Advantages of Small Recruiting Firms:
– Can be highly specialized and be experts in one industry
– Ability to move quickly and expedient
– Most likely offer personalized services
Disadvantages:
– Could be a one or two-person operation of someone's house
– Process is often outdated or inefficient
– May look for active candidates vs passive candidates
– Only 1 person working on each search
– May be limited when it comes to volume, new geographies, and complex needs
What if you could combine the best of large recruiting firms with the benefits of the small boutique firms? You would get the best of both worlds!
Direct Recruiters, Inc. (DRI) is just that. We're the mid-sized and right-sized firm serving top tier organizations on a national scale.  We're small enough that our clients get personal attention from our Managing Partners but large enough to assign a full team to every search assignment. We have the right amount of resources to invest in the latest technology to find passive, hidden talent. Being right-sized also means being flexible and able to adapt quickly to job market trends and changes.  We're able to listen to our clients' needs and turn on a dime.
In a time where more and more companies are relying on search firms for their talent, it appears they aren't always going the traditional route of turning to large search firms or small boutiques.  Instead, the mid-sized option has become a growing and appealing alternative.
We're looking forward to NPE 2018, May 7-11, Orange County Convention Center, Orlando, FL
If your business is associated with plastics in any way, then NPE 2018 is your must-attend event. Whether you make plastics, use plastics or recycle plastics, the world's leading plastics tradeshow and conference allows you to tap into the tools and emerging technologies that are shaping the future.
DRI's David Peterson and his team will be attending.  If you would like to meet during the show, contact David at 440-996-0590 or dpeterson@directrecruiters.com.
  
Here's a recap of DRI at NPE 2015:
It was definitely worth waiting 3 years for NPE 2015 in Orlando, Florida! We found it to be a great venue to learn about the latest technology, trends in the industry, and the strong need for young up and comers. After walking miles of aisles in the West and South Hall, David Peterson, Jason Toth, and I were amazed by what we saw and all indicators pointed to the boom happening in the Plastics industry. As executive search recruiters, we were excited to know that the present and future of the recruiting business is alive and well within the plastics industry. Now that it's been a couple of weeks after the show and we've let it all sink in, we came up with few key takeaways… David Peterson, Practice Leader for the Plastics Practice, DRI Inc.:
After talking with many individuals at different booths such as Davis-Standard and Milacron at the show, it seemed the overall tone was very positive and the plastics business is very strong right now. With a record-breaking number of around 65,000 attendees, business seemed to be thriving and the evidence of an increasingly high hiring rate was found in the number of new searches our firm received.
The buzz around the industry is that there is a need, especially in the machinery sector, to hire younger workers and begin developing future leaders within plastics. Organizations such as SPI (Society of the Plastics Industry) and SPE (Society of Plastics Engineers), were sponsors and encouraged internships and mentorships in order to build a strong new generation of plastics professionals.
Additionally, another apparent increasing trend was the desire of companies to recruit sales talent with a technical background. Quite a few hiring managers expressed interest in individuals with a chemical engineering degree or sales engineer background to fill a territory where they required a new regional sales manager.
Jason Toth, Executive Recruiter in the Plastics Practice, DRI Inc.:
COMPANIES ARE HIRING!  There are a lot of open positions.  How do I know? Well, because I asked.  So what does this mean? It means we are very much in a candidate driven market and companies have to provide more compelling reasons why they are the best to work for.  Remember in times of growth like these, candidates will be interviewing you as much as you are interviewing them.
There is great potential for young professionals in this industry.  They are a hot commodity.  Nearly every hiring manager I talked to discussed the challenges they are facing as they focus on the future of their company.  It was very encouraging to see SPI create a group like FLIP (Future Leaders in Plastics), providing a great environment and atmosphere that welcomed the up and comers.
Rachel Gulko, Executive Recruiter for the Plastics Practice, DRI Inc.:
Strides in plastics industry since NPE 2012, are impressive. Just imagine the innovation that we'll see over the next few years. Having the ability to see the technology in the plastics industry up close and personal is priceless.  It is one thing to have a Sumitomo Demag injection molding machine or a Macchi blow molding machine described over the phone by someone that works at the company but to see them in action in a whole other experience.
My perception of the plastics machinery is that of one big family.  Even though everyone is technically competing, at the same time a lot of the companies rely on pieces and parts and sometimes whole systems from each other complete their product(s). That was so evident when entering the South hall where all the materials companies were.  That's we found all of the machines. Davis Standard, Wittman Battenfeld, and Arburg were just a few of the many used by all these material companies.
Fortunately, everyone gets the opportunity to once again experience all the innovation and excitement of the plastics industry at NPE 2018, hosted again in Orlando!  We are looking forward to future positive hiring trends within plastics machinery and materials and what new technology is in store.  It's a great time for this industry and Direct Recruiters, Inc. Plastics Team who feel privileged and energized to be a part of it all.
July 10, 2017
By Cherie Shepard, Director of Packaging, Material Handling & Food Processing
Hiring and retaining skilled Material Handling, Packaging and Processing workers is top of mind for executives across most industries today. A recent article by Hunt Scanlon cited that 90% of executives surveyed stated that retaining new hires is an issue for their companies, while they also said that 10 to 25% of new hires leave within six months. With the increase in automation in various areas, this issue has become prevalent in the Manufacturing industry. On top of the challenges of hiring and retaining a skilled workforce, an EMSI forecast showed that about 22% of the 2015 tech labor pool will turn over by 2025 due to retirements and departures (DC Velocity article). A combination of retention issues, turnover, and a low number of recent graduates in the field is creating a need for all engineering disciplines.
How can this be fixed? Companies across industries are working to find ways to introduce manufacturing to students early and encourage careers in the industry. Getting students interested in technology needs to start at an early age. With the preconceived notions that all manufacturing floors are uncomfortable, unpleasant and dirty, teaching kids the dynamics of equipment and automation should help foster the idea of a technical future. From industry-related educational support, to internships, companies are leading the way to build the workforce of manufacturing.
Hanel Storage Systems, a leader in the manufacture and integration of vertical storage units, donated an automated storage retrieval system (AS/RS), the RotomatÒ to Western Guilford High School in Greensboro, North Carolina. This equipment is used for education and demonstrations for the Logistics Education Department at the school and for students to learn about warehousing and supply chain management. In addition, Hanel also donated a RotomatÒ  to the Vincennes University Logistics Training & Education Center in Plainfield, Indiana. This generous donation will help college students in Supply Chain Logistics Management to gain real-world experience with equipment and technology that today's workforce is using, as well as hands-on experience.
Both donations of the RotomatÒ were made through the Material Handling Industry (MHI), the largest association in the United States dedicated to the promotion and education of the material handling, logistics and supply chain industry. Angela Jenkins, Director, Career & Technical Education at Material Handling Industry (MHI) said, "Within my 2.5 year tenure at MHI, Hanel Storage Systems has donated equipment to 40+ high school and community colleges with material handling, logistics and supply chain programs. They continue to be a true example of industry-education partnership continuing to provide resources in building the workforce of today and tomorrow."
Jenkins also mentioned how Material Handling Industry (MHI) promotes the material handling, logistics, and supply chain industry to the younger generation in various ways. In addition to providing equipment for material handling, logistics and supply chain programs, Hanel along with other member companies provide resources and sponsorship at the Student Days Program for MHI's MODEX and ProMat tradeshows. These tradeshows entail an average of 800+ exhibitors with a wide range of technologies, which is opened to guided exploration for students and faculty participating in the program.
Students Days is a two-day event which provides over 200 students from high schools, Community Colleges and Universities across the country the opportunity to meet with exhibitors on guided tours, learn about technology, network with industry experts and tour real world applications at local state-of-the-art facilities. Companies such as Hanel Storage Systems volunteer as an exhibitor tour location, provide a tour guide for the students and participate in target industry awareness programming for all student attendees. Hanel Storage Systems sponsors the network reception event at Student Days.  This allows student attendees to interact one-on-one with industry representatives in a more conducive environment.
Not only are companies making strides to attract young people to manufacturing through scholarships and educational donations, but some are offering internship programs. As an example, Bizerba, a leading solution provider for weighing, slicing and weigh-price-labeling technologies, offers an internship program annually. Bizerba provides interns with an overall look at their business operations, industry, and culture to the college students involved. In addition, interns are rotated through different departments to understand the entire business operation, gain practical experience and improved understanding of the business mentality. Bizerba has found this program to be mutually beneficial to introduce the next generation of workers to their industry.
Direct Recruiters, Inc. (DRI), an executive search firm specializing in Material Handling, Packaging, and Food Processing, has placed importance on encouraging young adults, specifically high school students to aim their career track towards getting jobs in these in-demand tech positions. DRI recently awarded a financial scholarship to a graduating Solon High School student planning to further his or her education towards the technical and engineering fields.  Students were also required to have at least a 3.5 GPA and write an essay explaining why they chose the technical or engineering field. Cherie Shepard, Director of Material Handling, Packaging, & Food Processing for DRI said, "We introduced the idea of a scholarship to give back to the community and to focus on those with technical aspirations. While reading the essays by the high school students, we were amazed by their experiences. These 24 applicants are the future and they have the ability to change the world."
Another area of opportunity to introduce new talent to the Packaging, Material Handling, and Manufacturing industry is to provide flexible education options. The Packaging School, founded by Dr. Andrew Hurley, Professor of Packaging Science, Clemson University, was developed to provide specialized education to students in degree tracks outside of packaging. The Certificate of Packaging Science is an online program that breaks down the barriers to packaging education and lifts the veil on this vital and complex discipline. This is an excellent opportunity for companies to sponsor students and create apprenticeships geared towards engaging young talent.
With a challenge in the current workforce landscape in Manufacturing and Material Handling, it is so important for companies to play their part in introducing new talent to the industry and growing the number of skilled workers.
Categorized:

Blog, Uncategorized

Tagged:

attracting talent, bizerba, Cherie Shepard, Hanel, manufacturing, material handling, MHI, packaging, processing, Talent